Digital Advertising Trends
Greg Swiszcz
Election season is basically upon us, and we know that every election year, there are so many changes within the economy.  What businesses are going to spend what, and where are they going to spend it?
Before we look at 2020, let's take a quick look at how 2019 digital ad spending will most likely end.  Here's a quick chart put together by www.eMarketer.com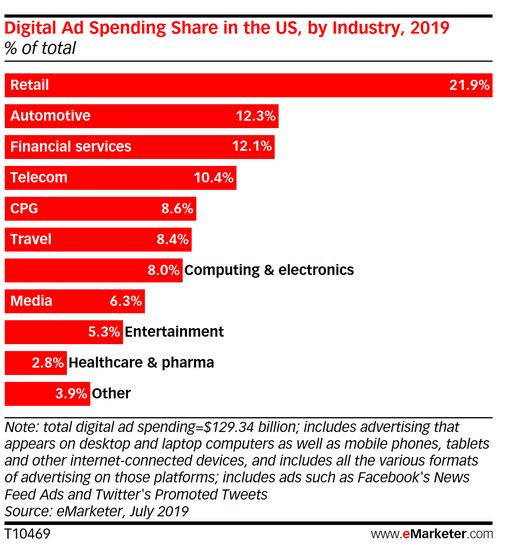 As you can see, retail, automotive and financial services topped this list with digital advertising spend.   However, as we get into 2020, we're likely to see a big change in the order of the above industries.
According to eMarketer forecasting analyst, Oscar Orozco, "consolidation in the CPG (Consumer Package Goods) sector is leading to a squeeze in ad budgets, increased competition in the travel industry is spurring ad spending, as brands fight for market share…"  The travel industry is spending a ton of their digital budget on mobile.  In fact, it's a large driver of ad spending for hotels, airlines and other travel industry services, spending as much as 70% of their budget in mobile.  Here are a few stats from Access Development that may help explain why:
79% of travelers who use a smartphone complete a booking after researching on their smartphones
45% of global travelers start their booking process by deciding on a specific destination
59% of pre-travel research takes place between one and three months before traveling
86% of travelers use online resources when deciding on their accommodation
73% of travelers use online sources when deciding on their destination
59% of families said travel websites (TripAdvisor, Expedia, etc.) were resources they used for information or inspirations for where to go and what to do, 10% said instagram, 74% said search engines, 51% said travel review websites, 30% said social media, 12% said travel agents, and 8% said blogs 
58.2% of travelers used any user-generated content to help plan their leisure travel, 32.5% used reviews from hotel, 29.6% used travel reviews of destinations, 30.8% used reviews of restaurants or activities, 13.5% used travel itinerary or blogs, 33.3% used Facebook and 26.3% used group discount websites
If you're speaking with anyone in the travel industry, here are a few tips as to how you can utilize Mobile Conquesting™ to make the most of your campaign:
Target weekend travelers – based on your market, your client should know what areas/cities are common for travelers to come from.  Using these feeder markets – you can target those "leisure travelers" or "families" or any other behavioral category that represents your client best. 
Geo-fence local tourist attractions, hotels, airports, rest stops, and sporting events.  With this technology, we put a virtual fence around these locations, and are able to target everyone that enters that fenced area.  Wouldn't it be great to target everyone at the local airport when they get here and promote your business?! 
Geo-Retargeting –  One of the best features of geo-fencing is the ability to retarget these potential customers.  You've already geo-fenced the airport.  Now what?  Why not continue to target them after they leave so they are continuing to see your ad for up to the next 30 days?!
There are lots of ways to utilize Mobile Conquesting™ to help promote any of your clients in the Travel Industry.  For more information on travelers, their likes and dislikes, how they travel, when they travel (all great for prospecting), check out Access Development's blog on Travel Statistics
Another hot industry for 2020 is going to be the Financial Services industry, which looks like it will surpass automotive spending when it comes to digital.   Leading automotive brands are pivoting their focus from ad spending to research and development, thus opening the spot for the financial industry to surpass them.
Mobile Conquesting™, again, comes to the forefront for this industry as their budgets include up to 70% spend on mobile, ranking them #2 for mobile outlays.  The reason behind this is because these financial firms are looking to target millennials.  With the creation of financial apps, millennials are getting more access to all kinds of tools to help them with their investments.   In fact, according to MedaiPost, 7 out of 10 millennials agree that learning how to better manage their personal finances is very important.  In addition, 82% say they consume financial content on their smartphones.  How can you best use Mobile Conquesting™ to target millennials?  Here are a few tips:


Geo-fencing colleges
Geo-fencing high schools
Geo fencing competitors
Everyone from financial planners to Credit Unions are using Digital Advertising of all kinds, not just Mobile Conquesting™, to reach the millennials.  In fact, Credit Unions can promote to reach new members, or even upsell to their own members, spending up to $14.83 per member to advertise.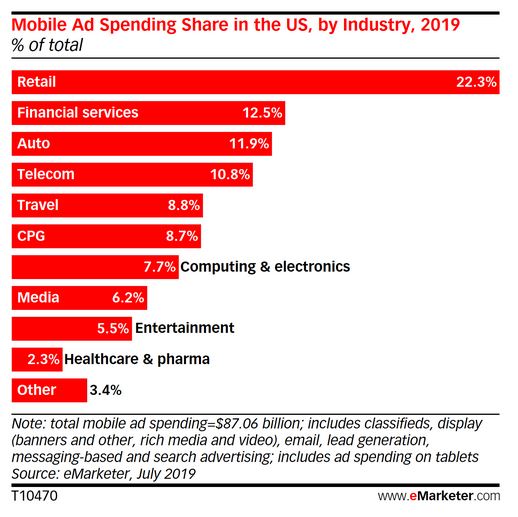 No matter the sector within the Financial Industry, they are using Digital more and more to reach their target audience.
Lastly, the retail sector looks as though it'll remain number 1 in digital ad spending with nearly 22% of market share, according to eMarketer, retail currently leads with total spending, being about $28+ billion this year, leads with the highest portion of mobile ad spending, AND will also control about 19% of all US video ad spending this year.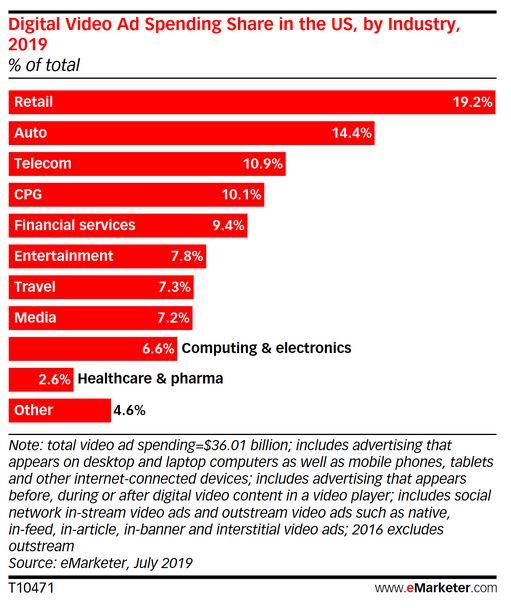 If 2020 is any indication of the past, you can expect the 2nd half of 2020 to have larger budgets for retail than the first half, mainly because of the holiday season, which is upon us now.  With opportunities like Cyber Monday and Black Friday, there are lots of opportunities for your retail clients to advertise digitally.   One of the biggest uses of digital advertising for retail is Social Media (Facebook and Instagram).  With so many people on Social Media, this is a great visual platform to reach your target audience.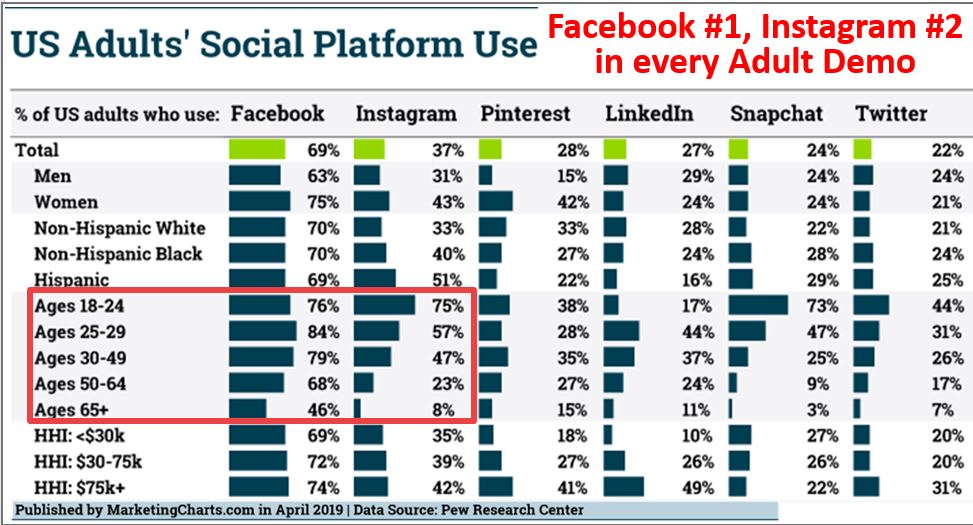 What are the best ways to use this platform?  Here are a few:
Collection Ads – The Collection ad is a format that makes it easier for people to discover, browse and purchase products and services from their mobile device in a visual and immersive way.   Use these ads to give  potential customers the opportunity to browse your inventory.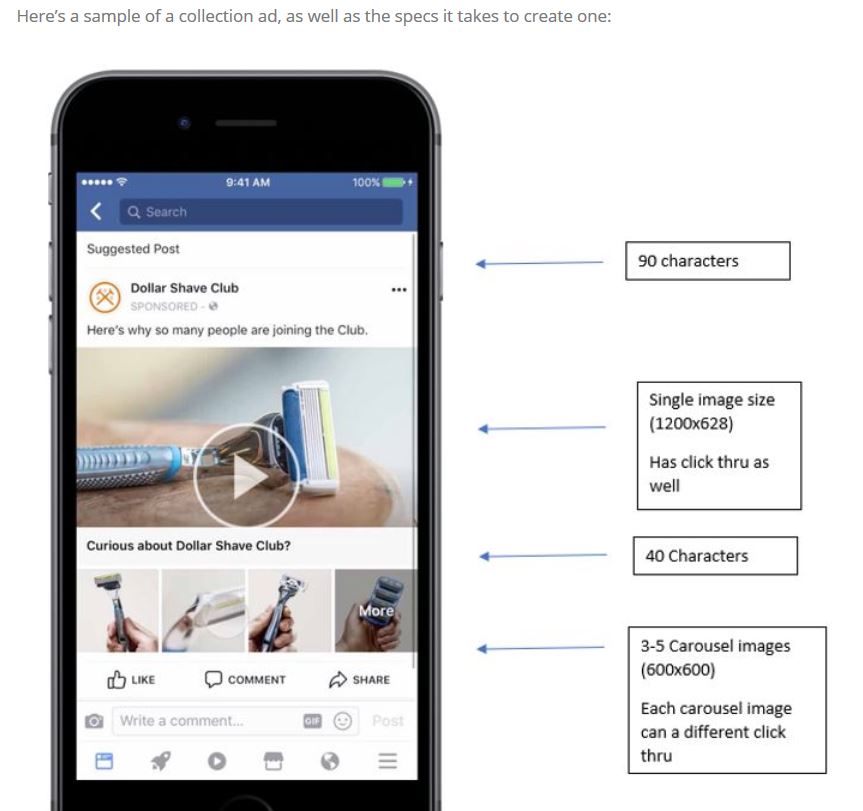 Event Response Ads – These are a great way to showcase special events an sales that you have.  These ads would run in conjunction with your Collection Ad (mentioned above) and help promote your events.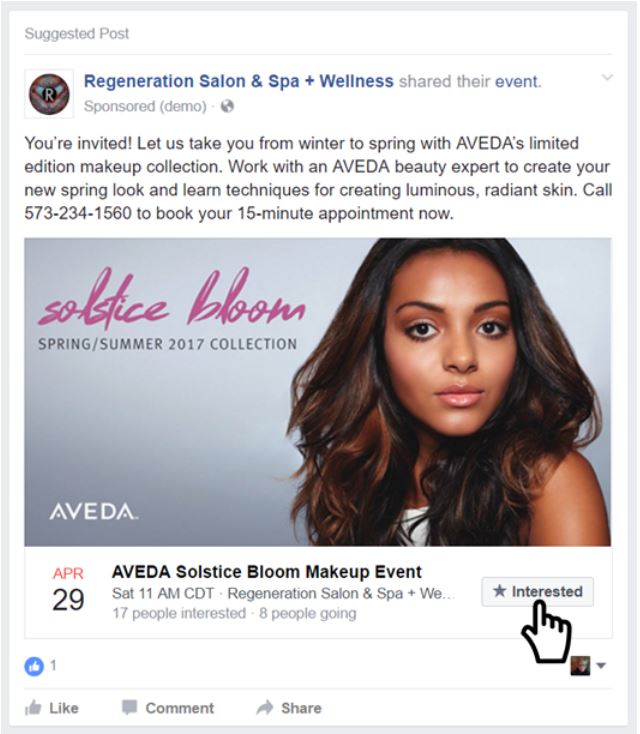 Lastly, with social media, the ability to target your current customers is a great way to give them a special opportunity to feel appreciated.  Offer them a special price.  Show them what other products you have to offer.  With retail, almost everyone has some sort of "loyalty club" now, so you should have all of their contact information now.   If you do, as long as you have one of these 3 data sets (phone numbers, email addresses, or name/zip code) you can target them on Facebook using their Custom Audience ads.  Think about it.  Isn't it much easier to sell your products to existing customers, rather than finding new ones?  Because this way of targeting is theoretically "retargeting", the ROI is very high, since customers will already be familiar with our brand. If you are interested in creating a Custom Audience for your Facebook News Feed or Instagram News Feed campaign (or both!), all you will need to do is let us know!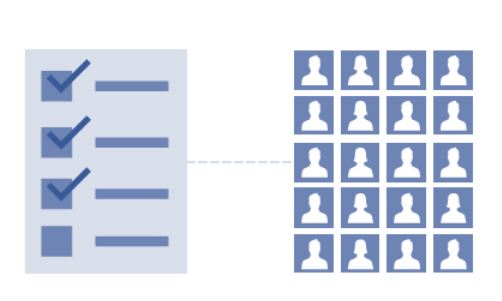 According to VendHQ, 29% of online shoppers are likely to follow a brand on Facebook.  This statistic, along with the ability to maximize loyalty programs, create a sense of urgency, promote events, utilize promotional pricing and more, make Digital Advertising one the best resources for retail.  That is why retail stays number 1 as we move into 2020!