Are You Reaching Road Warriors This Summer?
Katie Pray
When looking at the days of the week, my favorite day isn't Saturday or Sunday, or even Friday; it's Thursday. Thursday is when you're close to the weekend and you have the whole weekend to look forward to, including a Friday night. May is my version of Thursday when it comes to months because we are getting so close to summer. At this point, there are just a few weeks until Memorial Day which is the unofficial start of summer, and Jimmy Buffet and Kenny Chesney become my idols for the next few months. This is also prime time for advertisers because people are on the move; they are ready to break out of hibernation mode and take advantage of schools getting out and using their vacation days. This is the time to capitalize on those that are looking for day trips, family activities, overnight trips, and out of towners.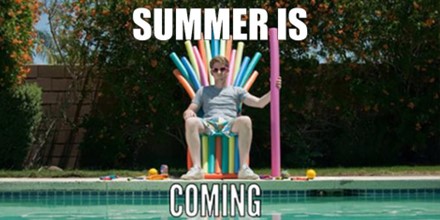 One of the best things about digital is that you can target by any geographic area. That is a big selling point for those in the travel and tourism industry because this allows businesses and tourism destinations to place their ads in locations outside of their normal footprint. For example, I was recently served this ad (below) while on Facebook, so this hotel is most likely targeting people outside of their exact geo and instead are reaching people that are looking for sun. I live in Central New York, so that was a great use of digital advertising and reaching people outside their geo and targeting people looking to get away.
Facebook is just one of the digital platforms that is great for travel and tourism, along with Social Mirror, Video Pre-Roll, and Google Pay-Per-Click (PPC). The sales cycle for people looking for vacations or places to go and things to do is typically longer, but through each of these digital products you are able to hit those that are looking for a spontaneous trip, or for a trip down the road. For example, people looking to go on cruises or go to Disney typically start their research months, or even years ahead of time. By utilizing these different digital products, you can reach people in all the various parts of the sales funnel from when they start thinking about wanting to take a vacation, all the way down to deciding what property they want to stay at.
Facebook is a great platform to utilize because you can reach people with first party data that Facebook has gathered about its users. They are getting this data by gathering information that users provide about themselves, pages they like, ads they interact with, apps that are part of the Facebook Audience Network, and even people they are friends with. By having this first party data, you can really drill down to the target audience and show ads to people based on categories like:
Frequent Travelers
Frequent International Travelers
Returned From Travel 2 Weeks Ago
Returned From Travel 1 Week Ago
Travel (Travel and Tourism)
Travel and Leisure
First Class Travel
Vacation Rental
Marriott Vacation Club
Vacations
VRBO
Facebook also has the option to target people off a list through Custom Audience Matching. With this, a hotel, destination location, resort, festival, concert venue, etc., could take a list of people and serve them ads for upcoming events or promotions. A perfect example of this could be Ticketmaster. When you buy a concert ticket through Ticketmaster, they have your contact information. They could then use that list and upload it to Facebook, find those people while they are on Facebook, and now they could get served Ticketmaster ads for another upcoming concert or event they might be targeted in.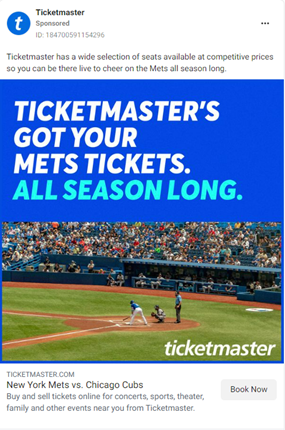 Summer is a time when people are more likely to be out and about, so it's an ideal time to offer promotions that incentivize consumers to visit your business. Something to consider is offering special discounts, giveaways, or limited time offers that are only available during the summer season. This can help create a sense of urgency and encourage customers to take action.
Facebook and Instagram allow businesses to have fun with their summertime advertising by creating hashtags and getting people engaged. Kwik Fill, a convenience store chain based out of Pennsylvania does a "Driving America" contest every summer as people are taking road trips and traveling more. They invite consumers to get involved with the sweepstakes by using the hashtag #drivingamerica on their road trips with various products they offer, and there are prizes awarded.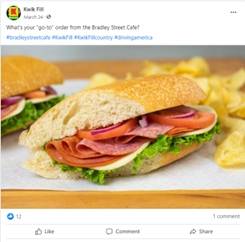 Social Mirror Ads are another way to utilize that fun and engaging social media creative because it allows users to interact with the ads, but they also reach people outside of just Facebook and Instagram. With these ads, you are reaching people on thousands of other websites and apps, but they still have that social media look to them. Social Mirror ads, along with Video Pre-Roll ads, have additional benefits to offer like various ways to target consumers, and the ad creative can tell a really good story by showcasing all that the area or event has to offer. With Social Mirror ads, you can run single image ads, video ads, carousel ads, story ads, and even Over the TOP (OTT) ads. In this Social Mirror example, this is in a story format, so the user is seeing different panels of the ad. As they click through, the ad is changing and highlighting different parts of this county and what they have to offer. This ad could be appealing to those looking for places to eat, wineries, and breweries.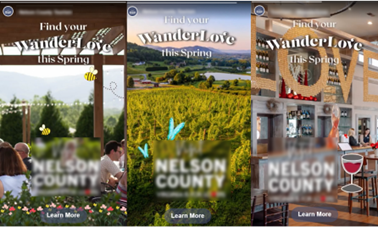 Along with Behavioral Targeting and Custom Audience Matching, you can also use Keyword Targeting and Artificial Intelligence as a way to reach people in different parts of their travel and tourism journey with Social Mirror and Video Pre-Roll ads. With Keyword Targeting, you could reach people that are just starting out in their vacation planning and are doing their homework or reading articles about travel hacking, or the best places to go with kids. In this example here, I am reading about the "29 Road Trip Essentials for Your Next Cross-Country Adventure" on USA Today, and the words "hotel", "motel", "Airbnb", and "vacation" could be keywords that we are targeting. By having those words in this article, that triggers the Beaches Resort Social Mirror ad to appear.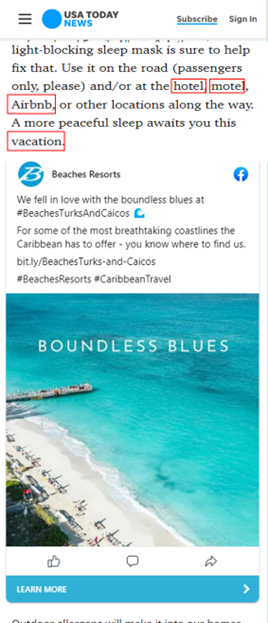 With Video Pre-Roll, the opportunities are endless. Whether you are showcasing the scenery, people dining, families relaxing, or people skydiving, that is something that people can envision themselves doing; they want to experience that. Video ads tend to also have a better engagement with advertisers who use video receiving 34% higher conversions.
Google Pay-Per-Click is best utilized for places that have good brand awareness. Consumers will typically turn to PPC when they know what they are looking for but might not really know where to begin. For example, I would love to take my family to an all-inclusive Caribbean resort, but it has to be family friendly since I have two young kids. If I type into Google "kid friendly all-inclusive resorts", I now have a lot of different options to check out.
Google Pay-Per-Click is also a great option for people that are very brand loyal and will be looking for certain types of brands to stay at like Marriott, Hilton, or Hyatt, since those brands have such good brand awareness, people are more willing to click on those ads.
The summer season presents unique opportunities for companies to reach their target audience, engage with potential customers, and drive sales. With the right strategies in place, your business can make the most of the warm weather and fun-filled activities that summer has to offer.