Social Media: When should you DIY and when should you enlist a digital expert?
Dana
There are absolutely times in life it is more cost effective to "Do it yourself." Before I take on a DIY project, I try to consider if I have three T's, meaning do I have the tools, the training and the time. If all signs point to yes, I go for it! All three must be in place and it is always important to consider the full scope of the project. For example, can I change out a light fixture in my home? Probably. Can I re-wire a room? Not a chance. That requires specialized training and tools that I most certainly lack, so even if I have the time, I am not going to get good results.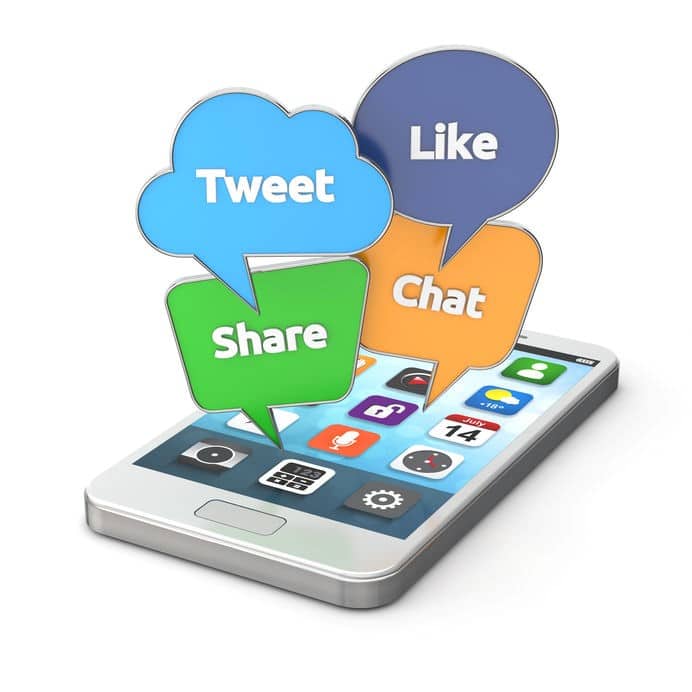 If you own a business, you likely do a lot yourself. Social Media is no exception and there is a lot you can do. However, there are also times I highly recommend enlisting an expert who possesses the necessary tools and training in Social Media, the bonus is all the time you will save and potentially campaigns that deliver better results.
First, why do you need Social Media. Why is Social so important? Social platforms help you connect with your customers in unique ways. You can use Social to increase awareness about your brand, and to boost your leads and sales. Over three billion people around the world are actively using Social Media every month, and it is a very important piece of your marketing puzzle.
What are some things you can do on your own? Post and have a Social Media presence. Through organic posting on your Social Media pages you can:
Create Awareness: Who are you and where are you? How can people discover you?
Communicate: Frequent updates and relevant content build your authority AND allow your personality to shine through.
Engage with Customers: Go live, post a series, do a "how to" video.
Support your followers: Interact with customer comments, respond quickly to questions, be positive and helpful, listen to critiques, know when to take it to a private message.
How often & when should you "Socialize?" Hubspot offers some great guidelines:
Starting with Facebook, if you have less than 10,000 followers post once a day or less. In fact, Once you exceed one post, each post gets 60% fewer clicks per post. Does once a day stress you out? Aim for once a week. If you have more than 10,000 followers? Posting 1-2 times per day leads to the most clicks. 32% more engagement when posting on Saturday and Sunday, and 18% more engagement when posting on Thursday and Friday.
What are the best hours to post? 9 AM, 1 PM, and 3 PM. You'll get the most clicks when posting at 3 PM and the most shares when posting at 1 PM. Keep in mind, this is a guideline and your business might be different! If you want more insights on your Facebook page, for example, if you want to know exactly when YOUR fans are online and determine a more specific plan for your business, check out our Facebook Insights How To Guide for a wealth of additional information.
Now let's talk about Twitter. Aim for no more than 3-5 Tweets per day and Wednesday is the best day. Hours to tweet? 12 PM, 3 PM, 5 PM, and 6 PM
As for Instagram, quality matters the most on this platform! 1-2 posts per day are fine as long as you're capable of publishing content that provides value. If not, post less! When? Monday and Thursday are best. Hours? Posting a video at 9 PM gets 34% more interactions, however anytime works except 3-4. Research shows it is best to post on Instagram during off-work hours than during the work day.
Now for LinkedIn, 1 post per day during the work week and the best days are Tuesday, Wednesday, and Thursday from 7-8 AM, 12 PM, and 5-6 PM. It appears that business people are more inclined to read LinkedIn in the morning, similar to a newspaper.
Finally, Pinterest. Users on Pinterest skew heavily female and 25% of users are active on this channel daily. Saturday evenings are best especially 8-11 p.m. Some businesses have also seen a strong performance on the later side of Friday afternoon, around 3 p.m. Opposing many of the other channels we've listed here, evening commutes tend to be some of the worst times to post to Pinterest.
So there you go! Posting to your Social Media pages organically is something you can do (much like changing a light fixture) yourself or have a staff person do, and now you have some tips on times and frequency. When and why do you ever need an expert for Social? Advertising!
When it comes to placing your ads on Facebook & Instagram things get really complicated really fast and you will likely want to call in the experts. Running ads on these platforms is more like re-wiring the room. Things can go south very fast if you are not trained and the results will not be as strong.
If you want to get the most bang for your advertising dollars and reach your exact target in your exact geographical area? Enlist the Vici experts who are dedicated to maximizing your campaign and who live in Facebook and Instagram all day every day and bring the necessary expertise. You can do a lot on your own, but it is time consuming and it is important to consider what is your time worth? Read through the list in the graphic below. Are you aware of these options? Are you maximizing your ad spend?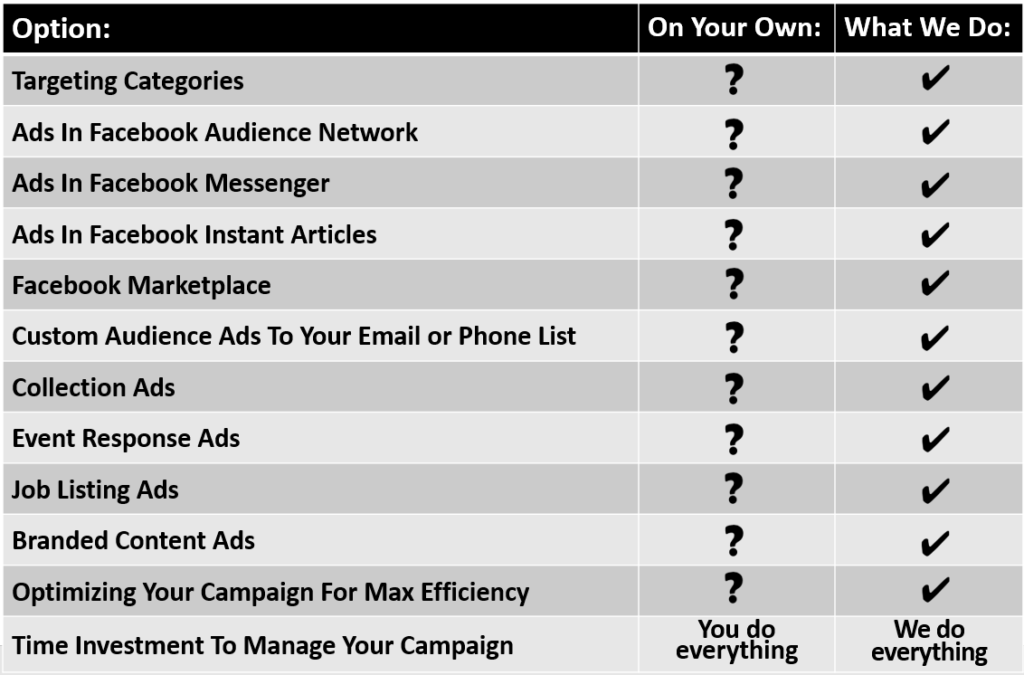 Reach out to Vici to find out more!