How-To-Guide On Understanding Your Facebook Insights And Analytics
Leslye Schumacher
Most small businesses have a business Facebook Page but are you understanding the wealth of information you can get from Facebook about people who interact with your Page? This is our step-by-step guide to walk you through some of the most valuable information you might be interested in learning.
Facebook calls their analytics "Insights" and you can access it right from your business Facebook Page when you are logged in as an Admin.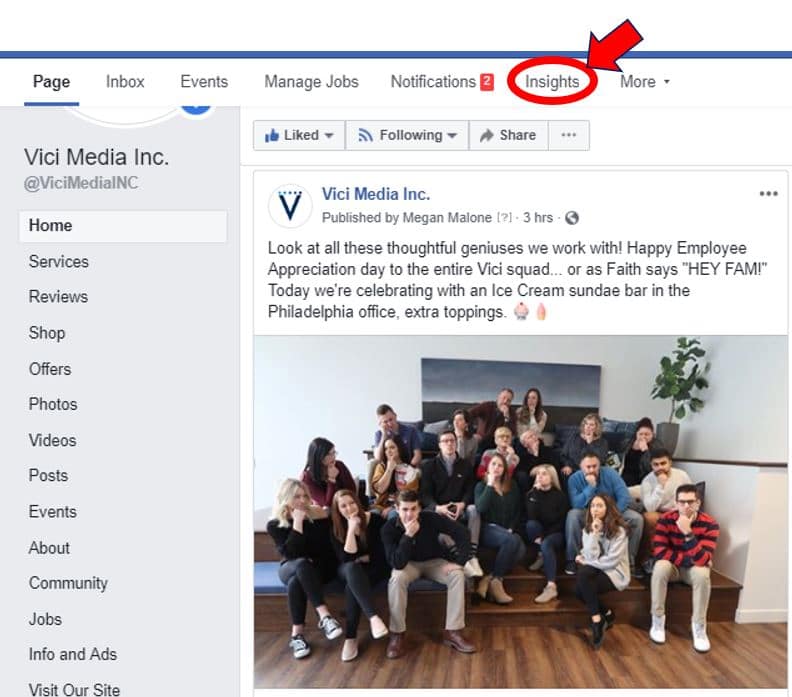 The first thing you will see is an overview Page with some of the most common info businesses want to know about their Page visitors. If you hover your cursor over the "I" button (see image below) it will display a description of what that section is measuring.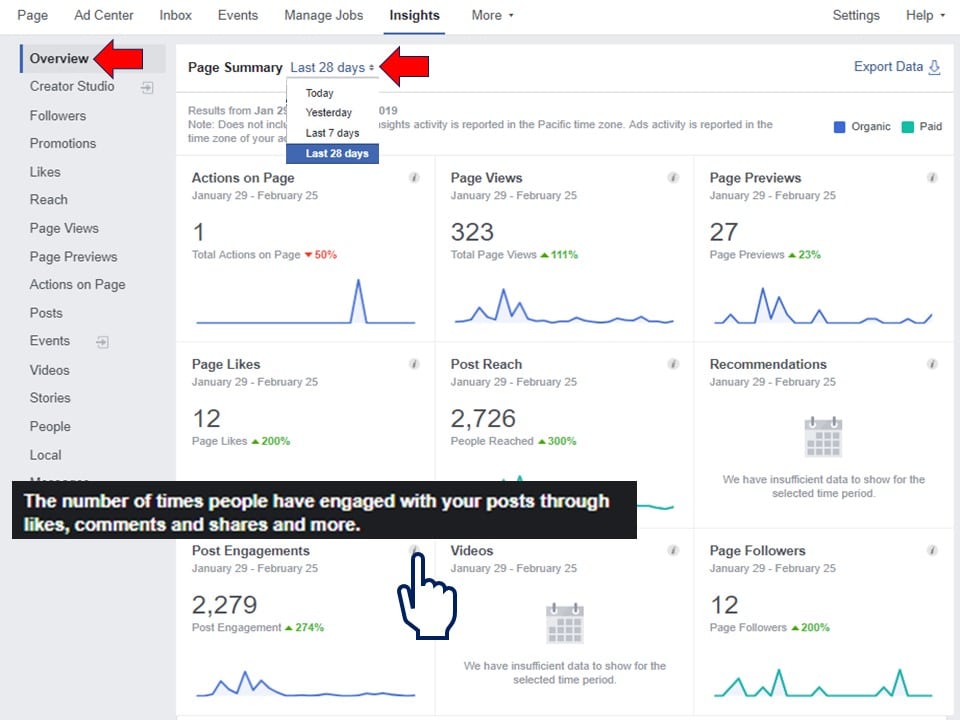 The snapshots on this Overview page that are generally most interesting to a business are:
Actions On Page: The number of clicks on your Page's contact info and call-to-action button.
Page Likes: How many people liked your Page over the time period you select (today, yesterday, last 7 days, last 28 days) Remember, don't get too caught up in this stat – Page likes don't mean as much as they did a few years ago.
Post Reach: How many people saw all the content you posted over the selected time period.
Engagement: How many people liked, shared, or commented on your posts over the selected time period.
This would be a good time to point out what's the difference between Page Views, Reach and Impressions.
Page Views are the number of times a Page's profile has been viewed by people, including people who are logged into Facebook and those who aren't.
Reach is the number of people who had any content from your Page or about your Page enter their screen.
Impressions are the number of times any content from your Page or about your Page entered a person's screen.
If you want more information than just the snapshot on the Overview Page, click on the title of each section to see a breakout of that stat or click the menu headings on the left-hand side. We delve into some of the most interesting, below.
Facebook Insights Deep Dive!
REACH. This graph will show you how your posts performed, broken out by day, so you can see which content interested your followers the most.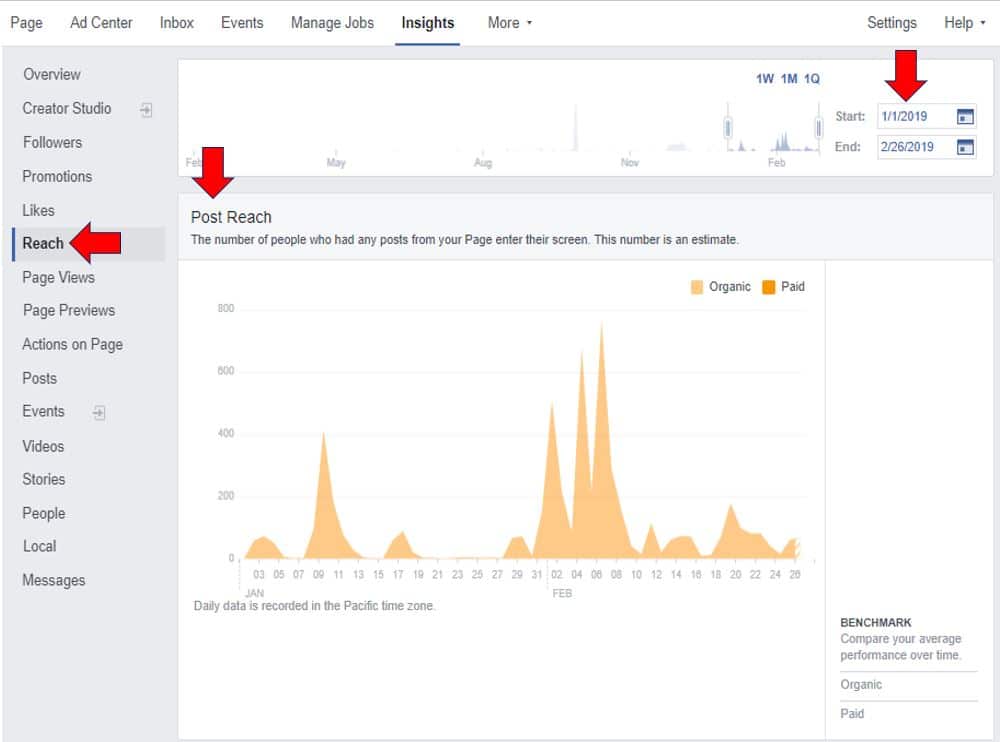 If you scroll down the Page, you'll see how people responded to your postings – did they give you a reaction such as a like or love, comment, share?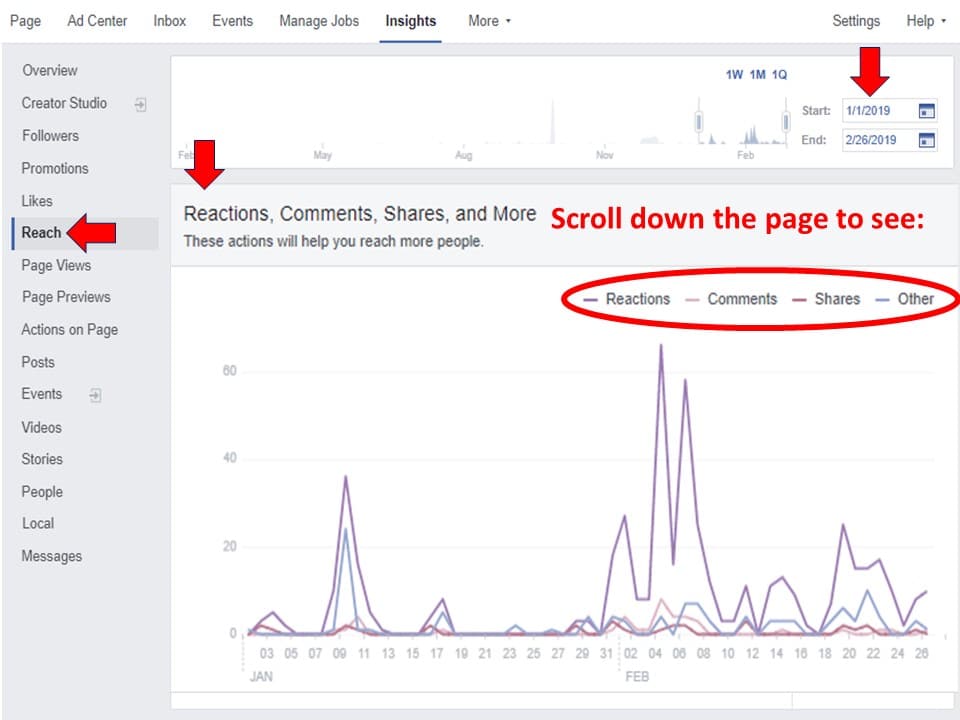 PAGE VIEWS. This graph can be viewed as "Total Views" or as we've shown it below "By Section". This lets you know what sections of your Page people are viewing the most. As you can see for us, most people are viewing the home section of our Page.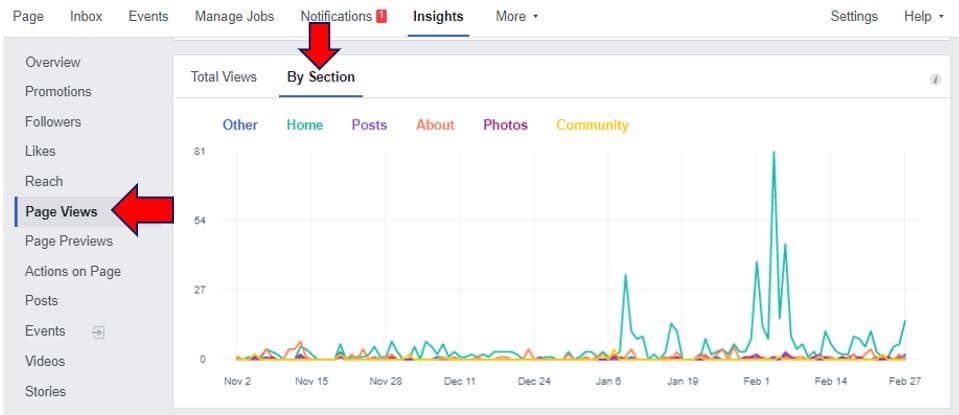 If you scroll down the page, the graph shows you referral websites meaning where people are coming from to get to your Page. For us, most are coming either from Facebook (makes sense) or from our website. (t.co is Twitter, by the way).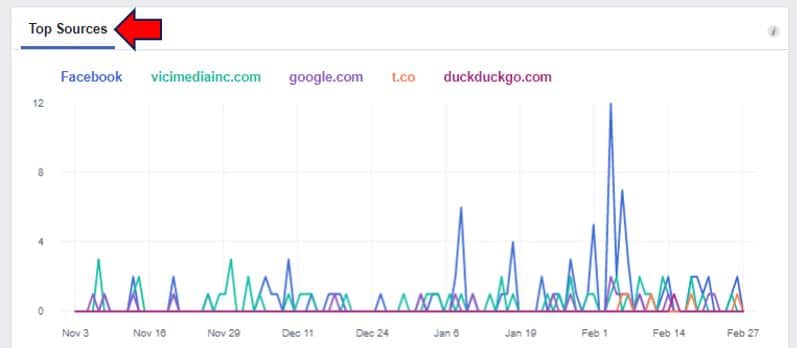 ACTIONS ON PAGE. As mentioned early, this section will show you what people clicked on when they are on your Facebook Page. Are they clicking on your address, website URL, phone number, or other action buttons you have on your Page? For our Page, most are clicking on the phone number.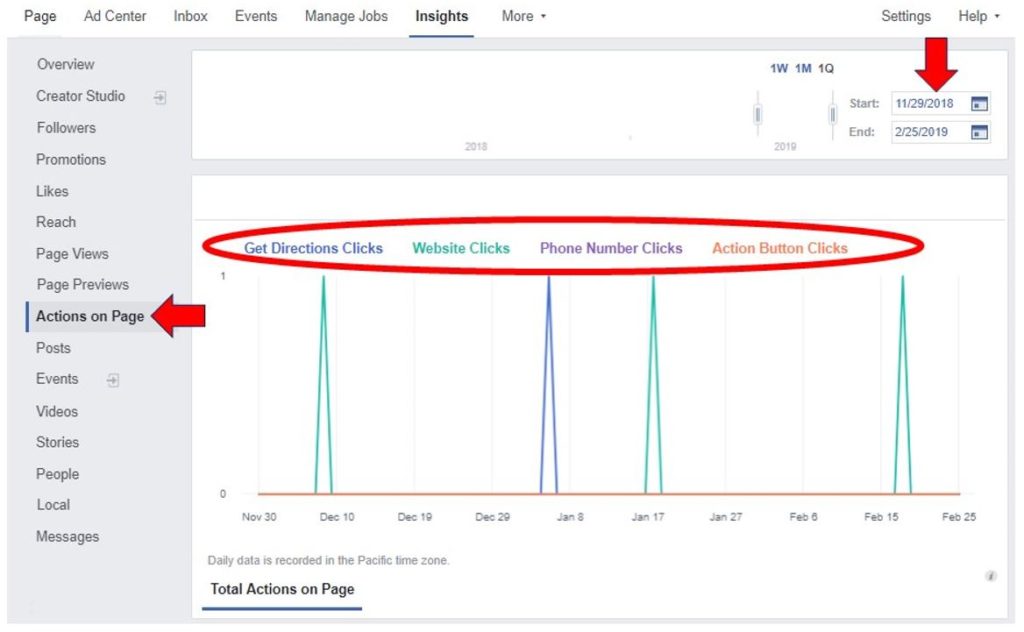 POSTS. There is a wealth of information under this section. First, you can look at the tab "When Your Fans Are Online" to see what days and times are best to post for your business. For us, we can see below that Tuesday-Friday from 9a-9p is when are fans are active.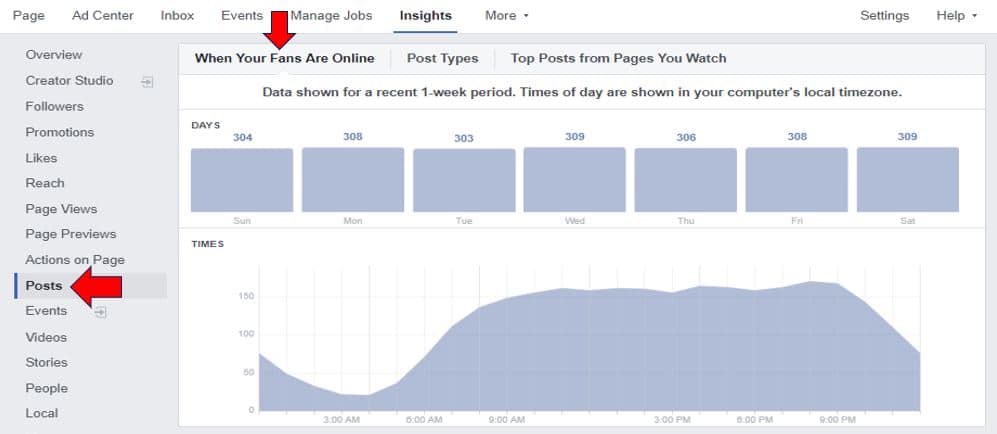 Click the subheading "Post Types" next to see which type of post is most successful. For our page, it's definitely posts with photos versus posts with just text and a link.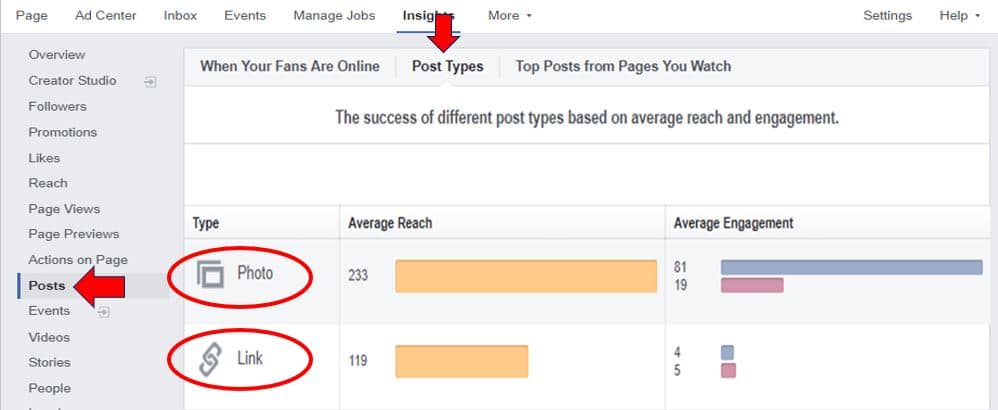 Click the third subheading "Top Posts From Pages You Watch". You can load in the Pages of competitors and see what types of posts THEY get the most engagement with – I mean really, how cool is that!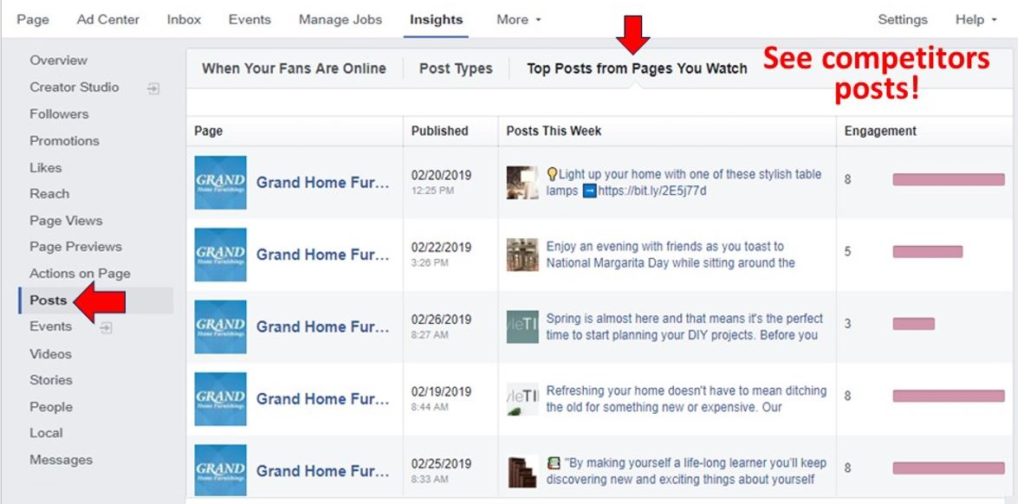 Now scroll down the page and it will show you your recent posts and what type of Reach (number of people who saw it) and Engagement (how many people liked, shared, or commented on your post) for EACH post. Fascinating! This really gives you Insight (pun intended!) into what interests your fans.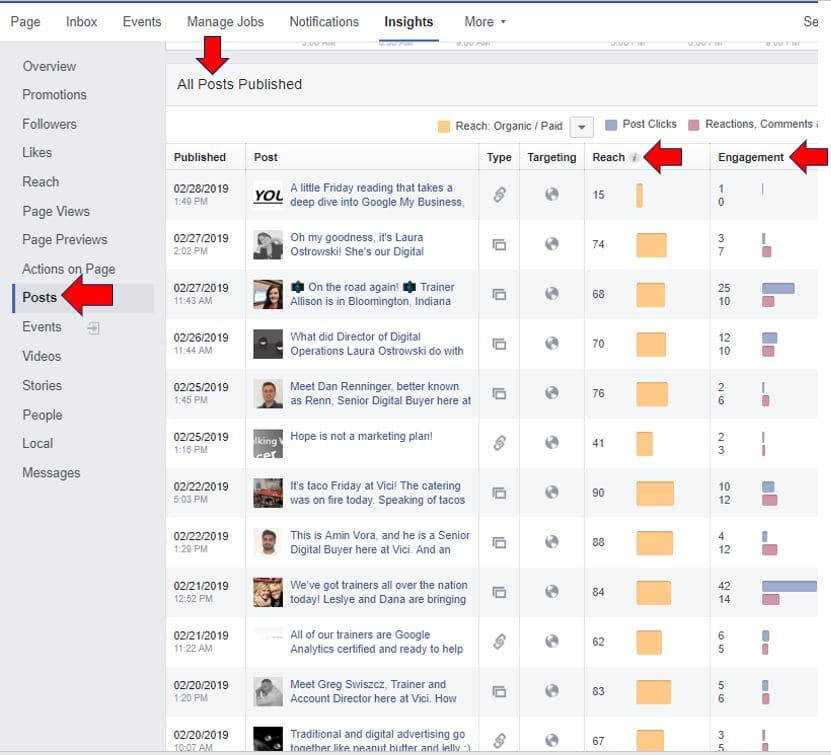 PEOPLE. This section gives you demographic and geographic information about who is visiting your Page. You can click on the subheadings to view this info looking at "Your Fans" (the people who like your Page based on the age and gender information they provide in their user profiles), "Your Followers" (the people who opted to follow your Page but didn't click "like"), "People Reached" (the people who had any content from your Page or about your Page enter their screen), and "People Engaged" (people who have liked, shared, or commented on your posts). As we say in the graphic below, use this information to tailor your posts and your ads to the right demographic and geographic area.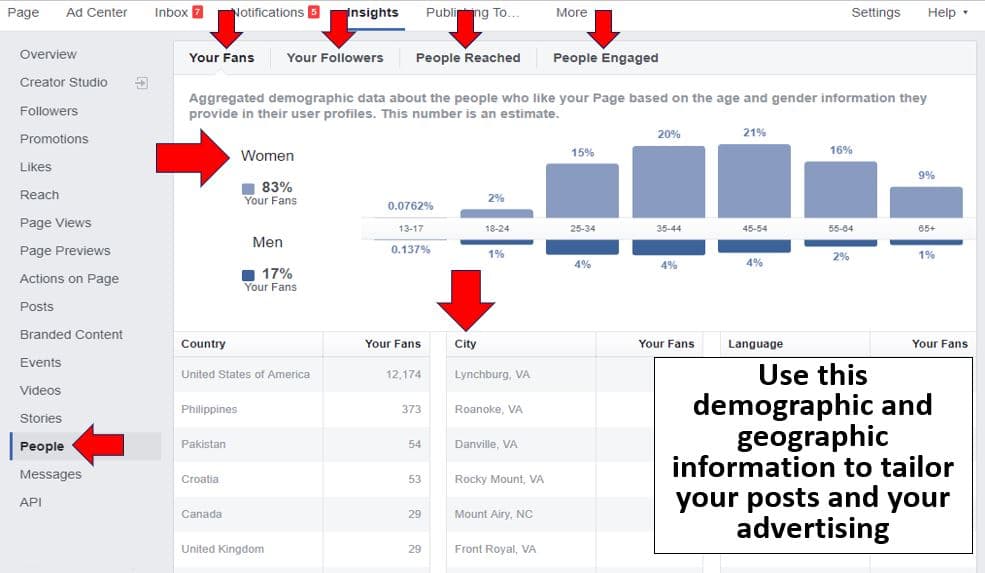 If you want to get a look at all of this data we have covered in this article in one big spreadsheet – you can do that too! Simply go back to the Overview menu heading and click "Export Data". A dialogue box will appear asking you if you want Page data, Post data or Video data (or do all three!).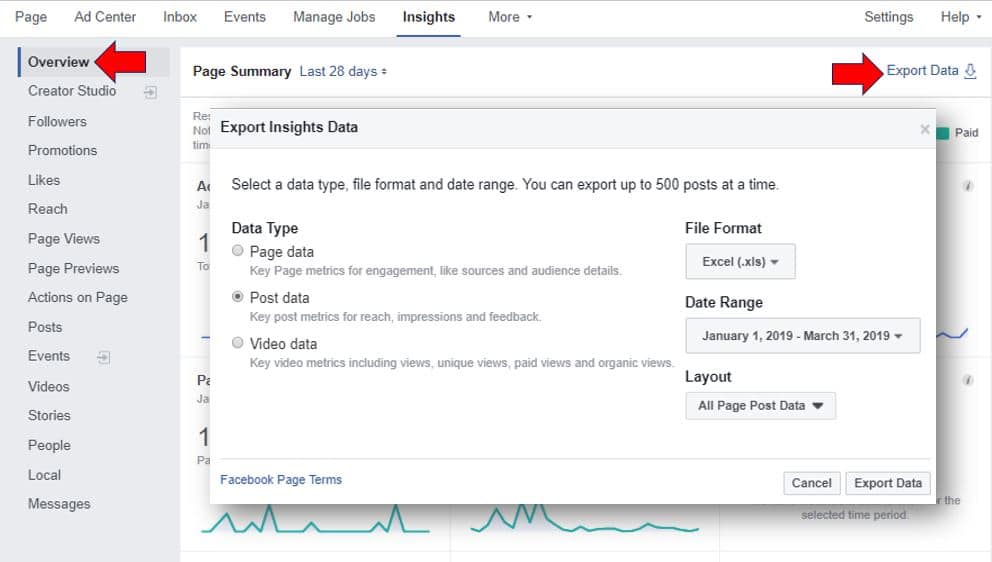 Enjoy digging into your Facebook Insights – we think they are truly Insightful!