Should You Be Using Video Ads In Your Digital Marketing?
Leslye Schumacher
Ummm, yah, you should. 80% of Internet users can remember a video ad that they have seen in the last 30 days.
But it should be good video. More info on that below. But first, some stats to convince you why video ads are where it's at for getting amazing return on your advertising investment.
90% of consumers claim a video will help them make a purchasing decision.
That stat means that video helps boost your conversions!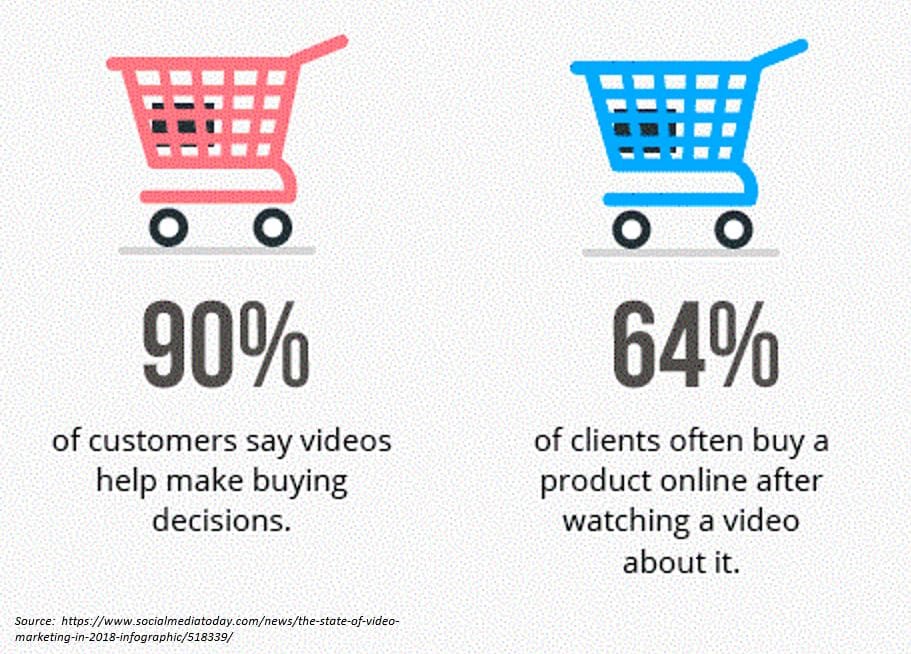 68% of people want to learn about a product or service from a video ad.
When asked "how do you prefer to learn about a new product or service?" video was the clear winner as seen in this graphic: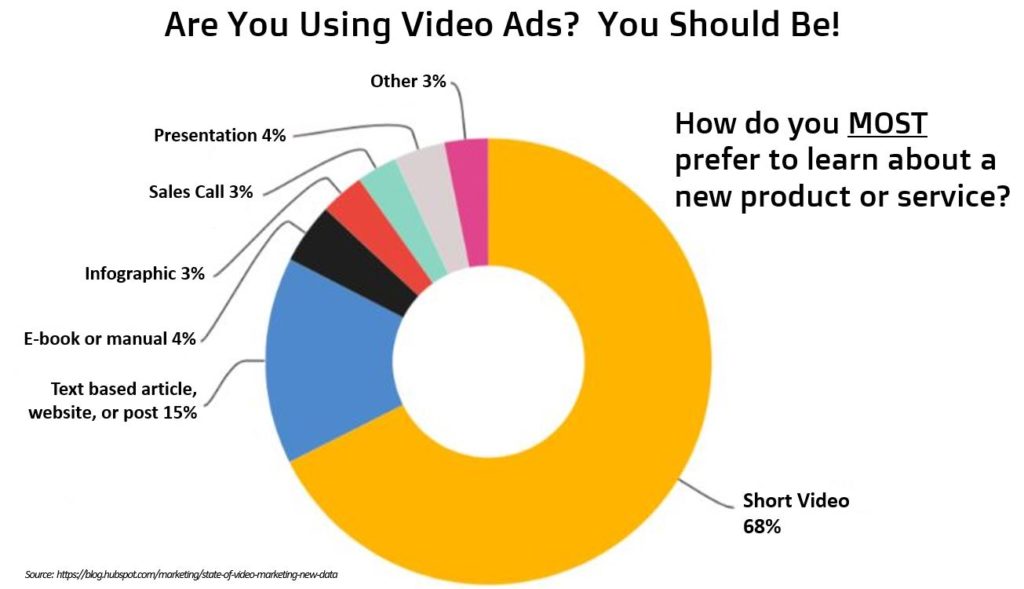 97% of marketers say that videos help customers understand products.
Video ads can explain your product or service in a way that a display ad just can't.  By their very nature they are more informative and engaging.  A video conveys huge amounts of information in a short amount of time. And, you can say more in a video as compared to a text or display ad.  Video ads relate more information by showing and telling at the same time which means recall is better as well as shown by this graph below: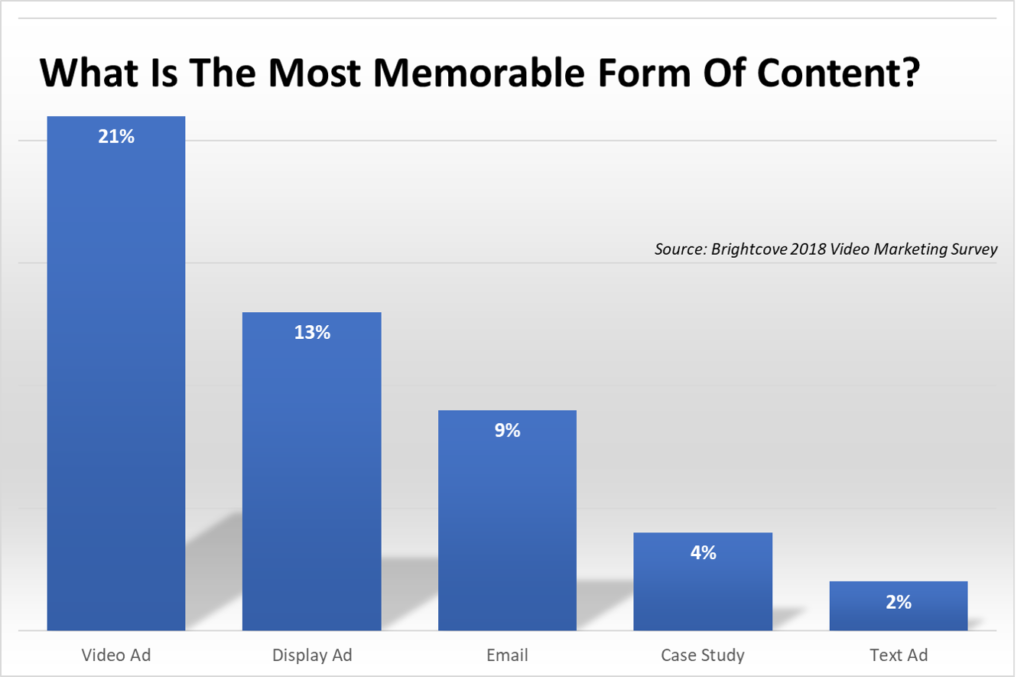 Over 80% of all traffic will consist of video by 2021.
Did you know that Google (and other search engines) algorithms love videos? So not only should you use videos in your ads, you should have them on your website too. Videos allow you to increase the time spent by visitors on your site. Thus, longer exposure builds trust and signals search engines that your site has good content. You are 53 times more likely show up first on Google if you have a video embedded on your website!
81% of businesses are now using video for marketing.
If 8 out of 10 businesses are using video, why aren't you?
Should I use :15 or :30 video ads?
Google did an interesting study and found that the answer depends on what your goal is. Are you trying to tell a story about your brand or get a call-to-action message across?
Google found that the :30 ad was watched more than the :15 ad, with the :30 ad the least skipped, and the :15 ad the most skipped. That would seem to support longer is better right? Not necessarily.
Additionally they found that :15 ad had significantly higher ad recall than the :30 ad. Google's conclusion is, "For brands with a focus on awareness, the short format can be both effective and efficient. Shorter formats can raise awareness, keep the brand top of mind, and create signals that drive important behaviors such as search." So save the :30 for storytelling, use the :15 to drive a message.
What type of video ad creative works best?
Obviously, that depends on your product or service but this research study claims that 74% of people who get an opportunity to see a product in action via an "explainer video" will buy it.
Explainer ads can help educate people about your product or service. They help people who are researching and looking for info about it online.
Interview ads are another type of video ad content that works well. You can do an interview either with a satisfied customer or someone who works for your business.
Demo ads are where the business shows how a particular product works. Seeing a product in action can make a big impact on a potential consumer.
Branding ads build awareness by focusing your message around your company, your employees, your mission, your customer service, quality of your products, etc. to attract your target audience.
Event ads would be where the ad features a conference, promotion, open house, sale, or community event you sponsor. You can showcase highlights of past events to generate interest for your upcoming event.
Always start your video ad with the most important info because you need to hook consumers within the first five seconds. And don't forget that people may be watching with the sound off.
Clearly video ads and video on business websites is a win for both the business and the consumer.  But 53% of businesses who use video say they struggle to promote the video content they produce. This is where a strong digital video ad campaign comes into play.  Video ads can be used with Retargeting,  Ad Networks, Behavioral Targeting, Keyword Targeting, Mobile Conquesting, Facebook, Instagram, and Household IP Targeting.  Using these products will allow your video seen by a highly targeted audience and across all types of devices. 
We've found that some of the best performing video ads aren't the slick, highly produced ad creative but rather the ones that have that DIY feel to them. You can shoot in high-quality, 4K video with your smart phone, so get out your phone and start rolling!