Meet Leslye Schumacher!
Kiri Tamte-Horan
As Vici Media continues to grow, we want you to know everyone who has been here since the beginning and helped the company rise!  So every week we'll introduce you to a key member of the team.  This week we begin with Leslye Schumacher…Senior Partner and resident Motorcycle Chick here at Vici.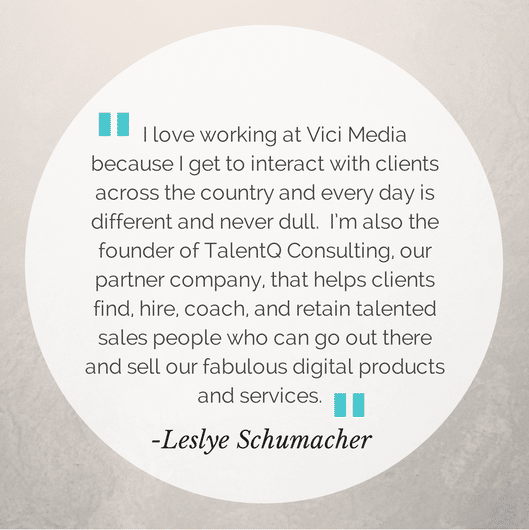 10 Things about Leslye:
If I had it to do over again, I would have become an IT Director because I love anything to do with computers and software.
I love to hack into cell phones and "root" them so that you can put whatever you want on them and are not a slave to your phone provider.  (If you don't know what "rooting" or "hacking" is, ask me – and "no" it is not illegal!)
I hate all things Apple, so don't ask me to hack your iphone
It really bugs my teenage kids that I know more about computers and cell phones than they do (at least so far!)
I had 3 kids in 14 months (a son and then twin girls)
As a Talent Analyst, I've assessed over 10,000 salespeople
I love McDonald's breakfast
I don't trust people who have been skinny all their lives (and who don't eat McDonald's breakfast)
I believe if you don't have at least one good belly laugh a day you might as well not bother getting out of bed
My motto is "Life is too short to work with jerks"
Stay tuned weekly to learn about more members of the Vici Media Team!
🙂