How Well Does Digital Advertising Work For The Beauty Industry?
Dana
Gorgeously!
I am a self-proclaimed beauty junkie, and there is no better place to get a product fix than the internet. My journeys to beauty product conversions are both intentional and accidental. For example, around Halloween I needed ideas for a costume. In about an hour I went from Pinterest for inspirations, to Googling "bride of Frankenstein makeup tutorial" to a video telling me I needed Mac Night Moth lip pencil to make realistic stitches to an online conversion. Done and easy! My most recent accidental journey was this Cyber Monday. While online snagging deals, I noticed an ad for Origins Skincare with a percentage off (today only!) and free travel sizes (score!) and those suddenly necessary products are now residing on my bathroom counter promising glowing skin.

Beauty and the internet. It's thrilling, it's fun, it works, and the industry knows it.

In fact, the Beauty Industry is increasingly turning to Digital, cutting other forms of traditional media along the way.
Check out these numbers: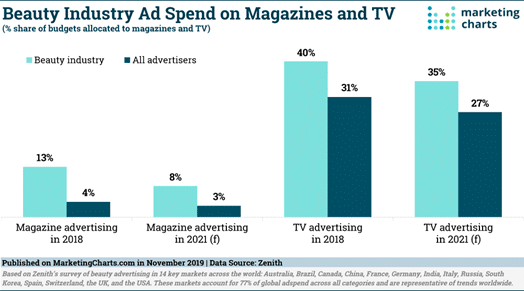 For the Beauty Industry, advertising by way of traditional channels like magazines and TV, has long been the preferred strategy. As a consumer, I also used to scour magazines for inspiration and ideas. Today? We are all spending more and more time online verses other places, and the industry is evolving their advertising plans and increasing their online spend.  By how much? Well, by 2021 the internet is projected to account for half (that is right, HALF) of their global ad spend. What is declining and where is the spend coming from? Magazines and TV are forecasted to decline.  It is estimated that Beauty advertisers allocated 13% share of their spending to magazine advertising last year. That percentage is anticipated to shrink to 8% by 2021.  TV advertising will also take a hit and is expected to decline from 40% share in 2018 to a predicted 35% share in 2021 for the Beauty Industry.
In the US, which is the second-largest market for the Beauty industry after China, advertising spending this year will total $2.6 billion. I would say half of $2.6 billion is a beautiful number, and worth paying attention to.
So how do you best implement digital advertising strategies for clients in this vertical? Start with Social! Social media is as essential as mascara. It drives brand loyalty and allows consumers to have a voice in terms of reviews, opinions and shares. 96% of beauty brands already have an Instagram profile, and in Facebook's official survey, 80% use Instagram to decide whether to buy a product or service. It makes sense. Instagram is where I can watch videos, gather inspiration, check out reviews as well as shop. It's a crucial part of the buyer's journey.
If Instagram is not part of the strategy, it needs to be instantly. Video is also crucial, and it doesn't have to be a budget killer. Make up tutorials are fantastic. Short videos are compelling. For example, Clinique replaced traditional display ads for six-second videos that are very product-centric. According to Google, since this change, they have seen a 70% increase in ad recall and a 26% rise in product awareness. So choose video whenever you can. It's as classic as a red lip.
So we have layered a foundation over primer and we are ready to advertise. Who should these wonderful ads be targeted to? It depends on the product of course, but the targeting options are massive.
See the list below for targeting options, find some inspiration, and don't forget your setting spray.
Facebook
Beauty
Beauty Consultant
Beauty Advisor
Beauty therapist
Ulta Beauty
Sally Beauty
Beauty salons
Beauty Makeup
Health and Beauty
Beauty Shop
Beauty Brands
Beauty & Care
Makeup
Makeup tutorials
Beauty Makeup
Permanent Makeup
Fashion and makeup
Makeup Lessons
Makeup Brush
Cosmetics
NARS Cosmetics
MAC Cosmetics
Kylie Cosmetics
Benefit Cosmetics
Foundation
Tarte Cosmetics
NYX Cosmetics
IT Cosmetics
Sephora
Lipstick
Lipstick Shades
Spas
Health and Beauty
Health and Beauty Care
Display, Native, Video Pre-Roll
Beauty
Hair Care Products
Skin Care Products
Eye Makeup
Face Makeup
Lip
Makeup Tools and Kits
Men's Fragrances
Women's Fragrances
Nail Care
Body Lotions
Facial Moisturizers
Masks & Peels
Cosmetics
Hair Care
Shampoo and Conditioner
Styling Products
Styling Tools
Skin Care
Health Vitamins
Cosmetics/Beauty
Cosmetics Luxury Shoppers
Cosmetics Shoppers
Soap/Facial Cleanser/Cosmetics
Makeup Shoppers
Non Prestige Makeup
Prestige Makeup User
Makeup & Cosmetics
Hair and Makeup Shoppers
Eyeshadow
Foundation
Mascara
Makeup remover
Spas
Cosmetic Surgery
Cosmetic Procedure
Sephora
Sephora Store Visitors
ULTA
MAC Cosmetics
Mobile Conquesting – Include Video in the mix:
Fashion Shoppers
Jewelry Shoppers
Luxury Shoppers
Shoppers
Spa Enthusiasts
Health Spas
Spas – Beauty and Day
Cosmetics & Perfumes-Retail
Cosmetics-Wholesale
Cosmetologists
Facial Cosmetology
Permanent Cosmetics
Permanent Make-Up
Lush Cosmetics
MAC Cosmetics
ULTA Beauty
Beauty Salons
Health & Beauty Consultants
Sephora
Make-Up Studios