Understanding Digital Co-Op Advertising And Terms
Leslye Schumacher
How does a small business access digital advertising Co-Op funds? The answer is, unfortunately, many don't. Even though it is estimated that 43% of small businesses carry or represent products from national brands that offer Co-Op reimbursement for advertising, less than half those businesses use the funds they've earned.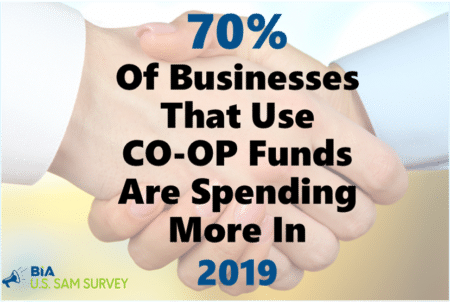 Why? Over half (52%) of local retailers from a study said they did not receive adequate training on Co-Op processes. Additionally, 12% didn't use funds because they said the approval process with the manufacturer/brand, was too complicated, and 15% said they don't have enough time.
This is where a partnering with a local media seller or ad agency who has access and training on Co-Op plans, pays off for a small business. At Vici, we train our partners on how to walk a local small business through the Co-Op process to claim those advertising dollars!
The media salesperson or ad agency account manager would do the following for the local business:

Have Vici check our Co-Op database to see if any of the manufacturers/brands that the business purchases from, are offering any Co-Op plans. If there are available Co-Op plans, they will find out what types of advertising they include (i.e., digital, radio, TV, print, etc.).
To find out what a specific business has earned in Co-Op, they will have the business sign an authorization letter which allows them to access that information with the manufacturer's Co-Op Administrator.
If the business decides to do a digital ad campaign utilizing Co-Op funds, they must obtain written prior approval from the manufacturer before running the campaign.
Discuss with the business how the manufacturer chooses to reimburse the business. Typically, it is a credit memo – where the manufacturer issues a credit to the business to use on future purchases of their products.
They will help the business submit a claim package to facilitate the Co-Op reimbursement.
What types of digital advertising products can be used for Co-Op?
It depends on the individual plan offered by the manufacturer. Most plans include using targeted display (Retargeting, Ad Networks, Keyword Targeting, Behavioral Targeting), Household IP Targeting, Mobile Conquesting, Video, and Google Ads (Pay-Per-Click). Many Co-Op plans will not approve campaigns using Native Ads or Search Engine Optimization. Facebook and Instagram can be tricky because if the Co-Op plan requires the use of a logo of a certain size, that could cause a Facebook or Instagram ad to get denied since they discourage logos and text in images.
Here are some common Co-Op terms that are helpful to understand:
Accrual
Accruals are the money earned by a retailer/dealer to be used for advertising. They are earned in direct correlation to the products purchased from the manufacturer and are based on a percentage of sales with that product line. See also Accrual Percentage.
Accrual Percentage
The percentage applied to the net purchases by the retailer to determine amounts of accruals, and the accrual percentage varies by manufacturer and sometimes product. Accrual percentages vary widely, but the average is roughly 3% of sales.
Accrual Period
The Accrual Period is the time-frame the manufacturer has set during which the retailer can earn advertising funds. Accrual periods will differ from plan to plan, ranging from previous year's business to current year's business to more elaborate periods like seasonal or rolling six-month and quarterly periods. Performance periods are the time designated in which a dealer's co-op money must be spent.
Authorization Letter
A third-party consent form that allows the manufacturer to release information such as accrual balances, online portal access and other advertising materials to the media rep.
Claim Process
The process used by the retailer to get reimbursement for co-op advertising expenditures from the manufacturer by providing a billing statement, media invoice, an advertising sample and any other item required by the manufacturer.
Credit Memo
A written approval or credit issued by the manufacturer or an outside auditing organization (a Clearing House) for payment of the co-op claim. Most manufacturers will reimburse their retailer/dealer via a credit memo to their account toward future purchases of that product line. Also see Reimbursement.
Current Year/Prior Year
Earnings based on this year's purchases/last year's purchases.
Participation
The part of the co-op program plan which defines the percentage of an ad cost that the manufacturer will reimburse.
Participation Percentage
Percentage of the advertising cost that can be reimbursed – normally 50-100%.
Performance Period
The time-frame designated in which a retailer or dealer's co-op program money must be spent toward co-op advertising.
Performance Report
Examples of Performance Reports and Proof of Advertising include but is not limited to: tear-sheet, affidavit, original direct-mail ad, photograph of billboard, copy of script, email proof, list of keywords, impression rate report and screenshot of advertisement.
Prior Approval
Manufacturers require advance approval of ads for content to ensure that the current logo, copy and artwork will appear in the ad. If a co-op ad is run without the manufacturer's Prior Approval, the ad may not meet the company's advertising standards and therefore, not be eligible for reimbursement.