What techniques are most popular for Professional Services?
Greg Swiszcz
According to a survey by BIA's Local Advertising Forecast, the professional service industries will spend $2.5 Billion on mobile ads in 2019.  These industries include law firms and legal businesses along with engineering, architects and computer/technology services.  These are the industries that will spend the most. Other industries within this vertical include accounting (CPAs), advertising agencies, photography services, and more. In fact, this vertical of professional services are putting just over half of their ad budgets into digital.
What products are they using?  Social media and targeted digital ads make up the largest share, while Native Ads are showing the highest ROI for them currently.  Included in their media mix are both display and video, as video helps to build their brand.   About half of these professional services agencies are using an outside company for their digital marketing efforts.  This is a great opportunity for prospecting.
In order to understand why these professional service businesses are spending so much of their budget with these elements, let's clarify one thing – Mobile Advertising is NOT just Mobile Conquesting™.   There are so many other forms of digital advertising that can be served to mobile devices.  Let's take a look at some of them.
Social Media – Facebook and Instagram. 
These are two of the biggest Social Media platforms out there, and they are the two that we focus on. With the majority of adults using these two platforms, focusing your ad dollars here makes the most sense.
  At Vici, one of the most utilized tools within this vertical are the Carousel Ads.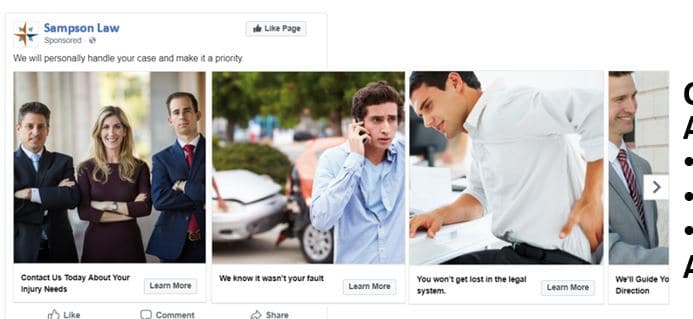 Carousel Ads give companies the opportunity to display up to 10 images, videos, or a combination of the two and talk about the products or services they offer.  A law firm, for example, could talk about the different types of law they practice, share testimonials, or even include current images/videos from their other advertising mediums.
Carousel Ads also give the user a friendly experience.  Rather than being dumped on the homepage every time, each individual image/video within the carousel ad can link to a different page of the client's website.  This offers the user the ability to find the information that is relevant to them quickly and precisely.  In addition, each image/video has its own space below it to talk about that particular aspect of the business.
A benefit to anyone looking to utilize these types of Facebook Ads is that in addition to appearing on desktops and laptops, they also appear on mobile devices.  The reason this is so important is because 96% of Facebook users access it on mobile devices.   These ads are also a type of Native Ads, meaning they get higher click-through rates.  For hints on how to make successful carousel ads, check out some helpful info here.
Mobile Conquesting™
This product uses location based, demographic, and behavioral targeting to target people on their smartphones and tablets, with both display and video.  Since the majority of adults are constantly on the go, having the ability to target them on their mobile devices is a great addition to any marketing mix. This is where Mobile Conquesting™ comes in.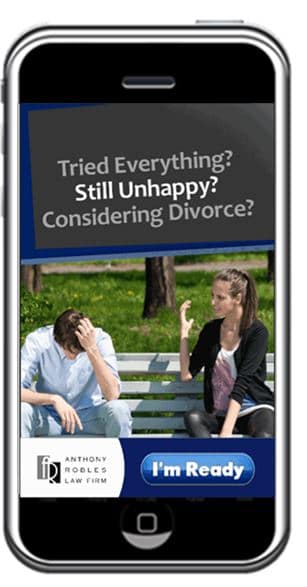 Most professional services companies out there are trying to reach a particular demographic.  For example, DUI attorneys may target those that frequent bars and clubs, while HR outsourcing companies are specifically looking for entrepreneurs, small business owners, and C-level executives.  Mobile Conquesting™ allows you to target these types of individuals.
With Mobile Conquesting™, you get to first pick your geographic targeting area and then who you want to target.  Who is your ideal customer?  Then, there are additional ways to target your chosen audience.  We can geo-fence competing locations or establishments your target audience may visit.  A geo-fence is where we place a virtual fence around these locations and we're able to target the mobile devices that enter it, whether their GPS function is enabled or not.  Taking it one step further, with geo-retargeting, we are able to continue to serve ads to those devices that have entered the geo-fenced areas, after they leave (maybe go home for the day).
With the ability to put geo-fences around any type of establishment (with some restrictions on schools, medical offices, and places of worship), we can target any type of environment where your target audience may spend time.  This could be specific office buildings, bars, nightclubs, restaurants, and for those personal injury attorneys, maybe we geo-fence some chiropractors.
Native Ads – one of the platforms that is generating the most ROI for some of these professional service clients. 
These are ads that don't look like ads.  In fact, they match the look, feel, and visual context of the website or app where they are seen.   Like social media, these ads can be served to both desktops and mobile devices.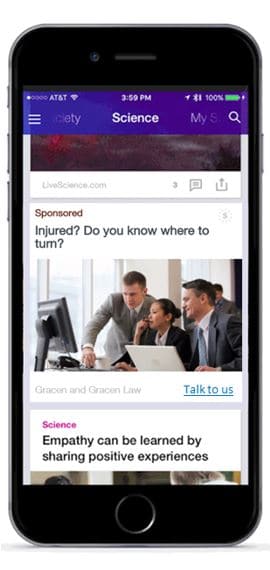 While a Native Ad can be one of hundreds of different formats, no one is responsible for designing hundreds of display ads.  That's because the exchange will create the ad in real time to match whichever site or app it's being displayed on.  This is a huge time saver for clients.
These ads can be targeted in a variety of ways.  Just like most every other product, you can choose from over 2,000 different behavioral categories.  These behavioral categories, such as "Drunk Driving Law" or "Pain Management", may be great opportunities for law firms to target those that have exhibited online behaviors related to the previously mentioned categories.
Native Ads can also be targeted via Keyword Targeting.  When utilizing this method, advertisements are shown on websites that contain the business' keywords.  The best part about this is that the exchange doesn't just look for one keyword, it's searching the content for multiple keywords to ensure that it fits the type of demographic that they are looking for. 
One of the most sophisticated ways that Native Ads can be targeted is through Artificial Intelligence.  With this type of targeting, we use machine learning to target your potential customers based on who is interacting with the ad.  There aren't any specific targeting categories used here.  Instead, we start showing ads in a specific geographic targeting area.  As people start interacting with the ad, the machine learning finds other people with similar online behaviors to serve the ad to, thus creating an ideal audience for you.  The piece that is so cutting-edge here is that every single minute, the campaign is optimized through machine learning.  Every minute the campaign optimizes itself to get closer and closer to your target audience.
Native Retargeting is a tool that should be incorporated with any type of Native Targeting.  This is going to allow us to continue to follow around the people that come to visit your website.  This adds to the frequency of your campaign.
The last way that Native Ads can be targeted is via an email database that the client may have.  This can be past clients, current clients, or even just prospects.  With this capability, we can target the people on the email list when they are browsing online or within mobile apps.  Targeting your email database is a great supplement to any email marketing campaign that you have in the works.  While email marketing can be great, it's limited to the open rate of your campaign.   Targeting email addresses with Native ads gives the ability to reach the remainder of your database.
Native ads are one of the highest ROI methods of advertising that these professional services receive.  And the reason is because Native Ads work.  Why?  You can read more on that here.
These businesses are spending lots of money in Mobile Advertising.  As you can see, there are many ways to target people via mobile.  Which way will work best?  Vici has processes in place for this.  Starting with forecasting what inventory is available for your target market, then looking at a great marketing mix of products where we can test conversions of your campaign, our goal is to determine the best product to help you increase business.