What Were the Most Popular Verticals in 2022?
Katie Pray
December is always the month where we reflect on the last 12 months and see how we grew and what we can do to move forward. Personally, I like to see what technology thinks of how I lived my last 12 months with things like Spotify's "Wrapped", and Instagram's "Top 9". According to Spotify, I don't branch out much with what I listen to (which is a fact), and according to Instagram, the only thing I take pictures of are my kids (which is also a fact). Let's look at what we saw as the top ten verticals for our digital products this past year:
Health Care Services
Events/Concerts
Recruitment
Automotive
Financial
Education
Tourism
Non-Profit
Retail Furniture/Mattresses
Political
Health care is certainly a vertical that has been at the forefront of any kind of marketing in the last couple of years, for various reasons. As a medical facility, you want to make sure that people are aware of what you treat, offer, or specialize in. Over the Top (OTT) is a great digital product to use for this vertical because it offers branding and awareness. People aren't going to seek out a heart attack just because they saw or heard an ad for cardiac care, but if that unfortunate event does happen, you want to be the first place they think of and have that top-of-mind awareness. OTT also allows for great targeting categories for medical facilities that are more specialized like a pediatrician or an orthopedics practice. You can also target by certain ailments or diseases. For example, if a hospital wants to promote their cardiac care, we can target people who are doing research on heart disease or other categories related to heart disease. Google Pay-Per-Click (PPC) is another product that works well with health care because it is something that people will need immediately; they are searching for help so they will click on the first thing that is listed. It is also a suitable targeting strategy for those facilities with niche services, like people are searching for very specific keywords like rheumatology or gastroenterology.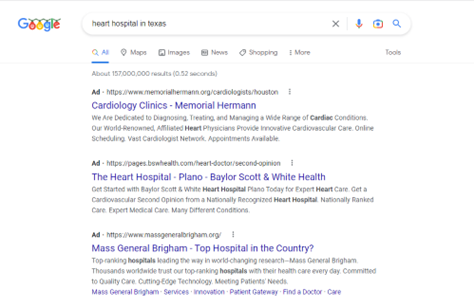 One of the verticals that I was more than happy to see make a return in 2022 was Events and Concerts. As an avid concert goer (despite what Spotify says about my music listening habits), I was more eager than ever to get back to events and concerts! Two of the products that we saw used often were Facebook and Instagram and Social Mirror Ads. With Facebook and Instagram, we're using the combination of Newsfeed and Event Response Ads to really promote the event and give reminders about it. We're also showing ads across all the platforms that Facebook has access to with Facebook Premium. With Social Mirror Ads, we are replicating that same Facebook post that could be promoting the event, but now we are reaching people outside of Facebook, so you are getting that 1-2 punch by reaching people on Facebook, and off Facebook.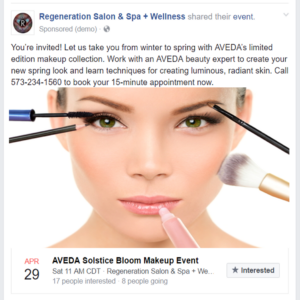 It seemed that anywhere you turned this year, one business or another was hiring. Recruitment was at the top of the list for campaigns that we can, and the products used varied from Facebook to Display to LinkedIn. Depending on the type of positions and the requirements needed for the position played a big role in what product was used to try and get new employees. For example, if you are looking to fill part-time jobs, entry level positions, or general type work, Facebook and Instagram or Social Mirror would be a good fit. If you are looking for a specific type of skill or a certain job title, LinkedIn, Native, or Video Pre-Roll would be products to consider.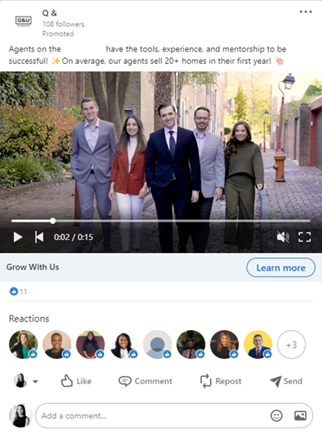 Automotive is a category that took a hit in 2021, but then made a comeback in 2022. With supply chain issues causing a lot of auto dealers to scale back on advertising due to not having the inventory, we saw a big shift in that vertical and welcomed them back with open arms this year. One of the best products for this vertical is Amazon. This product is a great one to use to get in with auto dealers because it's something different, and it also has great targeting strategies. Amazon has massive amounts of data about car owners through various sources like Amazon Vehicles and Amazon Garage. Amazon Vehicles is where people can find reviews, images, and specs on thousands of new and used cars. Amazon Garage is where users can find parts and accessories that fit their specific vehicle. Users are giving Amazon the make, model, and year of their vehicle to search for what they need, so Amazon has that data about its users and auto dealers can then use that data to target specific users.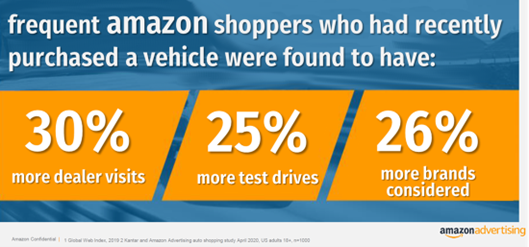 Financial is a category that had a great year in 2022. With the housing market the way that it was for most of the year, refinancing, home equity lines of credit (HELOC), and mortgages were a big push through these institutions and one product that helped get that message out was Video Pre-Roll. This is another type of business where you want to have that branding and awareness element so that when the consumer is ready for a HELOC, or they want to refinance, you are the first place they think of reaching out to. Banking can also be a very relationship driven decision so it's a good idea to have a presence among your current customers in addition to trying to get new customers. With Video Pre-Roll ads, you can target using Behaviors, Keywords, Artificial Intelligence, Custom Audience Matching, and Retargeting. Keywords can be used as people are doing their research on loan rates or looking for mortgage calculators, and there's also great Behavioral targeting categories such as In-Market for New Home, Highly Likely HELOC Customers, or In-Market Second Mortgage.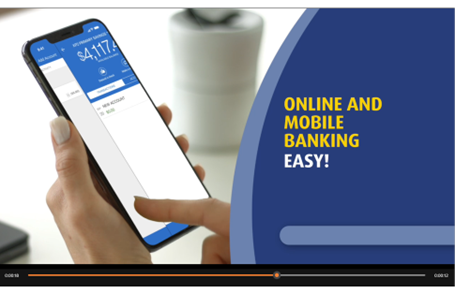 Education is an industry that was really hot in 2020 as colleges and universities started marketing and advertising for their online classes, or trying to reach adults to go back to school if they lost their job due to the job market in 2020. Since then, it's a vertical that hasn't slowed down as it is number six in the list of verticals we saw across our products this year. One of the products that was most commonly used was Mobile Conquesting Address Targeting. This particular strategy works because colleges, universities, and even private schools typically have large database lists. With Address Targeting, you can take that list of people you're looking to reach and serve ads to them on their mobile devices, and then continue to follow them after they leave that address. Another upside to using this product with an address list is that we can match 100% of that list. Since Mobile Conquesting has the ability to show on-site visits, it's also a great tool to show return on investment because we can show how many people saw the ad, and then maybe went to that school for a visit or a tour within a two-week period.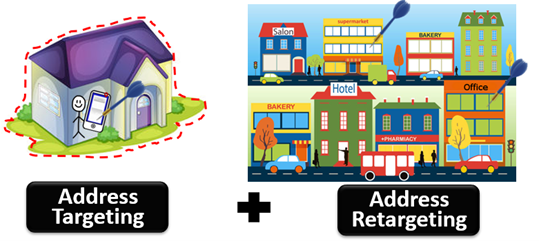 Tourism is another category that boomed this year as business, organizations, and counties started hosting more events, or even had grant money to use to try and attract people to visit their city or town. One of the most popular products used here was Social Mirror Ads. These ads are very engaging because they can be in a variety of formats such as single image, video, carousel, stories, or even in an OTT format. These ads tend to get higher engagement since they look like a social media post, and people are used to engaging with social media posts. There is also several different ways to reach someone with Social Mirror ads since you can target by Behaviors (Domestic and Air Travel & Flights, Travel and Tourism, Travel, Vacation and Travel Products), Keywords (road trips, campgrounds, cabins and cottages, explore, bed and breakfasts), Artificial Intelligence, Custom Audience Matching, and Retargeting. Non-Profit organizations were another category that relied heavily on Social Mirror Ads this year using a combination of Behavioral Targeting, Keyword Targeting, and Artificial Intelligence.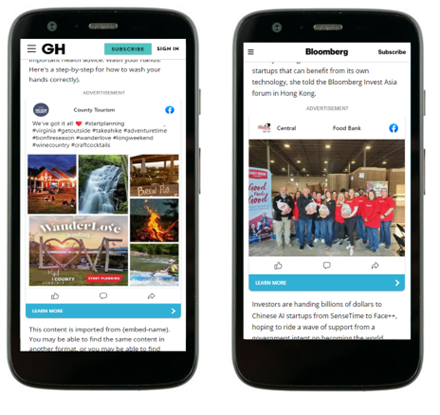 Retail is always a hot category, and one reason is because it's a very visual product. Native ads are a great product for that because Native ads are more image and video based, and less focused on text. People also do research on products since they tend to be higher ticket items, so it's not an impulse buy. As consumers, we want to look around, do research, and compare pricing, and anytime you're doing that, Keyword targeting is a great strategy because you're reaching people as they are doing research on pages that contain those keywords. There's also great Behavioral targeting categories for Native like In-Market for Mattress, In-Market for Furniture, In-Market for Renovation, Luxury Buyer, or Remodeling.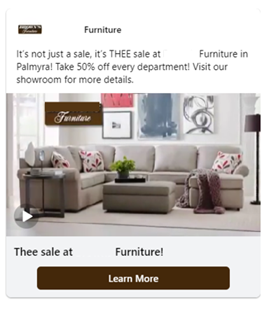 The last category to top off the most popular verticals for 2022 is Political. There is no surprise here that the biggest products used here were OTT and Video Pre-Roll. Any political candidate is most likely already running TV ads, so they have already have a video to use. OTT is great for top of the funnel awareness, and Video Pre-Roll is great to assist with that frequency. Both strategies are going to have the options to use Behavioral Targeting, Artificial Intelligence, Keywork Targeting, Custom Audience Matching, and Retargeting. By utilizing all these different targeting strategies, the candidate is sure to hit a mass audience, and they are also supplementing by hitting those cord cutters that don't have access to regular broadcast or cable.
That's a wrap on the most popular verticals for digital in 2022. Have a happy holiday, and a prosperous New Year!