What is Mobile Conquesting™ Address Targeting and How Does It Work?
Megan Malone
With the COVID-19 pandemic we've seen a consumer shift like no other.   With millions of people out of work or working from home, their behavior with devices while quarantined has dramatically changed.  Advertisers need a way to target their customers when they are at home on their mobile devices.  With our new Address Targeting product, we have that solution.
Being homebound has shifted online behavior, with in-home data usage increasing particularly on mobile devices, which has seen the highest lift during the pandemic at +34%:

When you look at the comScore data from 2019 to 2020, comparing the same Sunday/Monday/Tuesday in March year-over-year, we can see that mobile phone data usage grew by more than 50%, the highest gain across all devices followed by gaming consoles (+48%), smart speakers (+44%), streaming boxes/sticks (+38%) and connected TVs (+37%). 

Advertisers who are devising their Corona Virus plans need a strong mobile strategy to reach people in their homes and coincidentally over the last several quarters, Vici has been beta-testing a new product under our Mobile Conquesting™ umbrella of targeting strategies, called Address Targeting and Address Retargeting, which we are launching April 2020.
What is Address Targeting? What is Address Retargeting?
Address Targeting is drawing hundreds or even thousands of tiny geo-fences around an address (business or residential) to serve ads to consumers on their mobile phones and tablets.  Address Retargeting is continuing to serve ads to those same people when they leave their houses and use their mobile devices.  Advertisers can target a list of current customers, past customers, or any type of first party database list they have collected.  These ads can be mobile display or video ads.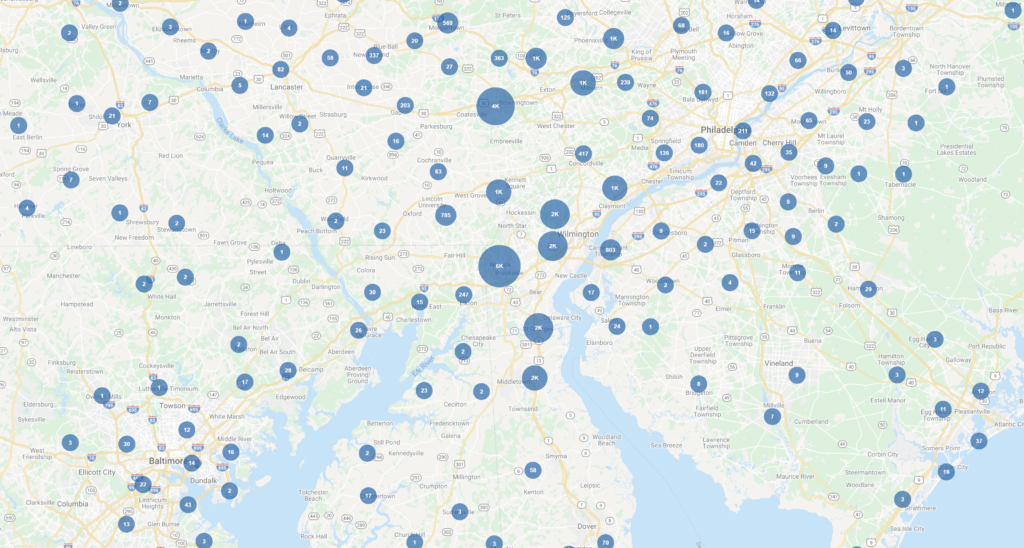 What are the benefits of Address Targeting?
Address Targeting is more hyper-targeted.  You can pinpoint the exact houses or businesses you want to reach.  We can also reach 100% of an address list that an advertiser has.  It takes about 5 business days, and the system maps address. 
What types of ads are accepted?
Both display and video ads are available, with an enhancement to add Connected TV later this year.  Both display and video targeting pricing are the same; however, video's inventory is too limited to run on its own.  For display ads we recommend four sizes: 320×50, 300×250, 728×90 and 320×480 (which is a full screen ad).  For video ads we recommend a :15-:30 ad.
What are the Key Performance Indicators (KPIs) of a successful campaign?
One of the big differences with this type of targeting is leveraging customer list data to know who within your list you are advertising to is physically walking into your location.  If the advertisers have brick and mortar locations (and are open during the pandemic) they can see on their monthly reports the number of on-site visits that came from people who were served the ad.   Once we're past the pandemic and all businesses open, this is a cutting-edge KPI. 
Another KPI is a "Match Back Analysis).  We can take an advertiser's "sold list" if they track the addresses of who they sell to, and do a "match back" of people who we are on the advertiser's list to show ads to, who subsequently purchased.   Display ads can also be dynamically updated where we insert into the ads distance the person is from the advertiser's location, address, and phone number. 
Outside of visit data we can also measure impressions, clicks, click through rate, view throughs (how many people are seeing your ad- not clicking- but still finding your website), website conversions, and creative performance.
How big of an address list do we need?
The smallest list we can start with is 100 addresses, and there's no maximum on the number of addresses you can target.  However, we recommend at least a 25 frequency per month (meaning a household would be served the ad about once a day) to those on your address list as a good frequency for pushing across your message.  Keep in mind because these tiny household geo-fences are so small, we cannot layer in demographic/behavioral data on top of each address.  Instead we're targeting everyone with a mobile device on your address list.
How do we protect consumer privacy?
Protecting consumer data is a top priority.  We do this by treating the address list like one big line item, instead of separating individual houses as individual line items.  We will never track individual address data making our product 100% privacy compliant safe.  We do not provide publisher data, device IDs or information about individual addresses because we treat it as one big targeting list.  If you want to target different lists with different creative you can do this, but you want to make sure each list size is minimum 100 addresses to protect consumer privacy.
Is it worth advertising during the pandemic?
If you have the means to continue to advertise, you should do so.  Forbes reported:
That advertisers that maintained or grew their ad spending increased sales and market share during the recession and afterwards.
The "noise level" in a brand's product category can drop when competitors cut back on their ad spend. It also allows for advertisers to re-position a brand or introduce a new product.
Although the natural inclination for advertisers is to cut back on advertising during a recession, those brands that maintain their ad budget and/or change their messaging can get a long-lasting boost in sales and market share.
Anything else I need to know?
Because all Address Targeting is sent through mobile devices and tablets, be aware of the conversion you are asking the end consumer to complete on the advertiser's website.  If someone has to fill out a long form, a multi-field application, or a conversion that is better suited for a computer with a keyboard, this product may not be a good fit.  You want to make sure the action you're asking a customer to complete after they click your ad is easy to do on a mobile device.
If you have a more complicated conversion process we would recommend other computer-based targeting that utilizes CRM matching, such as Household IP Targeting or Facebook Custom Audiences, but keep in mind each have about a 50% match rate, meaning you can often only target half of your address list with those products.  If you have an email list, Native Email matching is another way to utilize your data (but it doesn't accept street addresses).