Who's spending money on digital advertising and what products are they using?
Greg Swiszcz
Whether you're a business owner looking for the right product to carry your message to potential customers, or a salesperson looking to help a local business, it's always nice to see success stories to help solidify your choice in your marketing efforts.
There are so many different industries out there.  Last year, here are the top 15 verticals that we saw spending money in digital:
Health Care Services
Educations
Automotive
Events/Concerts
HVAC/Home & Commercial Services
Retail – Furniture/Mattresses/Home Goods/Jewelry
Financial – Bank/Credit Union
Political
Legal/Attorney
Winery/Alcohol/Brewery
Recruitment
B2B
Real Estate/Residential/Commercial Construction
Tourism/Resorts/Museum/Casinos/Golf
Government Services/Chambers of Commerce
We'll take a look at some of the top products (most often used) chosen by some of these verticals, as well as some of the targeting strategies used.  Keep in mind that these aren't the only products that you could use for these verticals.  This is just the most often used.
Healthcare –
OTT – Over the Top Video. (this is programming on a Connected TV that is being streamed through the internet.)
Targeting strategies used – Behavioral, Artificial Intelligence, Retargeting and On-Site Visit Tracking.
Why these strategies work:
OTT is great for branding & awareness, and if you're a medical practice, everyone may need your service at some point.
There are some really specific targeting categories available. If you're a dentist or a pediatrician, you can target by recently moved.  You can also target by disease, meaning if you are a hospital focusing on cardiac care, you can target people researching heart disease and other additional causes.  You could also target by specialty, meaning if you're a dentist and specialize in crowns, you can utilize that opportunity as part of your targeting.
Typically, OTT doesn't have conversion tracking. So, if you're a business, or talking to a business that is looking for conversions, then you could add in On-Site Visit Tracking, which is a great metric to show for Return on Investment.  On-Site Visit Tracking tells you of the people who were served your OTT ad, how many then came to your business location.

Another strategy used for Health Care is Live Chat.  A lot of our healthcare clients utilized this service for a few reasons.
It is HIPPA compliant
We can offer Call Connect to the client. Once the Live Chat agent is done collecting contact information, he/she can offer to connect that potential client to your business via the phone.
The majority of leads come outside of business hours. So, if most of those chats are happening outside of business hours, you would normally lose those potential customers if you don't have live chat.

Education –
The targeting strategies used most were Address Targeting and Address Retargeting, along with On-site visit tracking.
Why these strategies work:
Leverage huge database lists – colleges, universities, trade schools and private schools typically have big databases, especially at the university/college level.
You can reach 100% of the list that you are using, since we are actually geo-fencing every household on the list.
You can utilize both display and video (though video will have a small percentage, typically between 5-10% of the impressions) for the same costs
The On-Site Visit Tracking allows you to track ROI, seeing how many people were served your ad and then come onto your campus.
Another product that was used was Facebook and Instagram.  The top strategies used were Custom Audience Matching and Lookallike Audience, as well as Behavioral Targeting.
Why these strategies work:
Facebook and Instagram utilize so many different platforms to share the message, and if you're trying to utilize a younger audience, Social Media makes a lot of sense.
Leverage the huge databases with Custom Audience and Lookalike
Using Event Response Ads to promote open houses and other campus events
Target by parents with teens. This just speaks to the specific targeting categories offered by these platforms.  Moreso on the college and university side, these schools can be targeting the parents of teens as well as the teens.
Target by some college or junior college. Maybe this is an opportunity for a college or university to target those people that have started school, and maybe just have an associate degree so they come back and finish their education.
Automotive –
Even with the automotive industry in such low supply and high demand, we still saw a lot of dealerships using their budgets to secure their share of their respective markets' business.
Mobile Conquesting
The strategies used by automotive clients were: Address Targeting & Address Retargeting, On-Site Visit Tracking, Behavioral Targeting, Geo-Fencing, Geo-Retargeting and Cross Platform Targeting.
Why these strategies work:
Car Dealerships (most of them) have amazing CRM's and have access to all of their data, plus access to almost any type of list imaginable. Towards the end of the year, we noticed a lot of the dealerships were utilizing their marketing dollars to promote their service departments.
Behavioral was targeting people in the market for a car.
Geo-fencing and Geo-retargeting are targeting people at other competing car dealerships before they purchase from somewhere else.
Cross Platform is a great idea for this vertical because people spend a lot of time researching what they are going to buy, comparing different makes and models. In doing so, people are usually utilizing multiple devices and can target those people that got served an ad on their mobile device.
On-Site Visit Tracking is one of the best metrics to show a dealership because you are showing them actual visits to their dealership.
Another product used was Amazon Targeting.
The strategies used by automotive dealers were: Amazon Behavioral Targeting, Amazon Product Targeting, Amazon Custom Audience and Lookalike, and Amazon Retargeting.
Why these strategies work:
Dealerships know that Amazon has rich targeting data about their users.
Leverage database list with OTT Custom Audience both on Amazon and off Amazon.
Amazon collects really detailed information about what type of cars people are driving (make, model, and year) through Amazon Vehicles and Amazon Garage data.
Target by specific makes and models (currently owns) to match exact make/model/age.
Target by auto products – tires, oil changes, etc.
Polk data – Amazon partners with Polk Data to get specific data to target by.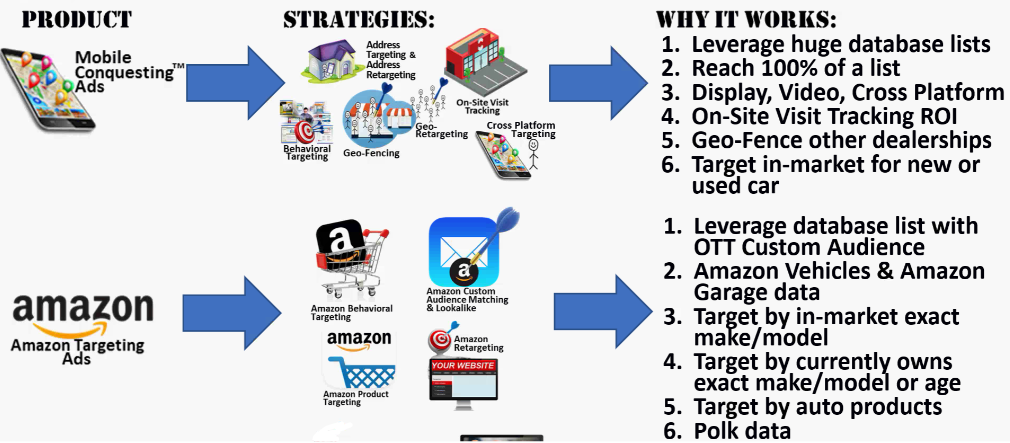 Events/Concerts.  These came back strong during the 2nd half of 2021.
The first product used most often was Facebook/Instagram.
The targeting strategies most used were Custom Audience Matching & Lookalike, as well as Behavioral.
Why these strategies work:
The ads for these events can go across all of the Facebook platforms, reaching their target audience anywhere they go within the platform.
Lots of these events, specifically the larger ones, keep sophisticated databases on who buys tickets each year, and to any of their other events. Using the Lookalike audience also allows you to target people that look like those in your database.
Event response ads were specifically designed to promote these types of events.
Events that have sponsors can utilize Carousel Ads to tie in and promote their sponsors. Using up to 10 frames, you have the ability to highlight some of your
The targeting allows you to be able to target by type of event/concert/festival.
Another product used was Social Mirror.  Social Mirror ads look like organic posts from a social platform but run across thousands of different websites.
The targeting strategies used were Behavioral, Artificial Intelligence, Retargeting and Keyword.
Why these strategies work:
This is a vertical that really likes Social Media, so being able take advantage of their increase in activity on their Social Media channels.
We can match keywords to their type of event, specific artists, etc
For behavioral, we can target by type of music, festival, event, sport or even in-market for entertainment

As you can see across some of our top verticals for 2021, there is a wide range of products that were used to accomplish their goals.  This brings up the importance of knowing exactly what a business is trying to accomplish with their marketing.
Here are a few tips to help you find out which product(s) would be the best fit for your business, or your client:
Don't be afraid to ask questions. If you're responsible for the marketing (and return on investment) of those marketing dollars, you want to know the basics of:

Who is the specific target audience?
What geographic area do you want to focus on? How far is someone willing to travel to come to your business?
What traditional, and digital, advertising mediums have you used in the past? Both successful and unsuccessful?
What's the message that you want to deliver?
What's the end goal of your campaign? On-site traffic? Online ticket sales?

There isn't a "silver bullet" that is the be all, end all for a specific industry, in regards to product used. There can be several opportunities to create successful campaigns, and some of those opportunities may require multiple products.
Review your progress. One of the things that we strongly encourage is monthly reviews of the campaign.  Doing this will enable you to uncover what's working, and sometimes what's not working so that changes can be made to get back on track.
There are professionals in this industry to support you with your digital journey. Just like you might be an expert at fixing cars, or selling houses, working with a professional that knows what they are doing will save you a lot of time and money in the long run!
Good luck with your digital advertising!