Do you REALLY Know what OTT is?
Allison Gibson
In a world of video there are so many terms out there. Video, OTT, Linear TV, Cable TV, Broadcast TV, CTV, ATV, Pre-roll and more! Hence the confusion.
In a recent study done by Borrell Associates shows that more than 50% of small and medium-sized businesses DO NOT know what OTT is. That is a staggering number.
Part of the confusion lies in that even the people selling OTT do not know what it is.  The main issue is that OTT is an umbrella term. That umbrella term means video programming transmitted via the Internet which bypasses traditional cable or broadcast (linear) distribution. It can be consumed on any device including computers, mobile devices, and Connected (Smart) TVs.  So, does that means really any video programming not shown on traditional or cable connection is OTT? It's a vague definition.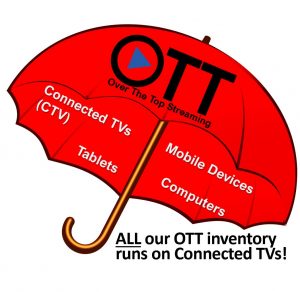 At Vici ALL our OTT inventory runs on Connected TV's (CTV); which is the premium and most preferred inventory.   eMarketer reports that 95% of marketers reported CTV achieved desired key performance indicators and it is the most used device to stream programming…so wouldn't you want your ads to appear here?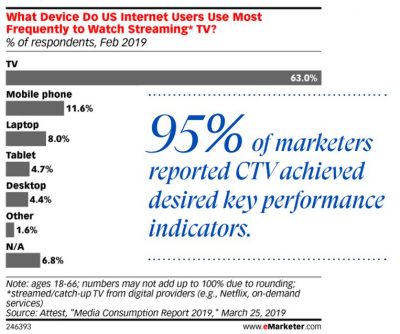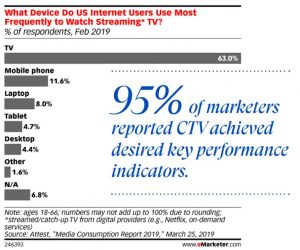 Plus, studies show 83% of households have at least one Connected TV and that 57% of Connected TV users see ads for products they are interested in.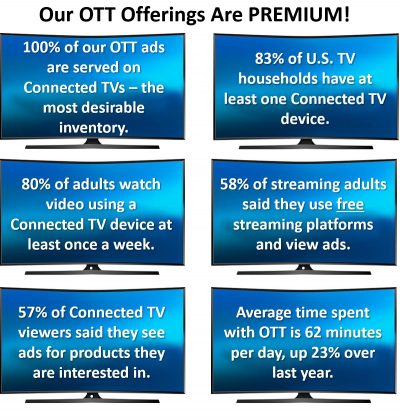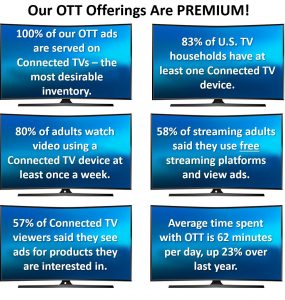 If you are considering purchasing or including OTT in your campaign, you should ask these questions of your digital provider:
What percentage of your OTT impressions run on TVs?
At Vici, 100% is served on Connected TVs,
What percentage of your OTT impressions are just running on your network's owned properties?
We find many times this is how they artificially lower their cost to the advertiser.  Remember, not all impressions are created equally.
What percentage of my impressions will just run on your station website?
If the ads run here, THIS IS NOT OTT.  That is video pre-roll in likelihood. 
Do your reports show completion graphs?
This means how many people watched 25%, 50%, 75% or 100% of the commercial. Our average is 98% because it is on Connected TV's,
Can you (the digital provider) serve OTT impressions to a targeted database list I have of addresses or emails?
Not only can we behavioral target from over 100,000 categories, we can also target a database of addresses or emails; not just cable subscribers that cable companies would tout.
Do you buy FireTV or Amazon OTT inventory?
At Vici…we do! Not many digital providers can say that.
More households are cutting cable or they are classified as "Cable-Nevers" who have never signed up for cable. eMarketer estimates that by end of 2021, over 81 million U.S. consumers will have either cut their cords or never signed up for one in the first place, up 64% from 2018.
What else make our OTT different?
Our OTT runs on Set-Top Boxes, Game Consoles, and Smart TVs like Fire TV Sticks, XBOX, PlayStation, 4K FireTV, SmartTV, AppleTV, ChromeCast, Roku, and more. 100% of our impressions are served on Connected TVs. This is truly the premium inventory. More people stream on Connected TVs and when you are choosing to stream on a big screen, you are more Connected. See what I did there?
Our OTT runs on hundreds of Apps and streaming platforms.  These cover a variety of content such as News, Sports, Entertainment, Lifestyle, Gaming, Health, Technology, and many more, depending on the targeting categories selected for your campaign. We have over 100,000 targeting categories to choose from and we can also use Artificial Intelligence to find the optimal audience. Many times, we find other outlets have some broad behavioral targeting options, but not as specific as they should get.
OTT ads will run on some of the publishers and devices like Samsung TV, DirecTV, NHL, Fox, local news stations, Disney/ABC, AMC Networks, NBC Universal, National Geography, A+E Networks, Bloomberg, Discovery, the CW, and MLB to serve ads through direct connections.
PLUS, we also have access to Amazon OTT, through the Amazon Demand Side Platform (DSP).  And with Amazon OTT we can target by people's behaviors, Amazon Product Targeting (targeting people who have searched for or purchased certain products) AND through a Custom Audience from a client's database list. And let's face it Amazon knows a lot about our buying behaviors and we can use this to our advantage.
There are many video terms out there and they can muddy the water.
Glossary Of Terms:
OTT: "Over The Top" This is an umbrella term for video programming transmitted via the Internet that bypasses traditional cable or broadcast (linear) distribution. It can be consumed on any device including computers, mobile devices, Connected TVs, and gaming systems.
CTV: "Connected TV" This is a type of OTT and refers to consuming video programing through TV sets that are connected to the Internet through built in technology (Smart TVs) or through devices connected to the TV such as Apple TV, Chromecast, Amazon Fire, and gaming consoles.  All CTV is a form of OTT but not all OTT is CTV!
OTA: "Over The Air" This is broadcast TV also called "linear TV" or "traditional TV". It's content that is delivered without using satellite transmission or cable.
AVOD: "Ad-Supported Video-On-Demand"  Ad-supported video-on-demand platforms like YouTube, Pluto, Crackle, Tubi, make their money off ads in between their content. As a result, the platforms are free for viewers. Are you paying for the service? No? Do ads run between the content? Yes? Then it's an AVOD service.
SVOD: "Subscription Video on Demand" Video content that requires access to a subscription video on demand service. Examples include Netflix, Disney+, and Discovery+.  Are you paying for the service? Yes? Then it's an SVOD service. vMVPD: "Virtual Multichannel Video Programming Distributor" These are distributors that aggregate live and on-demand television but deliver the content over the internet. Examples include Sling, DIRECTV NOW, PlayStation™ Vue, YouTube Live, Hulu Live, fuboTV, Roku, Apple TV, and Amazon Fire TV.  Does the digital service offer content similar to how cable and broadcast do?  Yes? Then its a vMVPD.
Hybrid Models:  Several streaming services fall into more than one category. For example, Pluto TV and Xumo both offer 100-plus linear channels for live streaming, they also offer a growing collection of video-on-demand programming.
ATV: "Addressable TV" The ability to serve different ad content to different audience segments watching the same TV program on IP connected TVs and set-top boxes of cable companies or satellite providers, by dynamically inserting an ad based on specific audience targeting in either live, playback, or Video On Demand mode. Examples would include offerings by Comcast, DIRECTV, and Dish.
Smart TV: A television set that is capable and enabled to access the internet.
Linear TV: Refers to video content that is real-time television service that broadcasts scheduled programs, over the air or through satellite or cable, not streamed to a specific user.
Outstream Video: Sometimes referred to as Native Video ads. Outstream video is sometimes also referred to as native video. It is a digital video advertising ad unit that's integrated within a page and auto plays once the user scrolls near it. These ads run on mobile devices and computers and on websites and apps.
Pre-Roll Ads: These are video ads that play before the content you want to consume plays. Typically these are ads that you have to watch (or at least part of them) in order to get to the content you've clicked on to watch. These ads run on mobile devices and computers and on websites and apps.
Mid-Roll Ads: These are video ads that run during the content you have clicked on to watch. In exchange for viewing the free content you have to watch the ad. These ads run on mobile devices and computers and on websites and apps.
And to make things even more confusing, check out this recent video on OTT confusion among small and mid-sized businesses.
Bottom line, everyone needs to do their homework. Make sure your prospect understands how they want to run video and the right product for them. It could be OTT or it could  be pre-roll video on all devices or Facebook videos. There really are many video options out there. So, if they want OTT, make sure they know what they are buying and why!