What In The World Are Social Mirror Ads?
Allison Gibson
Social Mirror ads look like your social media display or video posts but appear on other websites and apps, linking back to the social media platform and your website, and run across all devices using our targeting strategies. We are "mirroring" the EXACT look of your social post as an ad that runs on thousands of OTHER websites and apps, targeted just to the people you want to reach across all devices.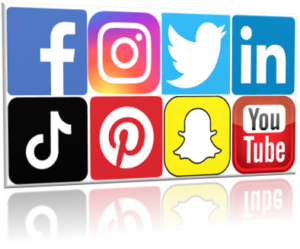 Why are Social Mirror ads so popular and effective?  Because how people are spending time online changes constantly. According to Nielsen and Comscore in the US we spend on average 32 hours per month online and it is growing. When looking at how people spend time online at the top of popular activities is a combination of hobbies, searches, researching product or services, health info, directions and the weather, followed by reading news, entertainment and making purchases.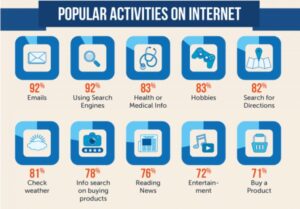 So yeah, people are doing a lot online. We knew this right? But how does it break out on where they spend their time online?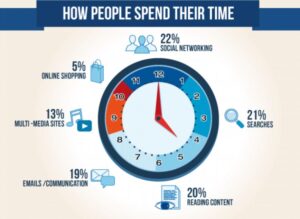 Social Media leads the charge at 22%. The rest of the time is spent doing online searches, reading content like news or related articles and research, emailing and using multi-media platforms like music, video and more. And lastly the rest of time goes towards making purchases. So yes, social is a place we spend time, but a little less than 80% of our time is spent elsewhere. This is why Social Mirror™ ads have been so successful. We live in and out of social platforms all day long and sometimes don't even realize what app or website or social platform we are even on, because we are like busy bunnies hopping around all the time. Social Mirror ads play really well with this consumer online activity. Social Mirror ads run actually outside of social media.  Social Mirror ads can be done with any organic or paid posts from your business account on these 8 social media platforms: Facebook, Instagram, Twitter, LinkedIn, TikTok, Pinterest, Snapchat, or YouTube.
Targeting options for Social Mirror ads include:
Behavioral – thousands of targeting categories including demographics, on-line and off-line behaviors, and interests
Keywords – target a list of up to 500 keywords related to your business, and show Native ads on the web pages where they appear
A.I. Targeting – Showing your display or video ads to people across all devices, using machine learning to target consumers based on who is engaging with the ad
Retargeting – Following people after they leave your website and showing them your Social Mirror ad, on other websites and apps they go to, across all devices.
Cross Platform Targeting available from Mobile Conquesting
And these ads work! At Vici, Social Mirror Ad campaigns have proven to outperform other ad types and on average we see a Click-thru Rate 7 times higher than the national average.
They have proven to be beneficial for almost every business vertical. And at Vici, we have several success stories to tout including Automotive, Retail Jewelry, Addiction Treatment Facility and B2B.
AUTOMOTIVE SOCIAL MIRROR STORY – mirroring YouTube
A local Hyundai Dealership utilized several digital marketing strategies to drive people to their dealership for test drives, trade ins, and purchasing a new or used car/SUV.  The dealership was already running a digital campaign that included several different targeting strategies such as Native Display and Video Ads, Social Media,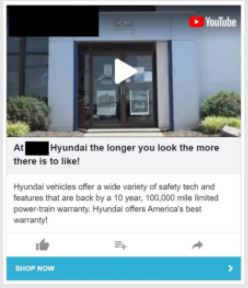 Mobile Conquesting™, OTT, Pre-Roll, and Google Pay-Per-Click ads, and then added in YouTube Social Mirror ads. By doing this, they were able to extend the reach of their targeted audience by targeting consumers that have shown the behavior of "In-Market for Auto Loans", "In-Market for Autos & Vehicles", and "In-Market for Hyundai" by utilizing a :30 video. With the YouTube Social Mirror ads, users could "like" the post, share the post, or click "Shop Now" and be brought to their website in order to browse the new and used car inventory.
Through the YouTube Social Mirror ads, the dealership received 149,857 additional impressions with 1,083 clicks that resulted in a click thru rate of .72%, which is 10X the National average! The YouTube Social Mirror ad campaign was a great additional element to an already diverse digital marketing campaign.
ADDICTION TREATMENT FACILITY SOCIAL MIRROR SUCCESS STORY – mirroring Facebook
A regional Addiction Treatment Center, who turned to digital advertising to generate more leads saw great success and was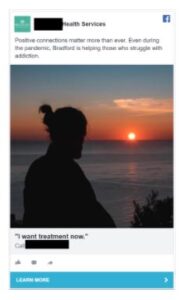 loo king for new ways to reach more people who suffer from addiction, especially during COVID-19. The goal was to increase patient lead intake online. Facebook Social Mirror was recommended to broaden the reach of social audiences outside of their Facebook app. An online campaign was designed and launched utilizing a Social Mirror strategy to engage adults who feel isolated and alone and need help. The call to action was, "I want treatment now" which directed them to a phone # or a click to landing page with comforting messages about positive connections that could connect them with help and encouraged them to fill out a
form or engage in live chat messaging.
The additional impressions that ran for this campaign on social mirroring were 150,806 and resulted in 4,421 clicks with a click-thru rate of 2.93%. This is a remarkable percentage as it is nearly 42x the national average. Plus, the campaign had 163 view thru visits (home page visits)and 11 new patient conversions in the first month of launch.  With a per-patient ROI of $3500, the client was thrilled with the results of this cutting-edge strategy.
B2B SOCIAL MIRROR SUCCESS STORY – mirroring LinkedIn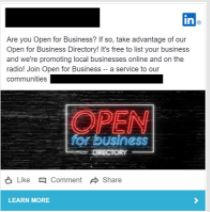 A marketing solutions agency launched a new online business directory promoting local businesses in dozens of different sectors such as financial, healthcare, education, real estate, travel, tourism, and retail services and restaurants. An online campaign was designed and launched utilizing Social Mirror Ads to promote their newest asset, a small business directory. This "free" open for business directory was a great way to promote local businesses online. The directory of businesses can be searched by zip code or cities. The target was B2B decision-makers in either marketing or research, small business owners, entrepreneurs, or C-suite executives.  The geography being targeted was a list of zip codes that cover a 50-mile radius of the local area.
The Business to Business targeting strategy included a Linked In Social Mirror Ad strategy using the B2B Behavioral Targeting categories listed above.  People who clicked on the LinkedIn icon were directed to the advertiser's LinkedIn page.  People who clicked on the "Learn More" button were directed to a specific landing page created to redirect all traffic that engaged back to the directory so business owners could create their listings.
There were just over 100,000 ads served and 790 clicks on the ads for a click-through rate of 0.79% which is over 11x the national average of 0.07%.  The client was very pleased with the test and the brand awareness created for the new directory.
JEWELRY STORE SOCIAL MIRROR SUCCESS STORY – mirroring Pinterest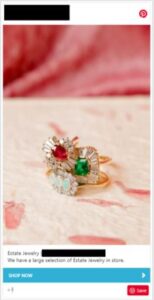 A fourth-generation Jewelry store, for over 70 years, promoted the ultimate shopping experience to every customer as they shopped for engagement rings, wedding bands, Swiss watches and fine jewelry. An online campaign was designed and launched utilizing Social Mirror Ads to promote their fine line of estate jewelry; custom-made jewelry capabilities; and engagement rings. Behavioral Targeting categories were selected to target Adults who were "in-market" to buy engagement rings or custom jewelry. The geography being targeted to was a 35-mile radius around their location and they Geo-Fenced three local competitors. Potential customers who went into their competitor stores were served ads that mirrored their most popular Pinterest posts. Online traffic was redirected to a website page where customers could schedule a viewing at the store or explore financing options.
There were just over 150,000 ads served and 2,596 clicks on the ads for a click-through rate of 1.71% which is over 24x the national average of 0.07%. The client was extremely happy with the test and the brand awareness and online engagement created for their store.
The results speak for themselves. Social Mirror ads work hand in hand with consumer behavior and with the great targeting options, can be a great product to sell and include in marketing plans. And by mirroring social media posts and also being on top websites and apps, it will appear to consumers that your clients are EVERYWHERE! And with all the time spent online, being as many places as possible is a good thing!