What digital products work best when Targeting a Hispanic Audience?
Dana
All of them. That's right, you have more flexibility and targeting options than ever before to reach Hispanic consumers with digital ads.
Want to try Social Mirror™? Check out this comprehensive (and not even complete!) list of possible behavioral categories to choose from! The same exhaustive list can also be used to target with Display Ads, Native Ads, Online Audio Ads and Video Pre-Roll Ads.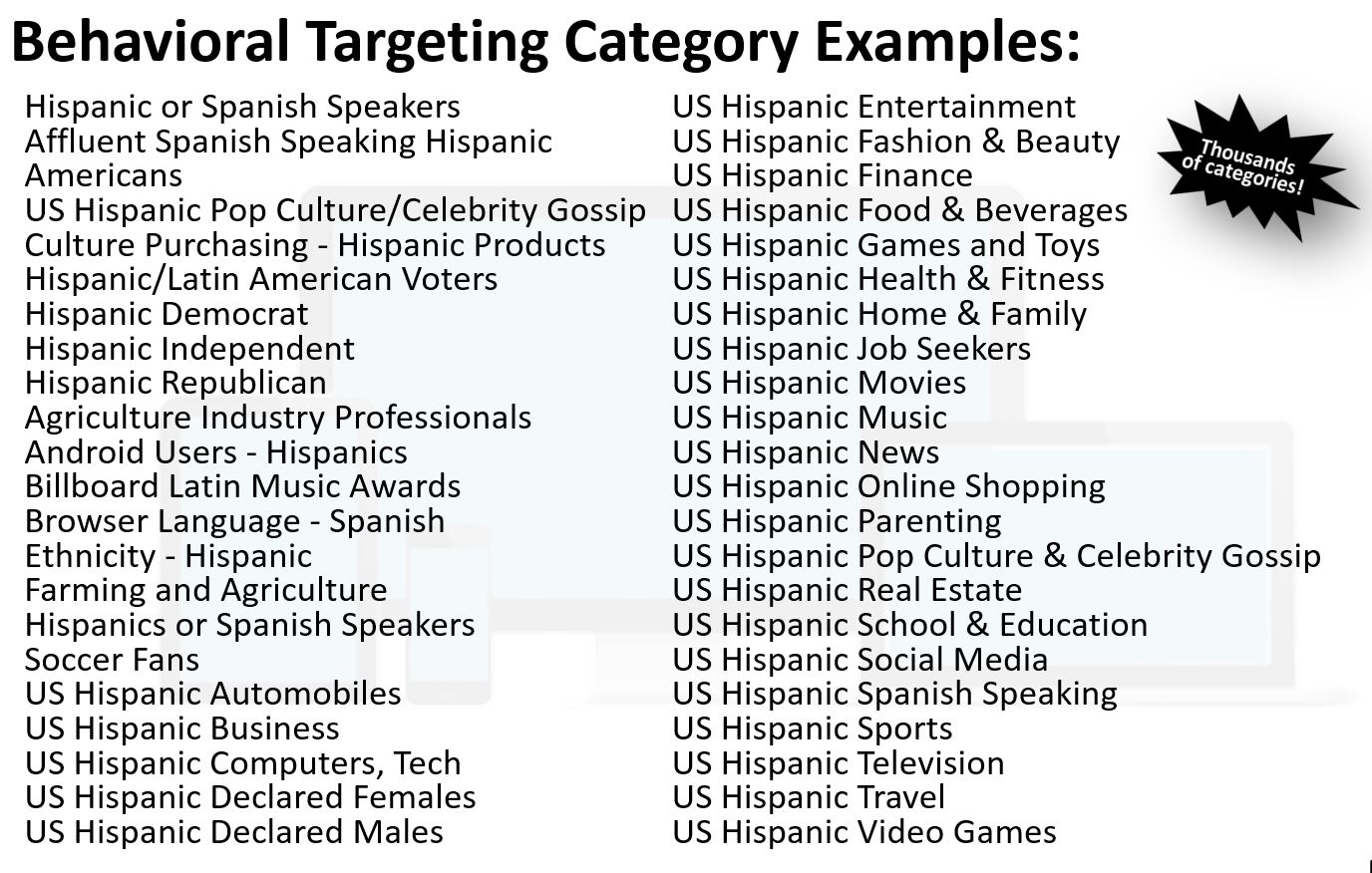 If you want to add in OTT, you have the ability to target by Country of Origin among other options: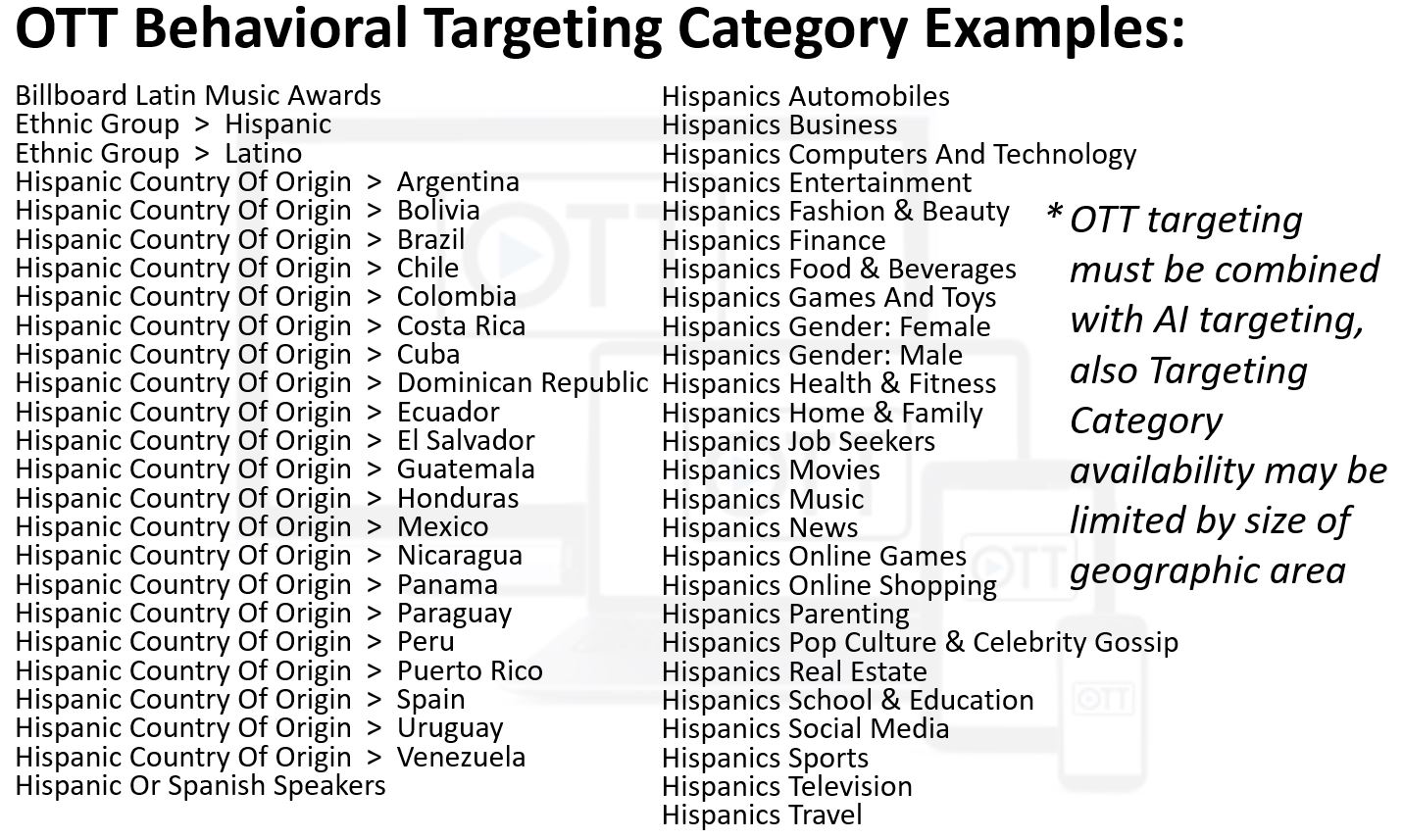 What if your audience is more out and about and you want to target using Mobile Conquesting™? Done! You can geo fence specific locations and also add larger radii and use targeting options such as Hispanics, Hispanic Convenience Stores, Hispanic Food Market, Hispanic Food Products, Hispanic Grocer, Hispanic Services, Mexican and Latin American Food or Mexican Goods.
Social Targeting options are abundant as well and work for both Facebook and Instagram: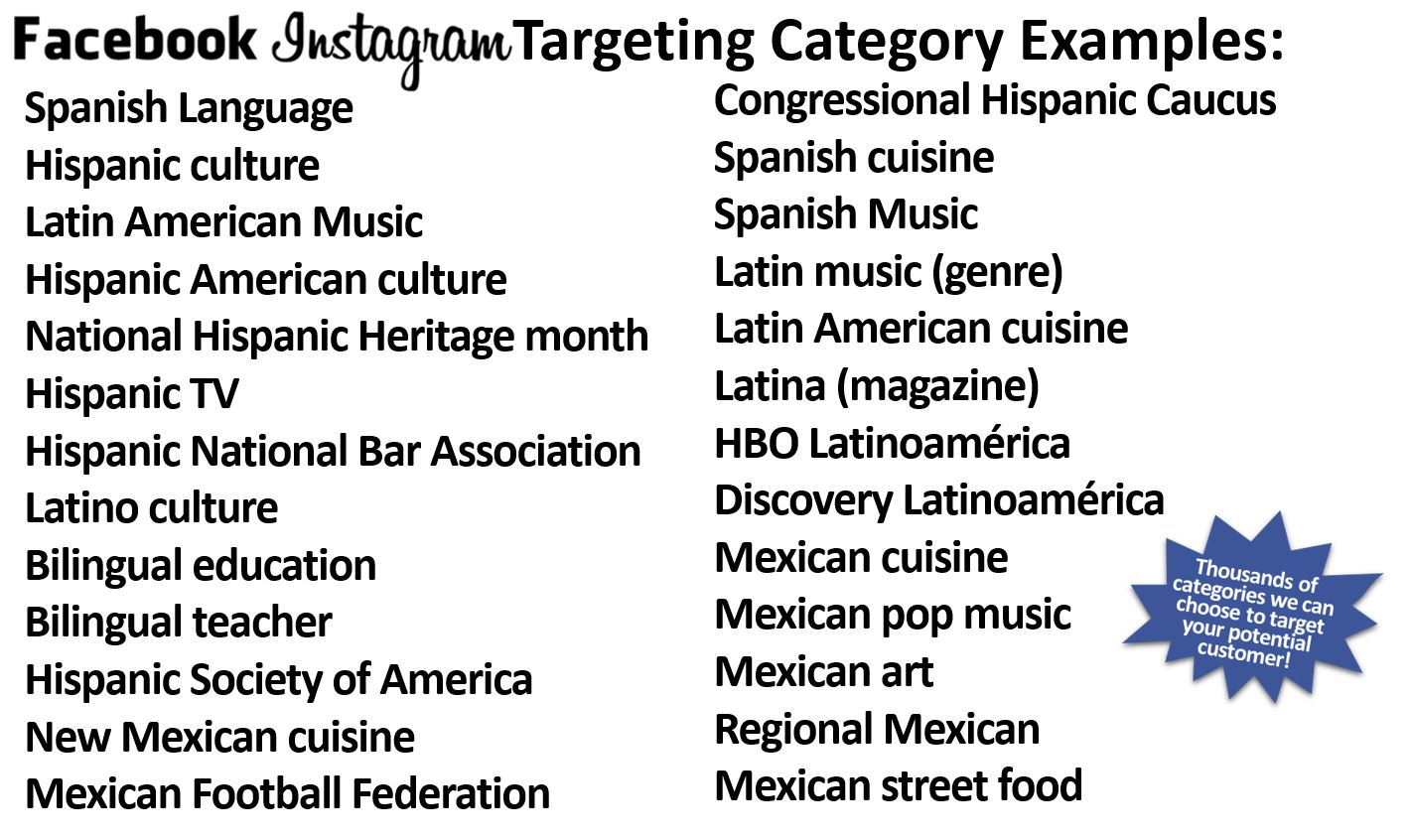 Amazon is also an excellent option, ANY of their behavioral categories can be set to serve to people who have their browser set to Spanish: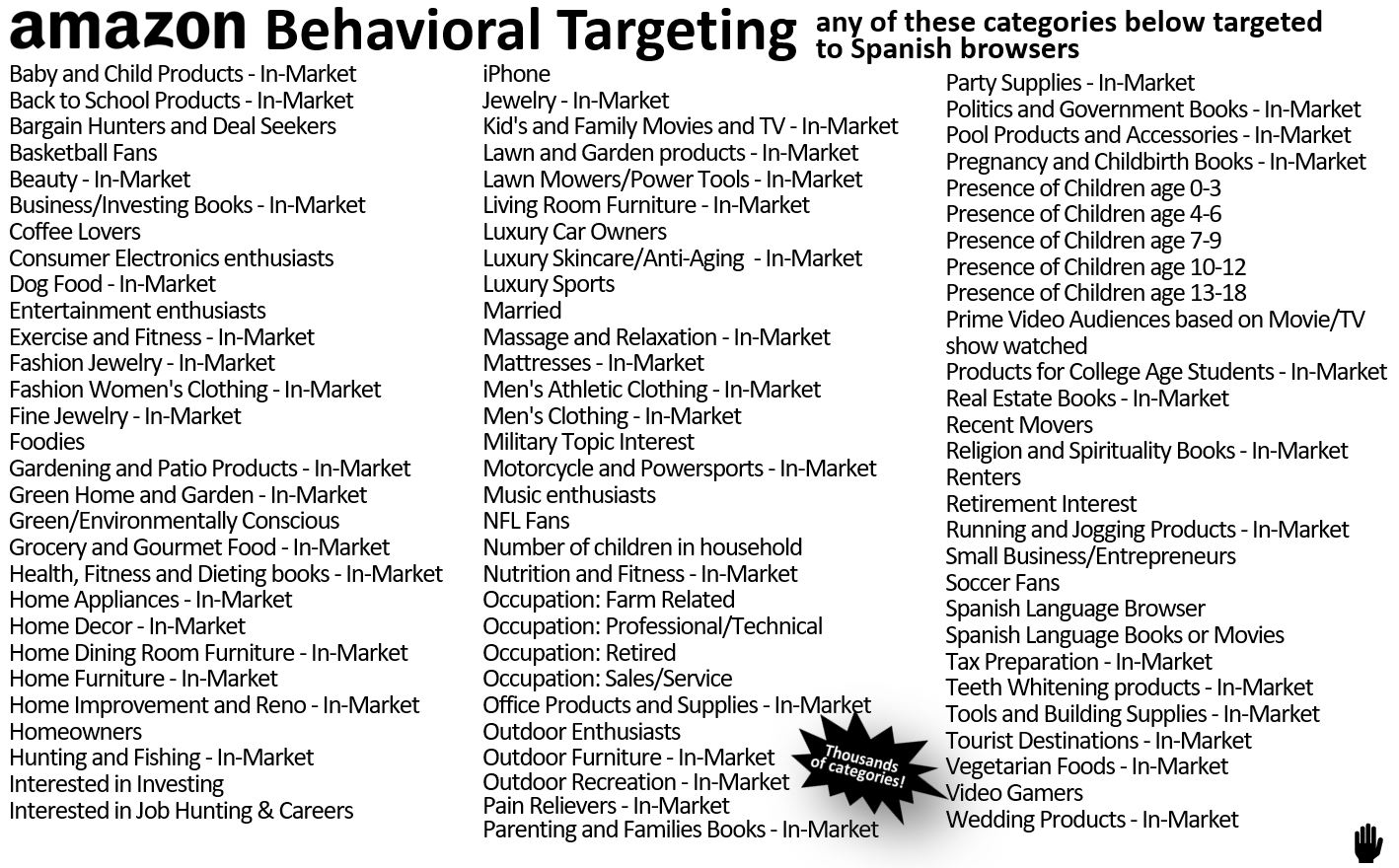 Live Chat is also an excellent option and can be set up in Spanish.
If you want to go geographically outside of the United States, that is also a possibility!
(Please note targeting in another country, regardless of platform, is going to lead to more limited inventory so always check with Vici first).
You can target outside of the United States in the following ways:
Display ads = anywhere
OTT ads = anywhere
YouTube ads = anywhere
Household IP ads = only US
Geo-framing ads = only in US
SEO = only in the US
Mobile Conquesting™ ads = US (including Puerto Rico) and Canada-Inventory in Canada is more limited.
Facebook & Instagram ads = anywhere
Native ads = anywhere
Social Mirror™ ads = anywhere
Amazon ads = only available in English and Spanish, in the United States and Canada only (not in Mexico).
Online Audio ads = currently available in 36 countries: Brazil, Canada, Mexico, Argentina, Peru, Chile, Colombia, Bolivia, Costa Rica, Dominican Republic, Ecuador, El Salvador, Guatemala, Honduras, Nicaragua, Panama, Paraguay, Uruguay, Saudi Arabia, Egypt, Algeria, Lebanon, Morocco, Tunisia, Oman, Jordan, Bahrain, United Arab Emirates, Kuwait, Qatar, South Africa, Indonesia, Philippines, Vietnam, Malaysia, India.
Do you need additional language options? For Display, Native, Social Mirror™, Video campaigns, you can target by: Albanian, Arabic, Bosnian, Bulgarian, Chinese, Croatian, Czech, Danish, Dutch, English, Estonian, Finnish, French, German, Greek, Hebrew, Hindi, Hungarian, Indonesian, Italian, Japanese, Korean, Latvian, Lithuanian, Macedonian, Norwegian, Persian, Polish, Portuguese, Romanian, Russian, Serbian, Slovak, Slovene, Spanish, Swedish, Tamil, Thai, Turkish, Ukrainian, Unknown, Urdu, Vietnamese, Welsh.  This targeting is done by targeting the language a user's browser is set to.
On Facebook and Instagram, we can also target by ANY language.  This is done by targeting the language the user's Facebook profile is set to.
We are currently unable to target by language with Mobile Conquesting™.  We have English language only at this time. We do offer Hispanic targeting as a behavioral audience.
We don't recommend adding any language filters to IP Targeting due to the select nature of the inventory. Adding a language filter would severely reduce the targetable audience.
For more inspiration, check out our most recent Hispanic Success Stories!
Local College Uses Digital To Increase Student Registration In Their English as a Second Language Program
Category: Education/College
Background: A local university wanted to promote their English As A Second Language Program to broaden awareness of the program and increase student registrations. They have previously used Spanish formatted radio and wanted to increase their marketing efforts by adding a targeted digital campaign.
Strategy:
The client wanted to reach Spanish speakers looking to improve their English skills in defined zip codes. A campaign was created utilizing both Facebook and Native platforms. Spanish text was used for the message "Learn English for Free!"  along with the creative. The call to action was "Learn More."  The targeting was set to reach Spanish Dominate Hispanics and Hispanics who are interested in learning English and have their browser set to Spanish language.
Results:
The multi month campaign has served 557,667 impressions with 13,617 clicks translating into a 2.44% Click through rate. Which is 34.88 times the national average of .07%. Facebook alone reached 37 times the national average while Native did an amazing job of building close to 600 view through visits to the website. Social conversions tallied 3,687 including over 150 post shares.  The client stated that the campaign was a huge success with all sections of the program at capacity and a few with a waiting list.
Processing and packaging company employs digital social campaign to recruit seasonal employees.
Category: Recruitment
Background:
A central California processing facility focused on growing, harvesting, transplanting and transporting crops needed to recruit seasonal positions for the busy summer harvest season.
Strategy:
The client used both Facebook Display Carousel ads and Facebook Video ads using images of various positions (Forklift operators, Sorters, Bin Fillers) with headlines and text in Spanish to reach their target audience of seasonal workers.  The targeting of the campaign focused on those interested in "Job Hunting and Employment" as well as truck drivers who also have their browsers set to Spanish. Retargeting was also included. The ads were served in the Newsfeed, Facebook Audience Network, Messenger, Instant Articles and Marketplace.
Results:
The first flight of the campaign served 366,613 impressions and generated 2,937 clicks for an outstanding .80% CTR (Click-Through Rate). The campaign received 9,647 post engagements, 150 reactions and close to 60 shares. The following season, the campaign renewed and served 365,234 impressions and produced a massive 25,587 clicks for an enormous 7.01% CTR which is 100.08 times the national average. The second season also generated 77,967 post engagements, 782 reactions and 237 post shares.
Local Ford Dealer Taps Amazon Video + Spanish Radio to reach Hispanic Market
Category: Automotive
Background:
Local Ford Dealer had been advertising on radio for years focusing on a Classic Rock format. They wanted to grow their Hispanic customer base and needed to compete with the Chevy dealership in town.
Strategy:
To reach Hispanics, the client implemented a combo of Spanish Radio format to reach a broader audience of Hispanics, as well as a targeted Amazon Campaign using Amazon Video and Amazon OTT Video. The campaign utilized Retargeting Video, Product Targeting Video, and Behavioral Video.  The categories for Behavioral included In-Market for Auto, Auto Enthusiasts, In-Market for Ford, Ford Truck, Ford Owners, Ford F150, In Market for Used Ford Car, Auto Owner – Ford as well as In Market for New and Used Vehicles, Interested in Automotive and Vehicles. These categories also include details from Amazon Garage and Amazon Vehicle data to narrow in on the audience.  Product Targeting focused on Ford F150, Ford Rangers and Super Duty Trucks. Video ads were served people in provided zip codes who also had their browser set to Spanish. The video ads featured various Ford vehicles with voice overs and text in Spanish.
Results:
The campaign served 233,114 impressions and obtained an exciting 2,363 clicks resulting in a 1.01% CTR which is 14.48 times the national average.  The clients stated, "We are certain this target is up and has been growing. Our guess would be between 15-25% in the last year."