How do Clients use Digital Advertising in October?
Greg Swiszcz
The Starbucks Pumpkin Spice latte debuts today, August 30, 2022.  Yes, there's a feeling in the air with marketers, that October is right around the corner.  That means pumpkin-spiced everything. Walks to raise money for Breast Cancer Awareness. A high volume of commercials from the politicians who are running for office.  Fall is officially upon us, and advertisers have a lot of reasons to advertise in October.
I think October is primarily known for being home to Halloween.  And with Halloween comes haunted houses, city-wide Halloween Movie Nights, themed nights at bars, and so on.  With events, you typically don't have the opportunity to promote for months at a time.  In fact, you only usually get a full month's commitment to run in 3 or 4 weeks.   Luckily, with digital, promoting an event is something that you can do.  When promoting an event for Halloween themed events, as mentioned above, there are a few products that are most popular.
Let's face it.  As people start prepping for this holiday, pictures and conversations of costume ideas get shared, liked, and some of them even go viral.  Having presence on these social media platforms will be a great place for your client to promote their events.  Using Facebook and Instagram, there are 2 types of ads that are the most effective.
First, the Carousel Ad.
What's great about these Carousel Ads are that you can showcase so many aspects of your clients' events.  Is there a costume contest?  Food and drink specials? Specialty music?  Do they have photos/videos from last year?   We recommend a combination of 10 images or videos to showcase what's taking place at the event.  That means up to 10 different ways to get someone's attention!   And each image or video can link to a different page of the client's website that talks about that aspect of the event.  Are they selling tickets?  Have one of the images link to the page where a customer can buy a ticket today.  Is it a Haunted House and they are only open on weekends?  Have an image talking about hours and link to the page of the site that lists the hours.   This type of ad offers so much flexibility.
The second ad type that you can use is the Event Response Ad.  This is something you would pair with the carousel ad above.  Event Response ads can work with either B2B or B2C events because you get to choose the targeting criteria.   Facebook layers thousands of targeting categories on everyday users, like where they are, their job title, their age, gender or interests.  On the left side of your Facebook Business Page is a link called "Events", where you create a free event with the date, address, and all other pertinent details: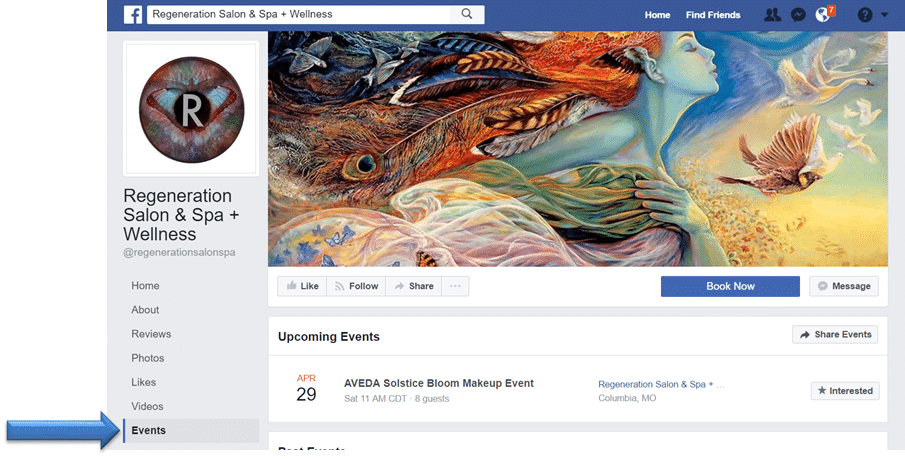 From there, we use that event to target potential attendees inside their News Feed.   When someone expresses interest in your event by clicking "Interested", the event details will automatically be added to their calendar on Facebook.   Facebook continues to gain frequency on those interested by posting alert reminders about the event as it draws closer.   Your event also will show up in your friends News Feed as something they could be interested in.   Here's an example of an Event Response ad with advertising power behind it: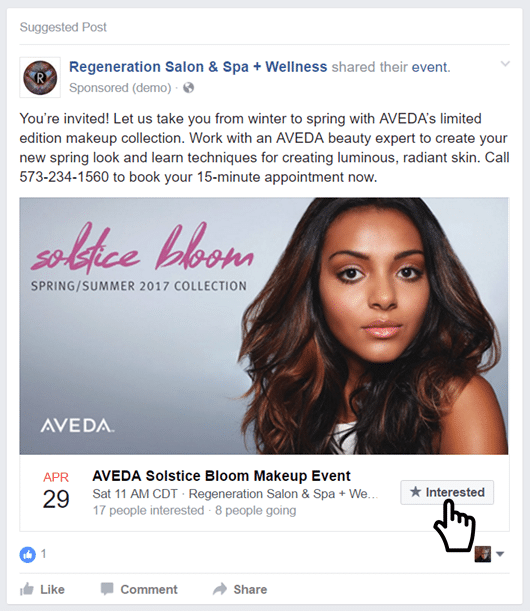 When using Facebook to target people for Halloween, here are a few categories that may help:
Halloween
Haunted Attraction
Haunted House
Halloween Costumes
Halloween Horror Nights
Horror Movies
The 2nd product to target your October events are Social Mirror Ads.
These ads are knocking it out of the park with our clients, averaging 7x higher CTR than the national average!  With Social Mirror Ads, we are taking your Social Media content, from any of the 8 major social media platforms, and mirroring that content onto other apps and websites to target potential customers when they are not on social media.
The first step is the client would give us the URL of the social post they want to use to create the ad – in this example, it's a tweet that this advertiser published: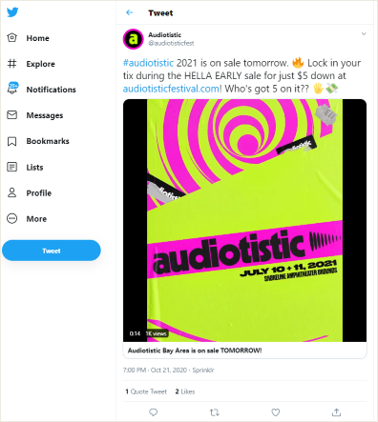 Then, we take that post and create it as an ad – that looks just like (and links to) the social post.  Again, these ads are running across thousands of apps and websites (not the social media platform).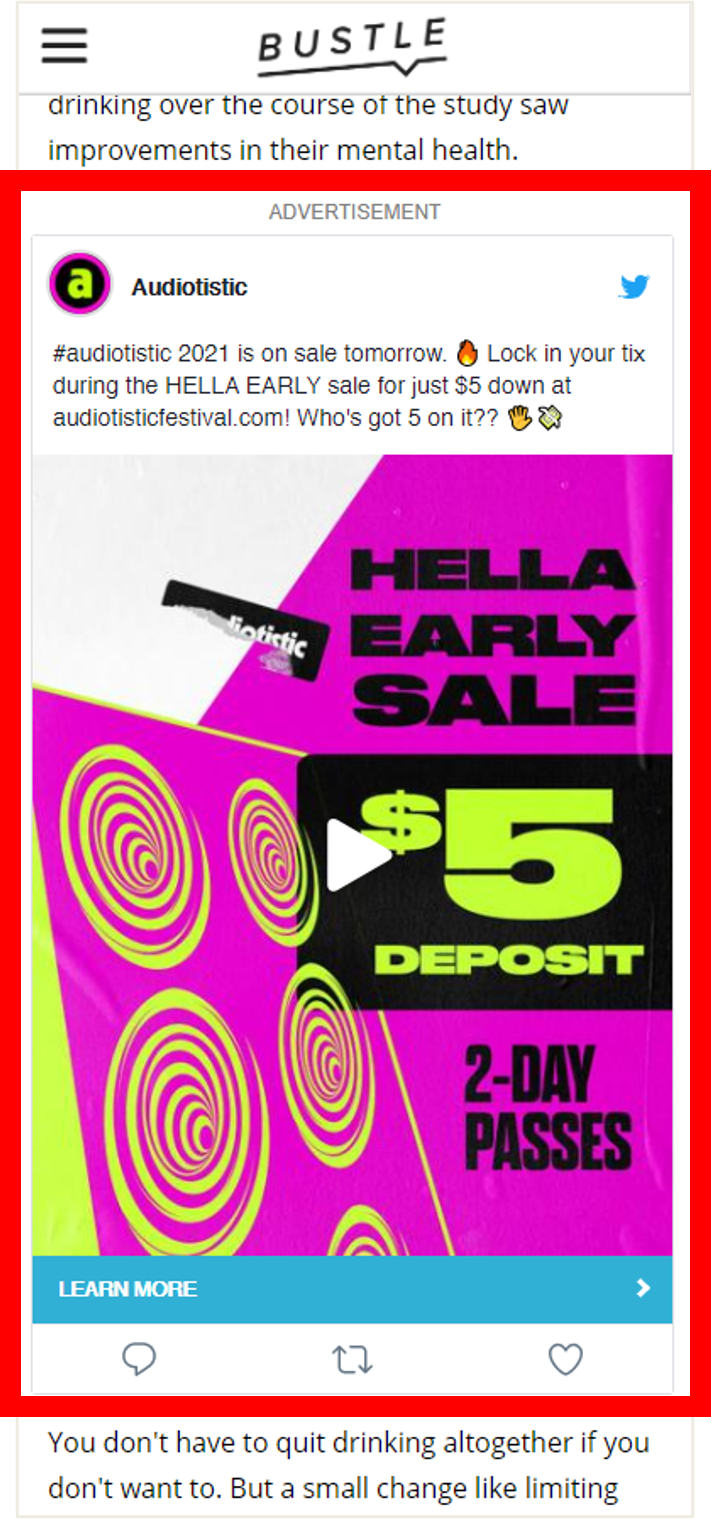 Whether your client is like most other businesses, using Facebook and Instagram, or on any of the other 6 major social media platforms:
Twitter
LinkedIn
Pinterest
Snapchat
YouTube
TikTok
We can even create a Story Ad which mimics many of these platforms story format.  Using this type of advertising allows them to enhance their social media presence by putting it in front of their target audience when they aren't on social media.  This is a great opportunity, especially for those clients that invest a lot of time and money into the creation of their content!
Targeting through Social Mirror also allows you to be pretty specific when looking for your customers.  Here are some categories you can use via Social Mirror:
Halloween
Halloween Candy Buyers
Halloween Costume Buyers
Halloween Super Shoppers
Halloween Products
Halloween Party Supply
Halloween Decorations
Halloween TV Specials
Halloween Enthusiasts
Holiday Entertainment Lovers
Horror Enthusiasts
Horror Movie Fans
As you can see, there are a lot of ways to help your clients promote their upcoming Halloween events, or just change their targeting to the demo of people that are going to spend a LOT of money on Halloween.  Also, as you're speaking with your clients, here are a few stats you can share with them.
Americans spent around $10.14 billion on Halloween in 2021 (a record high).
The average amount spent on costumes, candy, decorations, and greeting cards per person is $102.74.
45% of consumers shopped for Halloween in September of 2021 or earlier.
39% shopped during the first 2 weeks of October.
During October, you also see a lot of pink, representative of the support for Breast Cancer awareness.   In my career as a radio salesperson, and even since I've entered the world of digital 6+ years ago, I've seen a lot of business owners give back to their communities by supporting their local Breast Cancer organizations.
There are a lot of ways to be able to do this and for businesses to promote their dedication to their community.  One of the top ways that I would recommend to a business owner would be using video.  I say this because when someone can convey their message verbally, there's a lot of power that can be used in the tone of your voice, as well as in the words you speak.
There are a lot of video options out there, but I'll share our top recommendations.
Have you ever gone to watch the latest highlights on ESPN of the game that took place yesterday?  Or maybe wanted to go watch a DIY tutorial on HGTV?   If you did, you probably saw a commercial play before you can watch the content you went there to watch.   That's a video pre-roll ad.  They are either :15 or :30 in length and can be done with behavioral targeting, keyword targeting, artificial intelligence, and retargeting, and can run across all devices. These ads can be skippable or un-skippable, but that isn't something that the advertiser is able to dictate. Whether ads are skippable or not is determined by the website in which they are appearing. By having a combination of skippable and un-skippable ads, those un-skippable ads are aiding in branding and awareness, and with skippable ads, research shows that people who have the option to skip but don't, are the consumer who are really interested in your product or service.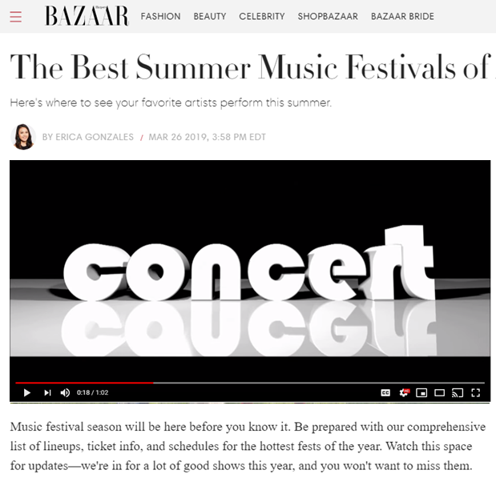 Another opportunity to utilize video is through OTT (Over-The-Top) Advertising.  OTT is video programming that is transmitted via the Internet, not cable or traditional broadcast. People can watch their programs of choice by watching through connected TV's (like an Apple TV), using a set top box like a Roku or a Chromecast that turns their "dumb TV" into a smart TV, or through a gaming console. These ads are similar to TV ads where the ad will run inside of the programming that the user is streaming, and they can be :15 or :30 in length.
Using both Video Pre-Roll (VPR) or Over-The-Top (OTT) to promote a business' desire to give back to the community is a great strategy.  Here are a few of the categories you could choose from for your clients' targeting:
Charitable Donors
Interested in Charity by type of Charity (Animals, Health, etc.)
Charity Event Attendees
Amount people have donated to charity
And in this case, for Breast Cancer Awareness specifically:
Breast Cancer Fund Raisers
Breast Cancer Caregivers
Charity Walks
Cause marketing is a great opportunity for your clients to give back to the community and bring awareness not only to their generosity, but also to the cause they are supporting.  In October, I'm sure there are many options, Breast Cancer awareness just being one of them.
Lastly, come October, Politicians are in full swing of their Ad Campaigns, which makes right now a great opportunity to start speaking with those candidates, their representatives, and the organizations behind issues.  No matter what side of the political spectrum you fall on, you know you're going to see and hear ads from everyone that's running.
Digitally, we see a lot more money being spent online (over 22% of budgets).
So where online is money being spent?  From what we saw this year during the primaries, there are a few products that I saw get most of the budget:
Over-the-Top (OTT)
Social Mirror
Mobile Conquesting – Address Targeting.
Since Over-the-Top (OTT) and Social Mirror were covered earlier I won't repeat the same info.  However, here are just some of the reasons these two products are used (think behavioral categories):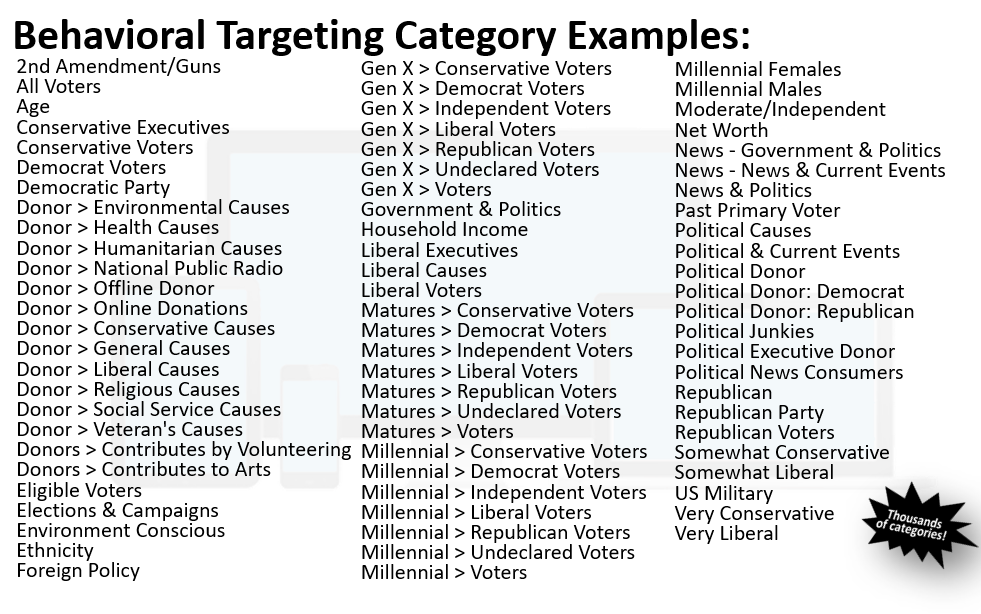 Mobile Conquesting Address Targeting
I think we can all agree that every time there's an election, we get bombarded with pieces of direct mail for every candidate we know about (and maybe some we didn't).   Well, think of Address Targeting as Direct Mail for the Internet.
These politicians have huge databases.  Maybe it's from their team knocking on doors, or information they've gathered in other manners.   How this works is the political team would provide you with the list of physical addresses.  Then we draw hundreds or even thousands of tiny geo-fences around an address (business or residential) to serve ads to consumers on their mobile phones and tablets.  Address Retargeting is continuing to serve ads to those same people when they leave their houses and use their mobile devices.  Advertisers can target a list of current customers, past customers, or any type of first party database list they have collected.  These ads can be mobile display or video ads.
Here's a visual of impressions served to hundreds of targeting addresses: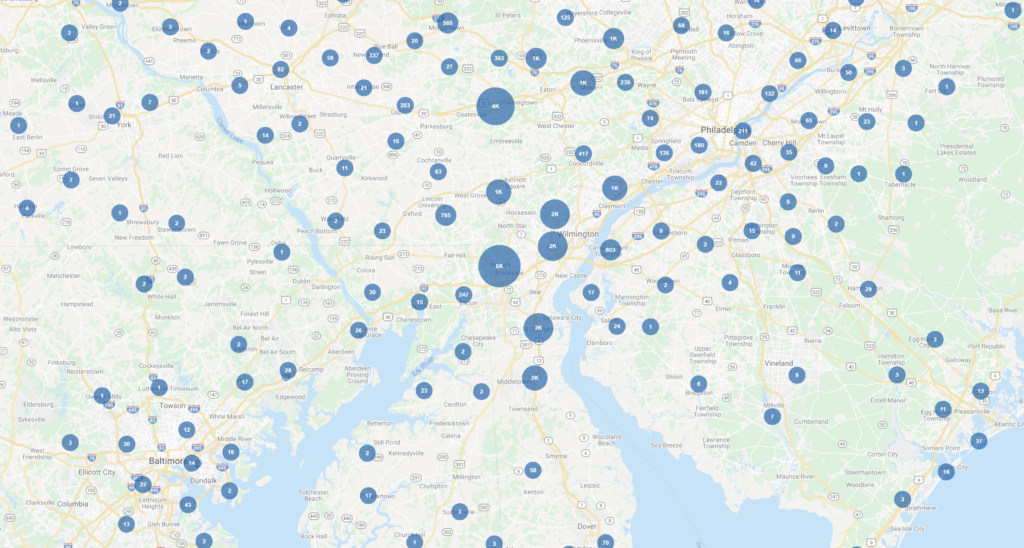 With this tool, they can pinpoint the exact houses (or businesses) they want to reach.  We can also reach 100% of an address list that they have (except for PO Boxes and specific apartment numbers).   This strategy also uses frequency within the campaign, meaning we want to hit each of these addresses' multiple times throughout the month, as opposed to just one time with Direct Mail.
Keep in mind that because Address Targeting is sent through mobile devices, be aware of the conversion you are asking the end consumer to complete on the website.  Typically, for political, it'll just be branding and awareness, but if someone has to fill out a long form, a multi-field application, or a conversion that is better suited for a computer with a keyboard, this product may not be a good fit.  You want to make sure the action you're asking a customer to complete after they click your ad is easy to do on a mobile device.
Whether your clients sell pumpkin spiced lattes, own a Haunted House, are supporting Susan B Komen or another non-profit, or are wanting to get elected for a specific office, October is jammed pack full of advertising opportunities.   These are just a few.