Are You Taking Advantage of Video Ads? 2020 is the Year of Video
Katie Pray
In the Disney movie "Up", there is a dog named Dug that gets distracted easily every time he sees a squirrel. No matter what he is doing, if he sees a squirrel, he stops and tracks it. In today's marketing and advertising world, we are all "Dug's" that are bombarded with several squirrels a day. There are so many advertising messages thrown at us, that it is imperative that advertisers break through the clutter and the noise to make their business and message stand out. One of the ways to do is, is with video ads.
Our sophisticated video ad targeting allows businesses to target consumers in any of the following ways:
Video ads are extremely impactful with consumers as 80% of viewers can recall a video they've seen in the past 30 days, and 95% of viewers are more likely to remember a call to action after watching a video, compared to 10% when reading it in text. If an advertiser is able to pair several different strategies together, they have the opportunity to really capture that consumer. For example, the heartstring pulling show "A Million Little Things" is on way too late for me, so I always watch it on the ABC app via a Roku. By watching the TV show through a connected TV, that is an opportunity to serve me an OTT ad. Now, because I am a millennial, I am also browsing Facebook while I am simultaneously watching the show, and this is another way for me to be served a video ad, via Facebook. Now that the show is over and we are left with a cliff hanging ending and I need to know why Gary didn't go get tacos with Maggie, I get on my phone and start Googling "Gary and Maggie in A Million Little Things" and start reading articles. This is yet ANOTHER way to serve me that video ad, via Mobile Conquesting™.
Let's break down these different products a little further.
Facebook and Instagram:
What do these ads look like and consist of? Facebook and Instagram videos ads are auto play ads, which means as the video comes into the frame of the viewer, it is going to start playing automatically. Facebook video ads can be any length, up to 240 minutes (I highly encourage not using the full time allotted, but instead keeping it :30 or less) and Instagram video ads can also be any length with a maximum of 2 minutes (again, recommendation is keeping it :30 or less). There are also several places where videos can appear for Facebook. They can run within the Facebook and Instagram Newsfeeds, Facebook Audience Network, Facebook Instant Articles, Facebook Marketplace, and Facebook and Instagram Stories. Facebook and Instagram also have different types of ads where videos can be utilized such as carousel ads, collection ads, job listing ads, branded content ads, and event response ads.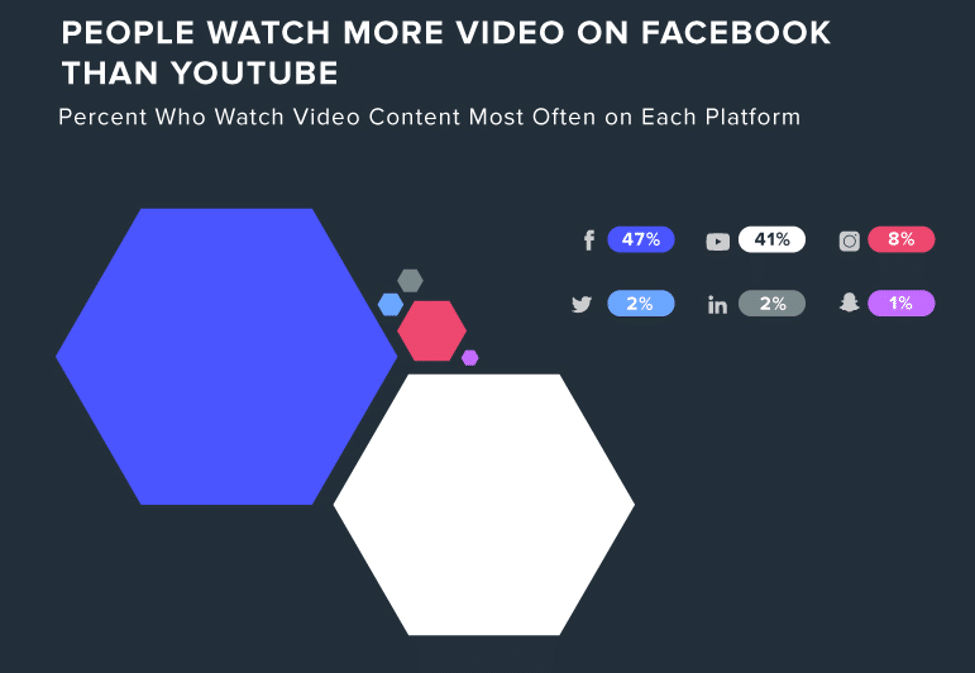 Over-The-Top (OTT):
Cable cutters; how on earth do they watch TV? They watch through Over The Top! OTT is video programming that is transmitted via the Internet, not cable or traditional broadcast. People can watch their programs of choice by watching through connected TV's (like an Apple TV), using a set top box like a Roku or a Chromecast that turns their "dumb TV" into a smart TV, or through a gaming console. These ads are similar to TV ads where the ad will run inside of the programming that the user is streaming, and they can be :15 or :30 in length. OTT is going to use a combination of behavioral targeting and artificial intelligence to reach consumers.
Mobile Conquesting™:
You know that feeling of panic that sets in if you reach into your pocket to get your phone and it's not there? It's because we are so reliant on our mobile devices nowadays. This is another great vehicle for advertisers to use their video ads. Mobile Conquesting™ video ads are also auto play ads that will play when someone is scrolling, or when they are between content such as between rounds of a game being played. These ads can be :15 up to :30 long, and they are skippable or non-skippable. Mobile Conquesting™ uses behavioral targeting categories to reach consumers with the video ad while on their mobile device.
Native Video Ads:
The newest addition to the video family is Native Video Ads. These ads are also auto play ads that begin playing as soon as it comes into view of the user. They can click for the sound to play, or the advertiser has the option to assign closed captioning to the ad if the user decides to not click for sound. Just like regular native display ads, these video ads are going to match the unique look and feel of each publishers site that it is appearing on. Native video can be targeted through behavioral categories, keywords, artificial intelligence, and retargeting. Native ads can be up to :60 in length and run across all devices.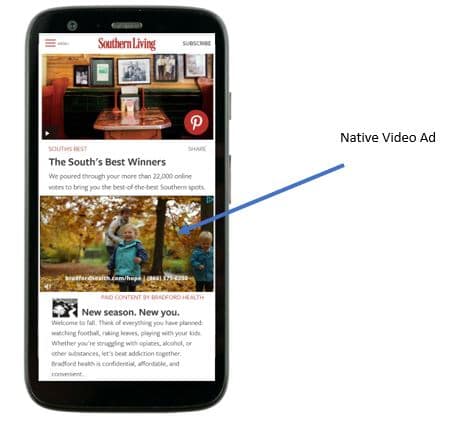 YouTube:
Got a leaky faucet? Watch how to fix it on YouTube! Want to learn how to build a tiny home out of a shipping container? Watch how to do it on YouTube! Did you go to a concert last night and they performed a new song and now you're obsessed with it and need to hear it 32 more times? Head over to YouTube! But before I can watch any of that content that I went over to YouTube to watch, I must watch an ad, a YouTube video pre-roll ad.
Video Pre-Roll:
Video Pre-Roll Ads are the ads that you see before you're able to watch the content that you clicked to see. For example, if I am on ESPN.com and I click a video to see last night's game highlights, a video pre-roll ad is going to run before I can watch the highlight video. Video Pre-Roll ads are :15 or :30 in length and can be done with behavioral targeting, keyword targeting, artificial intelligence, and retargeting, and can run across all devices. These ads can be skippable or un-skippable, but that isn't something that the advertiser is able to dictate. Whether ads are skippable or not is determined by the website in which they are appearing. By having a combination of skippable and un-skippable ads, those un-skippable ads are aiding in branding and awareness, and with skippable ads, research shows that people who have the option to skip but don't, are the consumer who are really interested in your product or service. Also, even if someone only watches a video ad for a few seconds, there is a higher percentage point lift in ad recall, brand awareness, and purchase intent, meaning that even people who never watched the video, but did see the impression, were still impacted by the ad.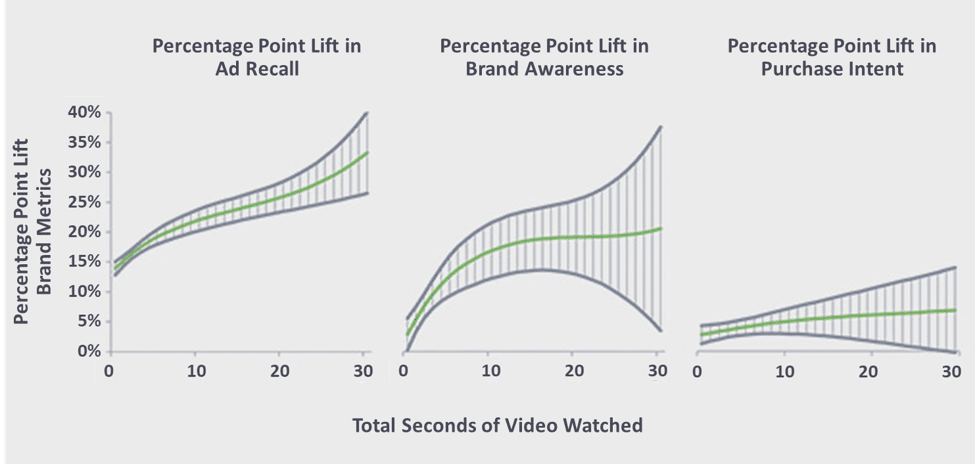 Video pre-roll ads are :15 or :30 in length and various strategies can be used to target consumers with behavioral targeting, keyword targeting, artificial intelligence, and retargeting.
Household IP Targeting:
Another unique way to serve video pre-roll ads is with household IP targeting, or direct mail for the internet. By using this technology, we can target consumers down to individual households, which allows for business owners to get extremely precise with not only who they are targeting, but also their messaging. Advertises can use this strategy to target current customers, past customers, or even reach out to brand new potential prospects. The way this product works is we take a list of household address from the business owner, find the IP addresses that are associated with that household address, and serve :15 or :30 video pre-roll ads to specifically those households.