What do I need to know about CTV/OTT?
Greg Swiszcz
Point Blank… Streaming services are here to stay.  The percentage of people that subscribe to streaming services is increasing every year.  This year is no different.  As the traditional pay TV service percentage decreases, streaming takes the lead.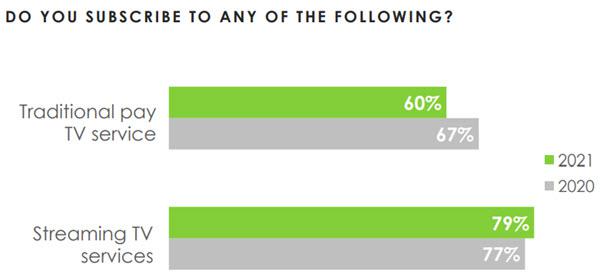 As an awareness channel, has CTV/OTT hit critical mass in terms of audience scale?
According to Media Post 76% of U.S. Households have OTT Video service subscriptions, versus just 62% with traditional pay-TV services.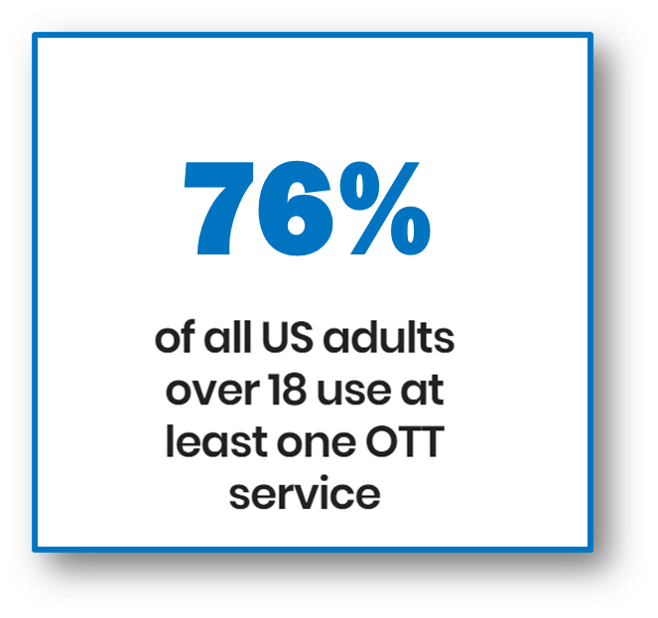 In addition, Samsung states that 63% of total TV viewing time is spent with streaming.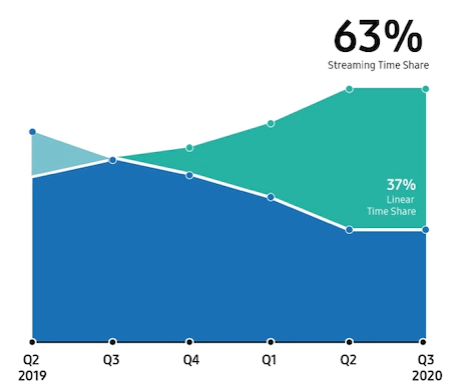 With this many people have streaming subscriptions and spending this much time with these platforms, it's definitely an opportunity that should be included in your marketing mix.
What's the difference between CTV and OTT?
This was answered best by Dana in her blog.  So now what is OTT? OTT is different, OTT stands for "Over The Top" and it is video programming that is transmitted via the internet, not on traditional cable or broadcast TV shows. Ads appear within programming watched on any type of internet connected device. For example, I'm watching a movie on my TV through my Fire Stick, and I am served an ad targeted to me. The most recent ad I was served inspired me to get on my tax return. Relevant, for sure.
Let's now take a minute and define Connected TV (CTV), as it is a type of Over The Top (OTT) inventory served ONLY on internet connected TVs not on other types of devices. CTV is extremely desirable for advertisers because it's the most used device to stream programming. I'm a thousand percent more likely to watch a show on my TV than I am on any other device. It's not just me, check out this chart, I am not alone! This captures ages 18-66. I do see the youth in my house watching shows on their phones or laptops at times, but they are not the norm. They also have approximately zero dollars to spend, so they are also not the most desirable target audience!
So, think of CTV as a subset of OTT.  At Vici, about 90% of our OTT impressions are served on Connected TVs.
What kind of ad creative do I need?
First of all, you're in a great place.  The rise of video in digital advertising is incredible, so utilizing a platform like OTT gives you the ability to take advantage of the video consumption that people are all about today.  According to SocialMediaToday.com 90% of customers say videos help make buying decisions and 64% of clients often buy a product online after watching a video about it.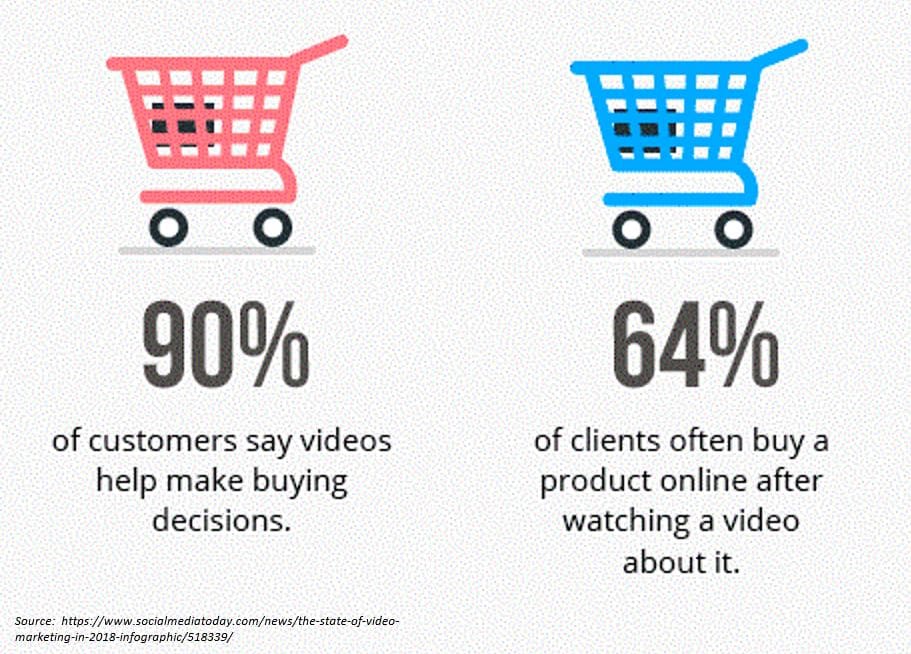 Obviously, that depends on your product or service but this research study claims that 74% of people who get an opportunity to see a product in action via an "explainer video" will buy it.
Here are different types of video ads you can consider doing:
Explainer ads can help educate people about your product or service.  They help people who are researching and looking for info about it online.
Interview ads are another type of video ad content that works well.  You can do an interview either with a satisfied customer or someone who works for your business.
Demo ads are where the business shows how a particular product works.  Seeing a product in action can make a big impact on a potential consumer.
Branding ads build awareness by focusing your message around your company, your employees, your mission, your customer service, quality of your products, etc. to attract your target audience.
Event ads would be where the ad features a conference, promotion, open house, sale, or community event you sponsor.  You can showcase highlights of past events to generate interest for your upcoming event.
Always start your video ad with the most important info because you need to hook consumers within the first five seconds.  And don't forget that people may be watching with the sound off.
What are the benefits of streaming CTV/OTT ads?
Advertising via streaming TV has many benefits compared to advertising through traditional, linear TV (broadcast or cable).  As a digital advertising medium, streaming TV has the advantage of precision targeting. Whereas traditional TV advertising targets on the basis of antiquated factors such as ratings and the time of day, streaming TV enables advertisers to target based on a diverse range of data-driven variables such as behaviors and interests. This results in streaming TV advertisers garnering higher rates of engagement as they are serving ads that are more relevant to the targeted audience.
Along with precision targeting, placing your ads on streaming TV platforms allows for better measurement capabilities through real-time analytics that help advertisers make more informed strategic decisions moving forward.
In terms of return on ad spend (ROAS), streaming TV provides higher levels of efficiency for advertisers due to the fact that rates are based upon cost per thousand (CPM), meaning they only pay for the actual views and impressions that their ad receives. Conversely, traditional TV rates are based upon ratings and projections. This method isn't ideal as actual viewership can fluctuate dramatically meaning fewer people see your ad than expected, or might have recorded the program and fast forward through your advertisement.
CTV/OTT strongly benefits the group buying decision.  Since the pandemic resulted in families spending more time together, more opportunities have been created for group buying decisions.  While timeliness and decision making factors vary from vertical to vertical, input from multiple family members can impact those decisions.
For example, a quick-service restaurant is typically going to have a short, often same day decision.  But, it's possible the kids are likely to influence the choice of restaurant.  If we are talking about buying a car, or even planning a holiday, those are longer term buying journeys, spanning a few weeks to even a few months.  But again, these decisions now have the opportunity for family input.
How is CTV/OTT targeted?
By using OTT to reach consumers, you are also targeting a specific audience and groups of people by being able to target through Behavioral Targeting. With this strategy, you are reaching consumers based on their previous online behavior.
Another strategy that we will utilize with OTT is Artificial Intelligence (A.I.). This targeting strategy works like a funnel. The targeting starts wide and gets narrower as the machine learning algorithm gets more data about who or what is causing clicks and conversions. Now because 90% of the inventory that we purchase is going to be on Connected TVs, users can't necessarily click on an OTT ad the way they might with a regular Display Ad or a Facebook Ad. So, with OTT, the machine learning technology is looking at several factors like overall pacing to make sure we hit our impressions goals and that we are optimizing towards when users are online and engaging. It also optimizes based on the internet traffic patterns of users for when they are online and engaging. Some other factors that come into play for A.I. are looking at the type of device that is being used, what browser the user is on, what website or app they coming from, audience behaviors, how frequently the user has been served impressions, and how recently the user has been served impressions.
What are some best strategies for CTV/OTT?
Keep in mind that OTT is typically used more for Branding and Awareness.  Businesses are getting their name, products, and/or services known so potential customers keep them top of mind when they are in need.  Also, because most inventory isn't clickable, tracking conversions isn't a current option.  The reason this works for CTV/OTT is because the completion rates of viewing the commercials are 90%+.
Consider viewer behavior and nuances of the medium. Since most of our impressions are seen on large Connected TVs, grab the viewer's attention by front-loading your value proposition and consider more close-ups or larger text treatments.
Avoid user fatigue with creative refreshes. I can't tell you how many times I have seen the same ad over and over on a CTV platform. By the fifth time, I am annoyed and bored – probably not the emotions the advertiser was hoping to elicit. So, refresh your creative. In a perfect world, this means shooting a few versions of your ad. But if that is not possible, you can still tell a sequential story by breaking your video ad into smaller snippets or making simple edits, such as adding overlays or end cards that evolve over time or coincide with current events.
Link your CTV/OTT with other digital products. With people spending more time at home, they've become increasingly involved with their TVs and the personal digital devices that make remote working, learning, and entertainment possible.  While TV is still a dominant player in delivering an in-depth, emotional brand experience, it's a great way to brand your business.  The personal digital devices offer options for interaction.  Users can drill down on product details, get more information and even make a purchase.  Using the two together allows for branding and action.
Video is hot right now.  Make sure you're using it in your marketing. As more and more people are "cutting the cord" and taking advantage of streaming opportunities for the TV consumption.  The bigger the opportunity that exists for you to really get in front of your target audience through Behavioral Targeting and the use of Artificial Intelligence targeting for your OTT ads.