What are some unique ways to advertise during a down time?
Greg Swiszcz
It's tough out there right now.  We get it.  Every day we're getting bombarded by emails and social media posts from businesses and how they are dealing with our current state of economy and the Corona Virus (COVID-19).  With everything going on in our community it's important for us to stay positive and stay focused as much as possible.  
As a business owner, you're probably debating on what to do with your marketing and advertising efforts.  Do you continue what you have running?  Do you cut back?  Where should you spend your money?  Should you spend your money?  Harvard Business Review actually says such indiscriminate cost cutting is a mistake (data from the previous recession).
You may or may not have heard the old adage: "When times are good you should advertise. When times are bad you must advertise."
The truth is, studies show that those that continue to advertise during a recession or downturn in the economy will see their expenditures multiplied when it ends. Here's why: While your competitors are cutting back their marketing, and you continue with yours, you are increasing your voice, increasing your branding, and increasing your market share within your community, amongst your clients, and just as important, potential new clients.
Here are a couple of reasons, according to Forbes, as to why this is important:
Brands can project to consumers the image of corporate stability during challenging times.
The "noise level" in a brand's product category can drop when competitors cut back on their ad spend. It also allows for advertisers to re-position a brand or introduce a new product.
Here's a diagram of how a customer travels through the sales funnel.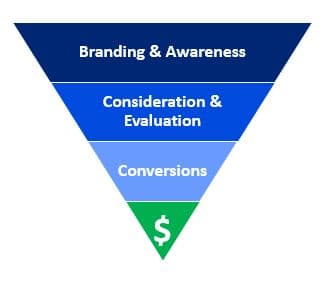 As a business, you have a sales funnel, and it looks like the above image. At the bottom, you have your money and conversions. That's when people are in your business spending their hard-earned money. This is when people are walking into your store and buying. This is when people are coming to your website and buying or filling out our contact form. This is getting your target audience to do what you want them to do. Right now, we know that has slowed quite a bit. In fact, people may not even be considering or evaluating purchases until this whole situation is resolved. That's why it's important to focus on the branding and awareness of your business.
Whether you're a restaurant that is now offering delivery and pick-up only, a car dealership that's been in the market for 20 years, a local university that is offering online courses, or your local retail store keeping customers up to date on what your inventory looks like, the common need is to educate your target market about your current status.
According to Harvard Business Review, Internet Advertising in particular is targeted and its performance is easy measured. Back in 2008 during the recession, marketers spent 14% more on online ads over the first 3 quarters than the same time frame in the previous year.  Some of this has to do with consumers' migration to online media, such as Facebook and Instagram.  During these downturns, people are looking to intensify networking efforts amid layoffs, and connect with friends and family.
So, how can you market to people that are at home the majority of the time now? We have two products that can help you do so. Over-the-Top (OTT) Video advertising and Online Audio.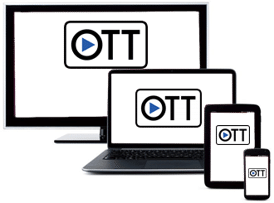 What is OTT? OTT or Over The Top is video programming transmitted via the Internet, not on traditional cable or broadcast. Your :15 or :30 ads appear within the video programming. It can be watched on any type of internet connected device including Roku, Connected TV/SmartTVs, Fire TV Sticks, XBOX, PlayStation, AppleTV, ChromeCast, and more.
While advertising online, you still have access to thousands of publishers including: Sling TV, Fubo.TV, Pluto.TV and channels like A&E, Discovery, ESPN, FOX, NBA, NBC, Syfy, CNN, and the Food Network.
Think about it. All of those "cord cutters" you've been wanting to reach and not knowing where to start?  This is your opportunity.  People are spending a lot more time at home and trying to spend their time thinking about anything other than the chaos that surrounds them.  Why not put your message in front of them when their mind is not so frazzled and they are entertaining themselves? 
It's also important to only reach the people that make sense for your business. This product offers that capability through behavioral targeting. So, if you're that restaurant looking to promote your delivery or curbside pick-up, you can target fast food enthusiasts, or people interested in food and beverage or people interested in restaurants and dining. You could even target parents of kids (since their kids are home from school right now). If you're a college, you could target people by their level of education, parents of teenagers, or even people that have been searching for college and university related items online. On top of that, all of these ads are geographically targeted to the area that you want to reach. Whether you're targeting an entire city, specific zip codes, or even if you just want to target a 5-mile radius around your business, you have options.
In addition to behavioral targeting, you can also utilize Artificial Intelligence to help you do the work.  With Artificial Intelligence, we use machine learning to help you hone in on your target audience.  Data is constantly collected and analyzed every minute about who is engaging with your ad through clicks, conversions, browser type, device, ad creative sizes, types of apps, and more.  Then, your ad gets served to more people like the ones who have engaged with it.   Basically, you get to let the machine help you continue to identify more people that are likely to do business with you.
Next up, we have Online Audio.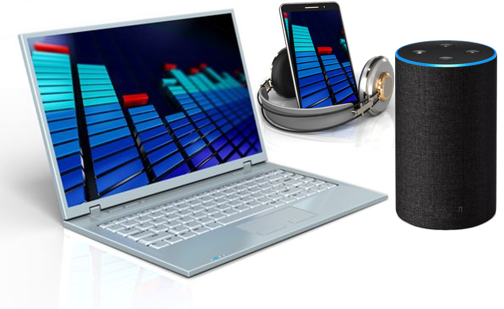 Online Audio is an opportunity to serve to targeted online listeners who are consuming audio content across all types of devices.  You can have a 15-second or a 30-second audio ad (think radio commercial) that will play in online content such as music, podcasts, and even sporting events (when those resume) that users listen to on their devices.  On some platforms, your audio ad will be served alongside a companion display ad.   
Where can your ads run? They can run across major streaming services such as Spotify, Triton, iHeart, Tune In, and SoundCloud.
According to "The Infinite Dial", Edison Research and Triton Digital, 2019, 67% of adults 12+ listened to online audio within the last month.  That's 2/3 of the population. 
Similar to OTT, Online Audio ads can also be served via Behavioral Targeting and Artificial Intelligence. With Online Audio, you have thousands of ways you can target. Going back to the restaurant example, you could now use online audio to target college students, families with kids, fast food enthusiasts, foodies, gourmet & specialty foods, moms and more.
And for the university, you can target by age, college students, moms and dads, high school, and level of education. You have so many more options to target with online audio. While you have many options available to you to keep your message out there, it's important to remember to do just that. But how do you message to your audience?
The best way to determine this is to figure out what consumer segment your clients are in.  In deciding which marketing tactics to employ, it's critical to track how customers are reassessing priorities, reallocating budgets, switching among brands and product categories, and redefining value.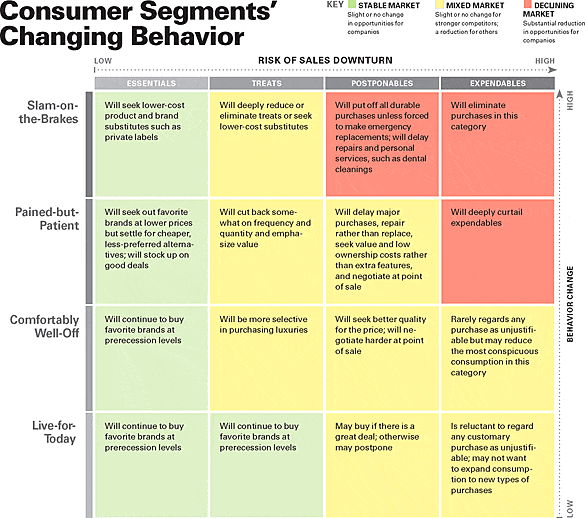 Once you have an idea as to where your audience falls, you can then tailor your messaging accordingly.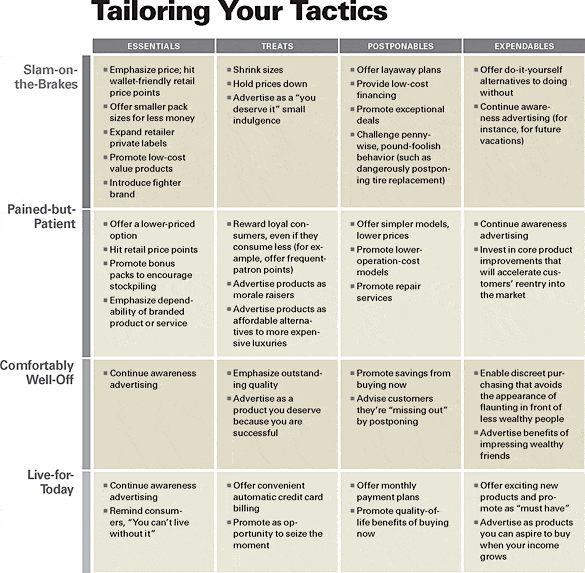 Here are a couple of examples of companies/industries that have proven that marketing during a recession, combined with their tactic proved to be successful.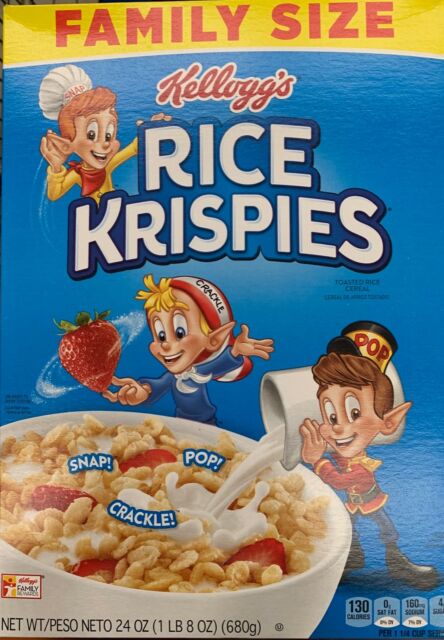 In the 1920's Post Cereal was the category leader. But, during the Great Depression, they cut back their marketing, leaving room for competitor Kellogg's to come in and double their advertising (heavily in radio) and introduced Rice Krispies. Kellogg's profit grew 30% and became the category leader for several decades.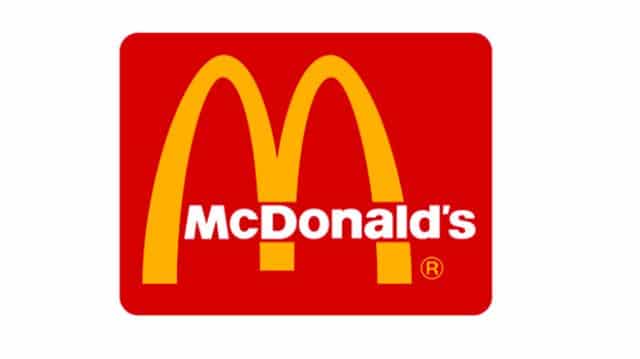 In the 1990-1991 recession, when McDonald's dropped its advertising and promotion budget, Pizza Hut and Taco Bell took advantage. Pizza Hut increased sales by 61% and Taco Bell sales grew by 40%, while McDonald's sales declined by 28%.
We know these are massive examples with nationwide exposure and opportunity. But, the point is the same. Advertising needs to remain constant in order to make it through tough times and thrive after these times have ended.
In fact, a series of six studies conducted by the research firm of Meldrum & Fewsmith showed conclusively that advertising aggressively during recessions not only increases sales but increases profits. This fact has held true for all post-World War II recessions studied by American Business Press starting in 1949.
Sam Walton, founder of Walmart, was asked "What do you think about a recession?" he responded, "I thought about it and decided not to participate."
Ask yourself the same question. What will your answer be?