Online Audio – What is it and is it HEAR to stay?
Allison Gibson
So many listeners out there, but how much are we listening? Personally, I would say I spend 2-3 hours a day listening to some type of online audio. In our household alone we account for 7 hours a day, at least!
The average user of online audio spends about 16 hours and 43 minutes a week! So, to answer the above question we are listening A LOT!

How can we use this to our advantage in this space? It is projected that ad dollars spent on streaming audio will rise 17% this year. We can take an audio commercial and target these listeners with Online Audio Ads. Online audio ads will target online listeners who are consuming online audio across devices. Devices include smartphones, smart speakers, laptops, desktops, tablets and even connected TVs streaming through apps. There are many targeting options available. First, we select the geographic are you are trying to reach and then we can target certain demographics or behaviors, like "small business decision-makers", "gym-goers" or even "Major Appliance shoppers" to name a few. We also pair Artificial Intelligence targeting to help zero in on the core customer. The machine learning technology accounts for overall pacing to make sure impression goals are met and eliminate large fluctuations.  The pacing is also optimizing towards when users are online and engaging. AI also takes into account, audience behaviors/characteristics, how frequently the user has been served impressions from this advertiser and how recently the user has been served impressions from this advertiser.
Where the ads will run is across major apps like Spotify, TuneIn, Triton, SoundCloud, iHeart and Dozens of online audio platforms. Spotify is quickly becoming a leader in audio listening and is projected to take the lead over Pandora in 2020.
By June 2017, Spotify had 144 million monthly active users (MAU). It almost doubled that by the second quarter of 2019, tapping into 232 million MAUs. Of these, total premium Spotify subscribers amount to 100 million or more. Spotify has a 36% share of the global music streaming industry and this continues to grow. Smart speakers and mobile have been huge drivers of this growth.
According to Edison research and Triton Digital, 23% of the US population owns at least one smart speaker and over half of the people that do have more than one.  By the end of 2020 it is projected that 75% of all US households will have a smart speaker.
When streaming audio from a laptop, desktop, tablet or mobile device a companion banner ad can appear that is clickable. Below is an example of an ad on Mobile using Spotify.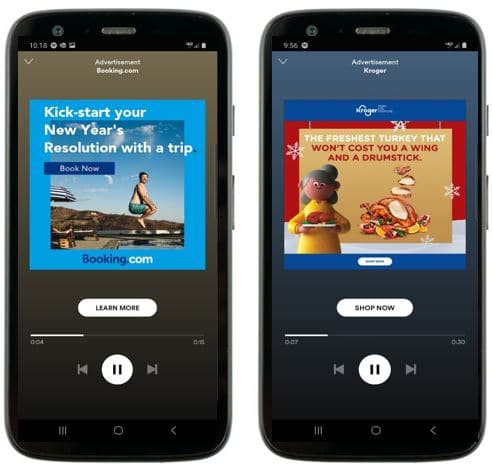 Clicks will be reported but are likely to be low. When streaming, users are typically are more concerned with the listening than clicking. However, clicks do happen, so we cannot discount those. If clicks happen this is a great measurement of true engagement and interest and that listeners want more information. Online Audio as a marketing tool is great for branding and awareness. It is also great at building loyalty with listeners. As consumers, we can be brand loyal and more than half of the people listening to podcasts said that they are somewhat more likely or much more likely to consider the brand they hear advertised. As an avid podcast listener, I would 100% agree with this statement. Whenever I hear a commercial during an episode of Dax Shepard Arm Chair Expert, my brow immediately raises and I pay attention to this brand more and have even sought out the product or service later on my own time to find out what it is all about. The inner voice in my head says, "If Dax endorses this product, then I must check this out!"
Now, what should your online audio ad include?
The ask. Determine what the ask is in your ad and how hard you are going to sell it. How are you going to approach your listeners? Just like radio you need to command your audience in the right way. If it is a soft sell, it is suggestive but does not directly scream the call to action. If it is a medium sell you want to ask for their business but not in a forceful manner. If it is a hard sell, demand that listeners' attention and create a sense of urgency.
Script & Tone Your script should not exceed 30 seconds. Choose either a 15 second or 30 second or a script for both. The script should be a good representation of your brand in a conversational way. This will resonate with those listeners much better and will leave a great impression of the brand. Keep in mind you don't have a lot of time to hook your listener. Decide one key takeaway in your script and make sure the message is concise and clear and you lead with this information.  Audio listeners are generally multitasking, so you want a message to cut through the clutter and is easy to follow along. Don't cram 50 words in 30 seconds. Keep it simple.
Voice
Make sure the voice you use for your commercial is appealing and will connect with your audience. Have you ever listened to an audiobook with a horrible voice? This is a key component of your commercial so your audience will stay tuned in.
Sounds
Create a nice transition for your listener. Ads are inserted between songs, interviews or podcast content, so you need a nice clean start and finish to your ad. Music and sounds can be included but consider the volume of these and don't start on a loud note.
Online Audio is also a great way to reach a more affluent audience. Monthly podcast consumers are typically in upper household incomes.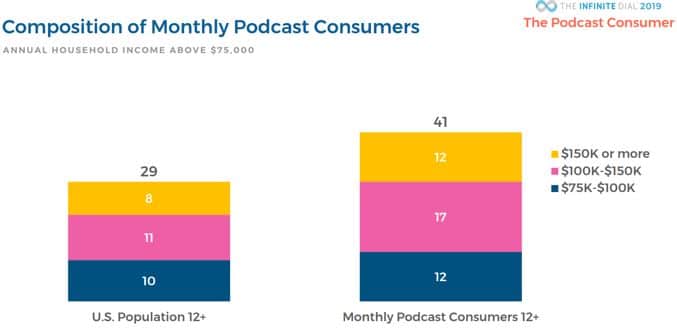 Streaming the Serial podcast or Armchair Expert by Dax Shepard or listening to the Amos Lee music channel on Spotify are common actions done on my iPhone and smart speakers; many times, up to several hours a day. Am I alone? Heck no. Even my kids have jumped on board; my 6-year-old with "Alexa play the new Frozen 2 songs" or my teenager with "Play the top 5 or make a new playlist."
But it is not just me and my kids, across all ages online audio is HOT! The younger generation is eating it up, followed by 25-54 years old and even 55 and older are listening to their fair share. 74% of people 25-54 listened to online audio last month. For many advertisers, this is their marketing
sweet spot.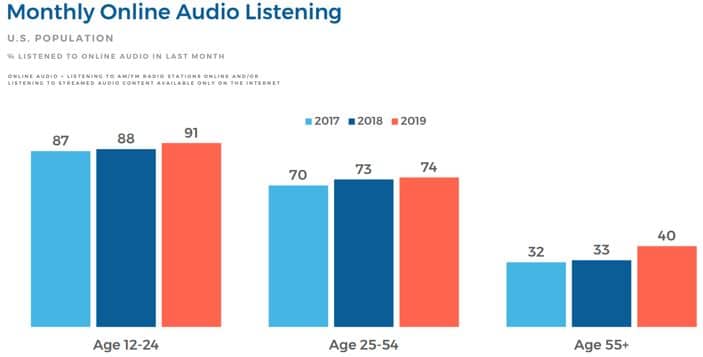 And the % of adults listening to online audio continues to rise. In the last month, 67% of the entire US population listened to online audio.

When it comes to streaming, Nielsen finds the average user with 41% of their weekly music listening time spent with streaming.
Nielsen says audio streaming reached 745.7 billion streams (up 23.8%). This growing demand for streaming music presents a new opportunity for online audio advertisers, as Comscore research indicates that free, ad-supported listening accounts for around three-quarters (77%) of music streaming app accounts. And that's just the music apps.  There are so many ways to stream audio content as well from Podcasts, sporting events, news and more.
Podcasts have gone gaga! More than HALF of the US are listening to podcasts. And much like binge-watching your favorite show on Netflix, we are now binge listening as well. Research has shown that on average podcast listener listens to seven podcasts a week.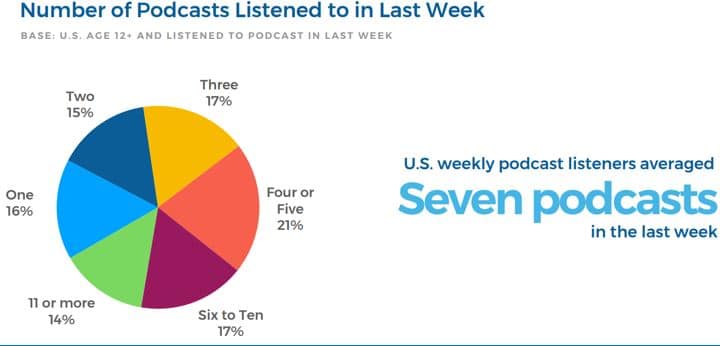 So online audio is like Radio transformed. We always need noise in our life, whether we are driving in the car, working out at the gym, flying for hours or just to break up the silence while working in your office. Personally, sometimes I welcome the quiet, after having rambunctious kids in the car or when I finally have some alone time at home, but those are rare occasions.
Borrell forecasts broadcast radio's digital sales will grow 27% in 2020, hitting $1.25 billion. With radio on the rise, they attribute 12.8% of radio groups revenue coming from digital maybe even higher if you factor in online ad advertisements.
It is safe to say that online audio is booming like crazy and it is HEAR to stay. It is a great tool to target engaged listeners for branding and awareness, generate lift in purchase intent and to create brand loyalty.
Even Dax Shepard would agree.