Voice Search is Here: Is Your Business Ready for It?
Greg Swiszcz
When Apple's Siri first came out back in 2011 the technology was a novelty. It was cool to test out and sometimes provided informative results, but often the results were laughable. Not many people predicted voice search would become a major digital trend of the future.
Voice search is defined as a speech recognition technology that allows users to search by saying terms aloud rather than typing them into a search field. Some examples of programs that have voice search capabilities are Google Assistant, Siri, Microsoft Cortana and Amazon Alexa.  The proliferation of smart phones and other small, web-enabled mobile devices has spurred interest in voice search. 
Three years ago, Google said that 20% of all searches were initiated by voice.  While they haven't updated that statistic yet, with more than a billion devices globally that feature the Google Assistant, it's very likely that the percentage of searches initiated by voice has increased dramatically.
In fact, there's so much interest that 41% of adults (and 55% of teens) use voice search daily. Also, by 2020, Comscore says that 50% of all searches will be voice searches.  With the projected growth with this tool many businesses are questioning how to stay ahead.  A new study from Uberall, says 96% of businesses are not voice search ready.   Are you part of that group?  If you are, it's time to make some changes.
The number one factor contributing to low voice search scores is inaccurate business information across online directories. Here are some of the areas of error:
Hours of operation
Website links
Location name
Addresses
Understanding what consumers are searching for with voice search is important.  According to a Google survey people want to get information about deals and sales, personalized tips, information about upcoming events, customer support and more, all of which are important to any business: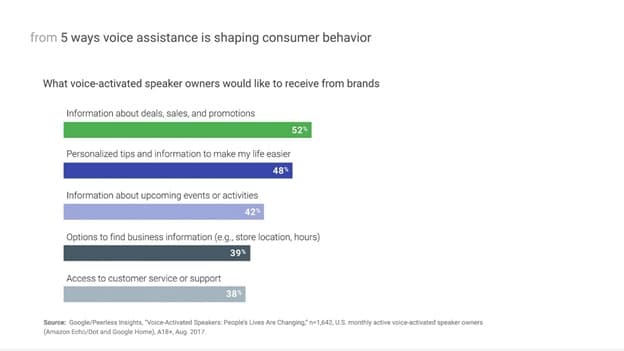 How does Voice Search Impact SEO Rankings?
Since the point of SEO is to rank websites accurately so users can find the best information for their search as quickly as possible, user experience is ultimately, at the forefront of search engine optimization (SEO). Because of that, search engines are placing a higher emphasis on voice search. Keep in mind that voice search SEO and traditional website SEO are different. Therefore, some factors that affect one, may not affect the other. For example, voice search SEO is more conversational resulting in long sentences showing up in search queries, such as "Where can I find a plumber in Phoenix" rather than typed Google searches, which tend to be shorter like "plumbers in Phoenix".
Does Voice Search Drive Website Traffic to My Website?
The answer is yes. Voice Search works the same way as traditional SEO. Since that's the case, you still want to ensure that your business shows up in the search results.
So now that you know all of this, how does your business get found in Voice Search?  Here's a quick overview of areas of focus:
Get to position zero AKA "featured snippets"
Long tail keywords & questions
Page speed
Directory Listings
Voice search is here and we've included it in all our SEO offerings for our partners, including search through Amazon. For most local businesses, 90% of their traffic is from Google, and a very small percentage is from Amazon. Our optimization is platform agnostic, which means we are doing good things for websites, regardless of the search engines. Amazon does have an immediate impact on local business with voice search, and our SEO plans and recommendations account for that.
Considering that nearly all the steps you can take to optimize for voice search are beneficial to your Search Engine Marketing efforts overall, the decision to focus on voice optimization should be an easy one. Incorporating this strategy has several benefits businesses are rewarded with, including:
Increase in website traffic
Increase in brand awareness and visibility
Connect better with consumers
Enhances customer engagement
Can provide a higher scope of conversions and sales
Voice search offers so many opportunities.  It can change the way that we connect with and communicate with our customers.  Having your business ready for it can prove to be an efficient method to improve customer relationship management.