How Does Your Business Get Found In Voice Search?
Leslye Schumacher
Wondering how a business optimizes their website for voice search? According to a recent research report, 71% of respondents would rather use voice search for something they need than to physically type in their search question. Whether we are using voice search on our phones or smart speakers, it's definitely growing in popularity. It's estimated that by next year, half of all searches will be conducted by voice.

One thing to know about voice search is that there is a difference between spoken and typed searches. With voice search, people typically ask a long question as they would normally speak. This causes different Search Engine Results Pages to be displayed or voiced from what someone might type in a search. That means voice search optimized websites have better chances of engaging potential customers. Remember too that with voice search you are typically only getting one top result read out.
So how does a business make sure that their business is the one that is found and reported on by Alexa, Siri, Google Assistant or whatever voice assistant someone is using? Search Engine Optimization! Below are some of the things we do with our SEO campaigns.

Top strategies for optimizing for voice search:
1. Getting To Position Zero AKA Featured Snippets
If your business is the featured snippet, this is the response that is read aloud by the voice assistant. This is called "position zero." How does a business get to position zero? Featured snippets appear at the top of the Search Engine Results Page. Here is an example the appears when I search "What is Household IP Targeting?" Google features the following in a box:
Where did Google get this information? From a blog we did on Household IP Targeting. Blogging is a great way to optimize for voice search because you can focus your blogs on topics that you think customers are likely to search for and answer those questions.
Another good idea is to have an FAQ page. So for example if someone asks, "what is Household IP Targeting" and we have an FAQ titled "what is Household IP Targeting" we are much more likely to be featured in the snippet.
2. Google My Business Listing
If you haven't read this article on Google My Business – start there! Because most voice searches are local searches you have to make sure that all of your contact information is correct on both your website pages AND your Google My Business listing, and that you are maximizing your Google My Business listing as we outline in the blog post link above. When we do SEO campaigns we are looking at not just Google My Business listings but also Schema markup (coding on your website) and submitting sitemaps to Google to make sure the Googlebot crawls your site correctly when looking for information.
3. Long tail keywords & questions
When searching for information with a voice assistant, people talk as if they're talking to a person. That means we ask full questions and use longer phrases then when we type a search query. This means websites need to be optimized for these longer phrases, called long-tail keywords. For example, if I'm typing a search I might type "Italian restaurant Philadelphia." If I was doing a voice search I'd probably say, "Ok, Google, what is the best place for Italian food in Philadelphia?" If a website had a blog post or an FAQ on "why we are the best place for Italian food in Philadelphia" Google is more likely to find it.
4. Page speed
Page speed means the time it takes for your webpage to load. This also influences whether or not your website will appear in voice search results. Want to check your website's page speed? Click here and type in your website URL and see how you rank for speed. This tool tells you whether your website's current loading time is fast enough, and suggestions for how to make it faster. Remember that most voice searches are occurring on mobile devices, so speed is imperative.
5. Directory Listings
Make sure your business can be found on all the major online directories and that your information is up to date. Many people will use voice assistants to check address information or business hours. Right now, Amazon's Alexa uses data from Yelp, Google Home uses data from Google My Business, and Siri uses information from Apple Maps (which sometimes gets their data from Yelp).

Getting your local business' NAP (Name, Address, Phone number) information listed on directories, online business listing sites, and citation sites helps to improve visibility so you are found in voice searches, but backlinks from these sites (the sites linking back to your website) can also have a benefit to your search engine ranking.
Below are just some of the top directories that you need to be listed on, but that's just a start. Did you know there are also special directories for categories like HVAC, Insurance, Real Estate, Legal, Auto Repair, Plumbing, Doctor's Offices? You need to be on these types of directories as well.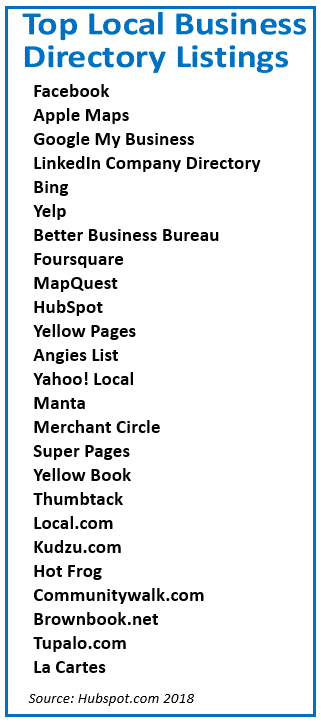 Being search engine optimized for voice search is the future, and the future is now. If you have more questions, Vici's SEO specialists can help!