What are the Best Ways to Promote or Target Events?
Greg Swiszcz
Events are back!  As mask mandates are lifting across the country more and more events are getting planned every day.  From 4th of July celebrations to concerts and festivals, we're seeing a huge uptick and revival of this category.   Shows on the Las Vegas Strip are back, as are sporting events like NHL Playoffs, Major League Baseball, and the 2021-2022 NFL season is right around the corner.
It has been a while since events have really happened so we wanted to share with you some great ways to help promote your clients' events or even target events that could be important to their business.
Facebook and Instagram.
It is a great tool, and with people spending about an hour per day on the social media platform, it is a great place to tell potential attendees about the upcoming event.  One highly effective ad placement is Event Response Ads.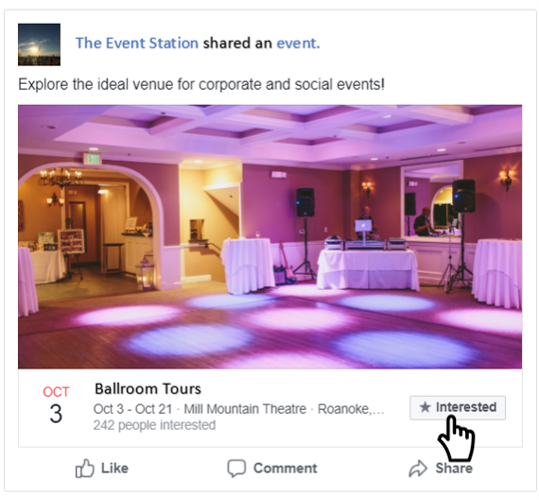 With these ads, we link directly to the client's event page on their business Facebook page, not the client's website.  And, if someone clicks that they are interested in the event, they will continue to get reminders about the event through their Facebook notifications.  For the very best reach we recommend not just serving Event Response Ads on their own, but instead to run them in conjunction with regular News Feed Ads, think single image/video or a carousel ad.  With a carousel ad, the client can have multiple events being promoted within 1 ad unit and have the Event Response ad talk about, and promote, the event that's closest.
When it comes to targeting for events, Facebook has some great options.  Here are just a few:
Target by age
Food & drink by type
Live events/concerts
Concerts by type of music
Type of music interest
Outdoor concerts
Outdoor shows
By musical act name
Broadway show
Musicals
Festivals
Music festivals
Food festivals
Film festivals
Hiking and camping
Arts and music
Entertainment
Music
Nightlife
Outdoor enthusiast
Outdoor recreation
Bars
Concerts
Nightclubs
Pop music
Rock music
Wine
Beer
Social Mirror™.
Social Mirror™ ads are such a hot and producing product right now.  Social Mirror™ ads look like social media posts, but they appear on thousands of other apps and websites across all devices.  There is no doubt that your clients will be promoting their event on social media, through their own organic posts.   What if you could take that post and place it in front of their target audience when they are using other apps and websites? That is the beauty of this product!
One of the great advantages of this product is we are using the content that your client is already working hard to product on social media.  It doesn't matter which of the 8 major social media platforms (Facebook, Instagram, Twitter, LinkedIn, Tik Tok, Pinterest, Snapchat, or YouTube).  We can work with all of them and bring that social media content to life outside of that particular platform.
The client just provides the URL of the post that they want to use as their ad creative and we turn it into an ad that looks like this: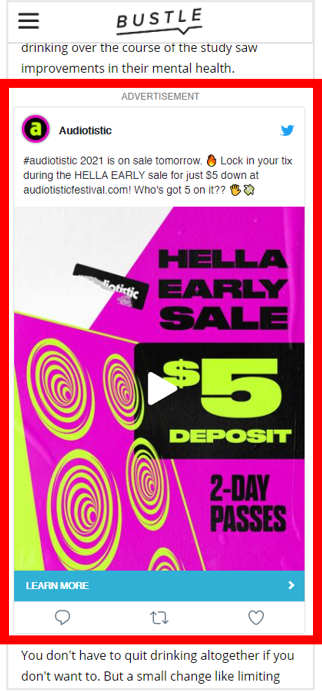 One advantage of this platform is the ability to drive people to the client's website AND their social media channel as well.  The ads we create have 3 different call-to-action opportunities, to the client's website, to their Social Media profile, or to that specific post on their social media profile.
Another advantage is the targeting options available to your clients with Social Mirror™.  The client can utilize Behavioral Targeting, Keyword Targeting, Artificial Intelligence, and/or Retargeting.
When we talk about behaviors that we can target, there are literally thousands of ways to reach event goers.  Here are just a few:
Arts & Culture
Comedy Lovers
Baseball Fans
Basketball Fans
Beer
Boxing
Christian
Christmas
Cinco de Mayo
Concert Goers
Country Music Fans
Cycling
Earth Day
Easter
EDM Music fans
Entertainment
Ethnicity
Events & Tickets
Exercise Enthusiasts
Extreme Activities
Families with Kids
Farmers' Markets
Film
Food & Beverages
Foodies/Cooking Enthusiasts
Football Fans
Golf Fans
Halloween
Hanukkah
Hip Hop Music fans
Hockey Fans
Holiday Entertaining
Joggers / Runners
Live Event Attendees
Movie Goers
Movie Lovers
Music – Country
Music – Hip Hop & Rap
Music – Pop
Music – Rock
Music Enthusiasts
Music Festivals
Music Lovers
Parents
Parties & Celebrations
Party Planners
St Patrick's Day
Valentine's Day
March College Basketball
Spring Break
Super Bowl
Events & Tickets
4th of July
Back to School
Fathers Day
Mothers Day
NFL Draft
Sporting Events
Motor Sports
Concert-Goers
Country Concerts
R&B or Hip-Hop or Rap Concerts
Rock or Pop Concerts
Concert or Theatre Tickets
Last 12M: Concert – R&B/ Hip-Hop/ Rap
Last 12M: Concert-Country
In-Market > Music Concerts
Past Purchases > Concerts
Concerts > Classical
Rock Music Fans
Soccer Fans
Tickets>Baseball
Tickets>Concerts
Tickets>Football
Tickets>Live Theater
Tickets>NASCAR
Theme Park Enthusiast
Trendsetters
Mobile Conquesting™.
What the one thing that almost everyone has with them at any given moment?  Their phone!  So, if you can target people on their mobile device with your advertisement, wouldn't that be of benefit to you?
There are many ways that this product can be used, so let's break it out for you.
First, you can target based off behaviors.  Like most digital products, we can target people based on the online behaviors people exhibit on their mobile devices.  Every app we use and every website we go to starts to create different behavioral buckets that we fall into, providing a great opportunity for you to reach your target audience.
When it comes to events, if you're trying to reach people interested in events, or even a specific type of events, take a look at just some of the behavioral categories available:
Age Demos (13-17, 18-24, 25-34, 35-44, 45-54, 55-64, 65+)                 
Amusement and theme parks
Arts Lover
Arts organizations and info
Baby Boomers
Bar/Pub goers
Beach & Cabana Clubs
Casino Goers
Casinos
Entertainment Enthusiasts
Family Entertainment Centers
Family Dining Restaurants
Hispanic
Live event attendee
Live theater goers
Moms
Movie goers
Museum lovers
Music and live entertainment
Music Lover
NBA/Basketball enthusiast
NFL Stadiums
Outdoor enthusiast
Park Lovers
Shopping centers and malls
Soccer Clubs
Sports Enthusiast
Next up, we can target people based on where their phone is physically located.  For example, if you're an event center, and you want to target people that are coming to shows at your venue, and promote upcoming shows, you can definitely do that.  You could even target other event venues and reach their event attendees as well.   We utilize a product called Geo-Fencing in addition to the behavioral targeting that you just selected.  Geo-fencing is where we establish a virtual fence around, in this case, your own event venue, and maybe a few others nearby.  When people enter these event venues, we now have the ability to start serving ads to those mobile devices.  So, you can start serving ads to people that are at your events, or any events, to promote your business.
Here are a few ideas of locations/events to geo-fence:
Sporting Events
Concerts in the Park
City/County/State Fairs
Concert Venues
Comedy Clubs
Airports (people coming in and out of town for events)
Entertainment Complexes
Graduations
Hotels
Conference Centers
Expos/Trade Shows
And the list can go on.
Targeting these locations and people at events is a great tactic.  But, what happens after they leave the event?  How do you continue to talk to them?  Enter in Geo-Retargeting.  Geo-Retargeting is a tool that allows us to continue to serve ads to mobile devices that were inside of the geo-fences that you were just targeting.   This is an opportunity to continue to talk to that audience about your upcoming event.
Now, we can take this one step further. Ever hear the expression "Keeping up with the Joneses"? I'm not sure who they are, but everyone wants to keep up with them. Utilizing a function called Geo-Retargeting Lookalike, not only can we follow people after they leave the Geo-Fenced area, but now we have the ability to also target people that live near them. Basically, on the premise that people that live in the same neighborhoods may have similar interests and be interested in similar types of events.
The last capability for Mobile Conquesting™ is Event Mobile Conquesting™.  This works a little different.  With Event Mobile Conquesting™, we can target people that are at a multiple day event (up to 3 days).  With this feature, we ONLY zero in on this event, let's say a Home Show, typically over a Friday, Saturday, and Sunday.   With Event Mobile Conquesting™, we put a geo-fence around this multiple day event and target people during the entire event.  Then, we retarget them for up to 30 days after the event.  You can pick any event that you want and target attendees.  It is almost like have the ability to sell a digital sponsorship for any event.
Being able to track ROI is important to every business. Being able to track on-site visits of people who have been served the mobile ad, is one of the methods that Mobile Conquesting™ offers to be able to do just that. We can track people who see your ad and then come to your business/venue within two weeks after seeing it as long as they:
– Visit your store within 2 weeks of seeing your ad
– Have their GPS function on their mobile device enabled
– Browsing on their phone while at your location
Which means each month you'd be able to see those verified visits on your monthly report as well as the estimated visits of those who didn't meet the above requirements.
At Vici, event insertion orders are +290% in Q2 vs Q1 2021, which means now is the time to add event promotion or targeting to your marketing.  And we welcome it with open (and socially distanced) arms.