Understanding Facebook's News Feed Ads
Dana
In the last year Facebook has rolled out an amazing number of new products!  They now have several options to utilize to target potential customers with display or video ads based on demographics, interests, behaviors, or even a list of email addresses or phone numbers.
While Right Hand Column ads have long been in place, we recommend using Right Column Ads for only Retargeting or in combination with other display products.  Why? Well mainly because Right Column Ads only appear on desktops and research shows that 68% of social advertising clicks come from mobile devices.   What we're covering today are News Feed ads and the options for using these has exploded over the last few months.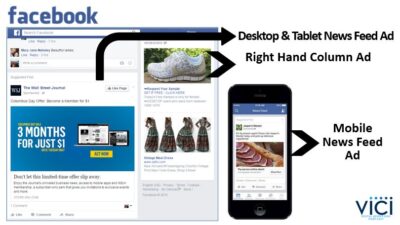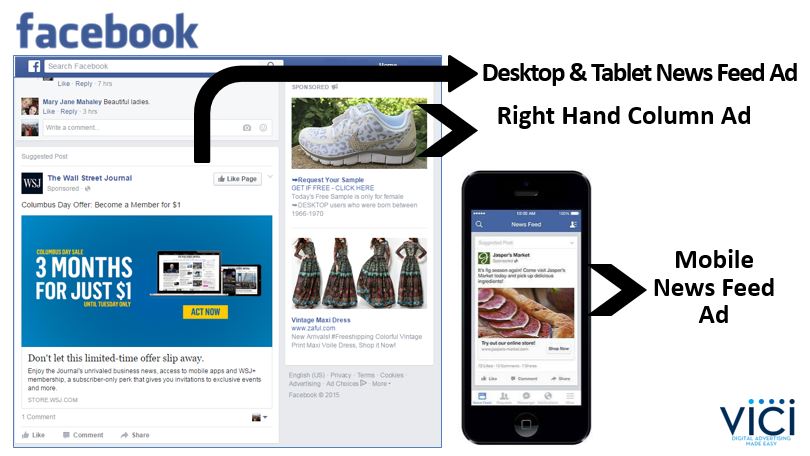 While News Feed Ads are more expensive than Right Hand Column ads, they are absolutely worth it. Why? Well one main reason is because they are highly targeted. They are also "native" meaning they appear in the news feed of a user.  They appear across all devices and they have a much higher engagement rate (clicks, likes, etc.) than Right Hand Column ads. In short, they are highly visible, specifically targeted and proving to be a very successful way to engage with potential consumers.
Let's take a look at the different Facebook News Feed options to choose from:
Carousel News Feed Ads:
Carousel Ads  are only available as News Feed  ads (not Right Hand Column ads).  They allow you showcase 3-5 images and links within a single ad unit to direct people to specific locations on your client's website.  Carousel ads are 10 times better at getting people to click through compared to static sponsored posts on Facebook.  Call-To-Action buttons that you can select include Book Now, Contact Us, Download, Learn More, Shop Now, Sign Up, Watch More, Apply Now, and Donate Now.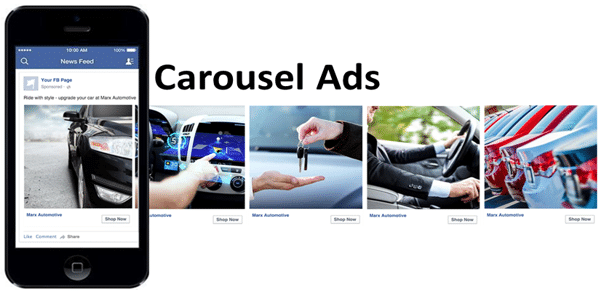 Lead News Feed Ads:
Lead Ads  can be used to collect information from consumers who want price quotes, schedule appointments, follow-up calls and other info. What is unique is that the form opens on their device right within Facebook without the user having to leave the app.  You are able to select what information you want to collect and even customize the form with open-ended questions. There are 6 call to action buttons that can be selected including Sign Up, Subscribe, Learn More, Apply Now, Get Quote, and Download.
Your business can then access these leads from your Facebook page admin.  Lead Ads look just like regular News Feed ads but have the different Call-To-Action button and when clicked open to the lead form.  These ads are PERFECT for car dealers, insurance companies, recruitment campaigns, contests, etc.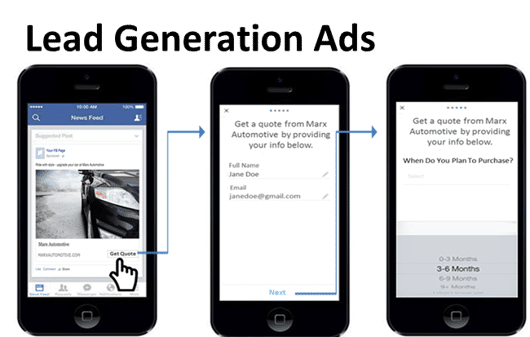 Local Awareness News Feed Ads:
Want to drive phone calls or foot traffic to your business?  Local Awareness ads allow you to Geo-Fence around a store location choosing a radius of 1-50 miles. You can choose Call-To-Action buttons of Call Now, Get Directions, or Send Message.
These ads are more like traditional geo-fencing when you want to any people in a certain location.  You can't get as specific with who you want to reach, other than age and gender.  So for example, you could do a Call Now button with a 3 mile radius targeted to women, but you couldn't do a Call Now button with a 3 mile radius and target newly engaged women.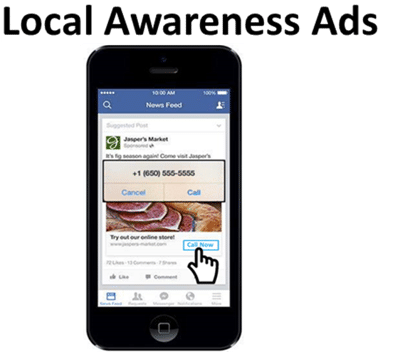 Custom Audience News Feed Ads:
Facebook's Custom Audience lets you target people in their Facebook News Feed by matching an email or phone number list to a Facebook account and show only those people your ads!  All you need is a list of email addresses or phone numbers and Facebook will match those to people with an active Facebook account.
In addition to targeting those people, Facebook can create a "Look Alike" list.   Facebook takes the top 1% of users whose characteristics most closely match the people on your list and targets them on their Facebook News Feed.

Another plus about Facebook advertising is that you don't have to create the ads.  All you need are the photos/graphics you want to use and the text and then Facebook puts the ad in the correct format for each device!
Facebook's targeting options are amazing but can be confusing.  Contact Vici and we can put together a Facebook campaign for you that is effective and painless!