Facebook's Lead Generation Ads Get Even Better
Dana
Facebook recently rolled out a new product called "Lead Ads." Lead Ads were designed to give people a fast, easy and privacy-safe way to sign up to receive information from businesses right from their mobile phone and without leaving Facebook. Consumers expect to be able to do everything from their phones and Lead Ads make it easy for consumers to signal a business and let them know they are interested in learning more about their products or services.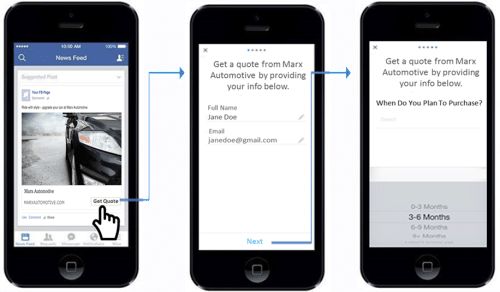 Lead Ads allow advertisers to collect information from prospects directly from mobile ads. Instead of sending traffic to a landing page where people manually fill out a form and press submit, they click on the ad, their information (name & email) is pre-populated, and they hit submit. All within the Facebook platform.
Awesome, right? Lead Ads launched just a few months ago, and advertisers are already seeing tremendous success. Advertisers are receiving high quality leads, and at a fraction of the price.
For example, when Mazda switched to Facebook Leads Ads, they got 5X the number of leads compared to ads linking to their website, while cost per lead dropped 85%. Vacation discount website, Secret Escapes, used lead ads to make it easy for people to sign up for their email list directly from Facebook. Their cost per lead was 52% more efficient than other Facebook advertising, with twice as many sign-ups.  Fitness company, Peloton used Lead Ads to drive a 15% increase in leads compared to their link to their website ad campaigns, with a 67% lower cost per conversion.
Even though Lead Ads are already leading to excellent response, Facebook just announced they are adding new features that help businesses get even more out of them.
So what's new?
Facebook Lead Ads are now available in the carousel format, enabling businesses to showcase three to five images and headlines before people click through to the lead form. Advertisers can use the carousel ads to provide details about and benefits of submitting their form.
Lead Ads are now available on desktop as well as mobile, making it easy for businesses to connect with people on any device.
Mazda used desktop lead ads to successfully drive brand awareness and sign ups for test drives.
What are you waiting for?
With these new features, Lead Ads can better help businesses connect with the people who want to hear from them. Let us know when you're ready to start accumulating leads in a way that's easy for people and simple for you!