Is Your Business Using All That Amazon Advertising Offers?
Katie Pray
Peanut Butter and Jelly. Macaroni and Cheese. Cookies and Milk. Those are things we can all agree on that pair well with one another, right? Well, in the digital advertising world, two things that also pair well together are Amazon and Over the Top (OTT) advertising. With over 300 million worldwide active customer accounts, Amazon has a deep understanding of how shoppers engage with products and brands as they discover, browse, and purchase online. Advertising through Amazon's targeting data can help businesses reach customers at every stage of their journey, and Amazon allows for several different ways to target consumers while showing them different types of ads, in various locations. So, let's go ahead and unpack this Amazon advertising box.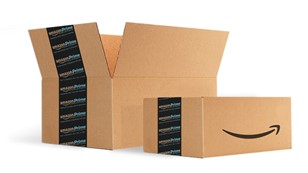 Amazon advertising gives a business the opportunity to reach consumers in multiple places across the web, including Amazon.com. Now it certainly sounds pretty sexy to be able to show your ad on Amazon.com, but the real power of Amazon is being able to use the massive amount of data that Amazon has accumulated about its users, and then target those same Amazon users while they're off Amazon. Think of your own consumer behavior. When you know what you are looking to purchase, you go to Amazon and search for it, put in your cart, and then you're done, so you're not spending too much time on the actual Amazon.com website. With Amazon targeting, you can reach that same user when they visit other Amazon owned properties such as IMBDb.com, IMDb TV, and Fire TV, and also on thousands of other websites and apps that Amazon has partnered with, called Amazon Publishers.
Along with the different places where ads can be served when utilizing Amazon as an advertising platform, Amazon allows for different types of ads to show to consumers such as display ads, video ads, and OTT ads. Here is a breakdown of the different places your Amazon targeted ads can appear and what types of ads that can run on each:
IMDB.com– the world's most popular searchable database for info on movies, TV, and celebrities with 83 million users. Ads are display or video and use Amazon Targeting. These ads can be display or video.
IMDb TV– a sister service of IMDb.com that contains free OTT streaming services to watch movies and TV series. Viewable on computers, mobile devices, Fire TV, Echo screen and Apple TV. These are OTT ads.
Fire TV– a device that plugs into a Connected TV and enables access to hundreds of video streaming apps that contain movie or TV content. These can be video or OTT ads.
Amazon Publishers– thousands of websites and apps that Amazon has partnered with to reach their users (CNN, TBS, A&E, fuboTV, AccuWeather, US Weekly, reddit.com, to name a few) These can be display, video, or OTT ads.

OTT viewing is something that has skyrocketed over the last few years, especially over the last year, and one reason for that is the pandemic. With people spending more time at home, that resulted in streaming more content. Another reason OTT has really taken off is because the way that people are consuming TV and video content is changing. Nowadays, you can watch your favorite show on your time compared to 15 years ago when you had to drop everything you were doing and be parked in front of the TV if you wanted to catch your favorite program. Last year, the number of households in the US that became "cord cutters" reached 31.2 million, and that number is expected to grow.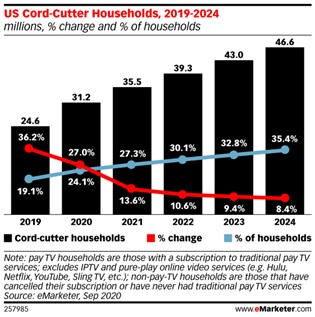 Amazon is no stranger to taking advantage of the ever-changing landscaping when it comes to how people are watching programming. With Amazon OTT, brands reach an incremental 6.5% of viewers on average, compared to a linear TV campaign. That means, if you had a campaign that engaged 100 million viewers on linear TV, you could reach an incremental 6.5 million viewers if you added Amazon OTT ads to your media mix. Also, on average 74% of the intended audiences reached by Amazon OTT ad campaigns were not reached by linear TV. This is a perfect strategy for a local business owner to increase the reach to their target audience, without increasing their advertising budget. Some of the positives of taking advantage of the OTT inventory that Amazon has to offer is that is allows a business to reach young adult viewers, it builds a connection with a trusted audience, ads can show up in content that delights viewers, and it engages viewers with reimagined ad experiences.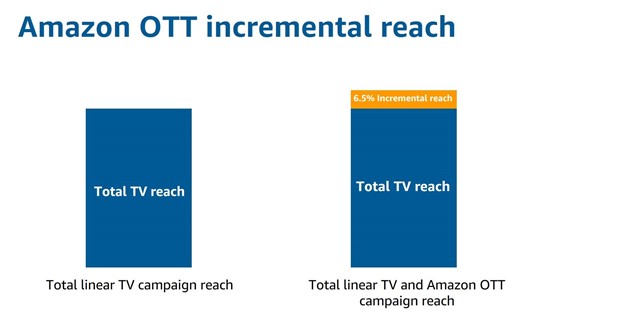 It was found that almost 75% of the audience engaged by OTT campaigns were exclusive to Amazon―meaning, they were not reached by the advertisers' linear TV campaigns.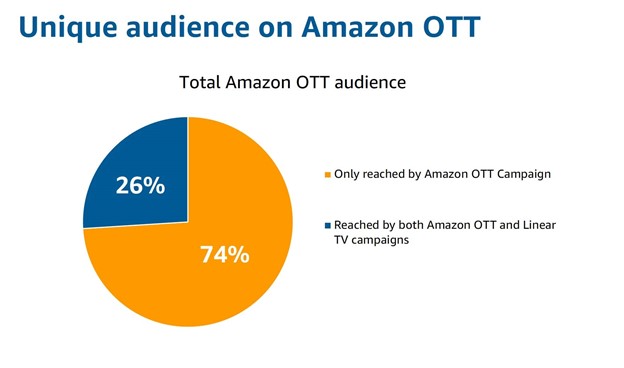 Another benefit to Amazon OTT versus linear advertising is that it provides lighter frequency. Now you might be thinking, "but don't you want a high frequency in order to get your message through to consumers?", Yes, you do, but with linear TV, that is going to come with a cost, literally. With linear, advertisers have to spend so much more to buy ads because they are buying programming and they aren't exactly sure who is watching outside of gender and age demographics. With Amazon OTT, because you are targeting by behaviors, products, or off of a particular list, a lower frequency of seeing an ad has the same effectiveness because it's a targeted audience. Linear TV is more of a shotgun approach where you are reaching the masses, where Amazon OTT targeting is going to be a rifle approach because you are targeting your audience more closely.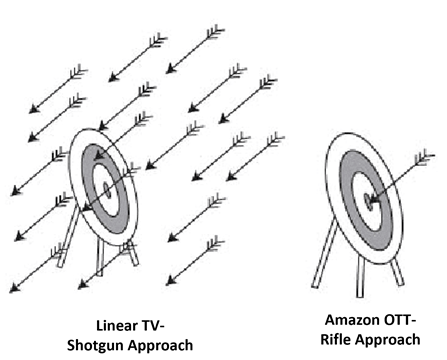 Speaking of targeted audience, lets break down the different ways that a business can utilize OTT ads through Amazon:
Amazon Behavioral Targeting- Showing a display, video, or OTT ads to specific consumers based on their Amazon purchase history, searches, and browsing, across Amazon.com (display only), Amazon owned properties, and across Amazon Publishers.
Amazon Product Targeting- This targeting strategy is a little more precise than behavioral targeting we are building audience of people who have searched, browsed or purchased specific products on Amazon.com and then show them a display, video, or OTT ad on Amazon.com (display only), Amazon owned properties, and across Amazon Publishers.
Amazon Custom Audience Matching and Lookalike- Utilizing a list of customer emails or addresses, we match them to Amazon users and show a display, video, or OTT ads across Amazon.com (display only), Amazon owned properties, and Amazon Publishers.
Amazon Retargeting- Following people after they leave a business's website and showing them a display, video, or OTT ads across Amazon.com (display only), Amazon owned properties, and Amazon Publishers.
Amazon is constantly evolving as an advertising platform, so they are always looking for ways to connect with their subscribers, reach them in different ways, and show them content that they want to see. Something that Amazon added to its list of offerings last December is a news app on Fire TV. This news app comes built into the Fire TV software where local news gets its own tab right in the app. Consumers like to keep up with local news which this app will allow them to do, but it also serves as an easy way to bring in extra advertising dollars because Amazon lets you customize the app to show your preferred news sources. When you open the app for the first time, you can select the news that matters most to you from national and local sources, and a custom playlist will be generated based on your selections. The next time you want to watch the news you can simply say "Alexa, play the news", and it will automatically open the app and play content from your favorite channels.
It's funny to think that back in the early 60's when The Jetsons appeared on TV how farfetched it seemed to have video chatting (Zoom), a robot vacuum cleaner (Roomba), or a digital diary (Social Media). Nowadays, we can order something off the Internet by talking to a speaker, turn the lights on in the house by asking a virtual assistant, or even have a refrigerator tell you what you can make for dinner based on what is it in. What is really funny, is now, in 2021, all of that online behavior is tracked, so businesses are able to deliver personalized content, in multiple ways, in multiple places, including the world's largest online retailer, Amazon.