The One Thing You Must Do For Search Engine Optimization
Leslye Schumacher
The one thing you can and MUST do as a local business to improve your Search Engine Optimization (meaning – rank on the first page of results when someone searches Google for keywords related to your business) is to optimize your Google My Business listing. Not just claim it – but OPTIMIZE it. Your Google My Business listing is NOT a set it and forget it type of thing.
Did you know that you can now do posts, text messaging and Q&As all through your Google My Business listing? Did you know anyone can edit your business listing without your prior knowledge? If you are not checking your Google My Business listing on an on-going basis not only do you risk wrong information being listed, but you are not optimizing it to help your search ranking.
(Side note: your Google My Business listing isn't something that is searchable by users – it is information that you give to Google that Google then uses to populate on the Google Search Engine Results Pages and Google Maps).
As the image below shows, it is estimated that Google My Business (GMB) information counts for 25% of local search ranking factors that Google uses to determine where you are listed on a Google Search Engine Results Page (SERP).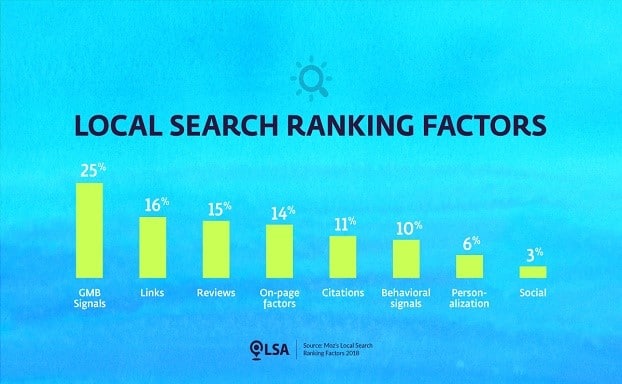 The information you enter in your Google My Business listing is also the info that Google pulls from when it displays the Knowledge Graph (also known as the Knowledge Panel) on the right hand side of the page when someone Googles the name of your business: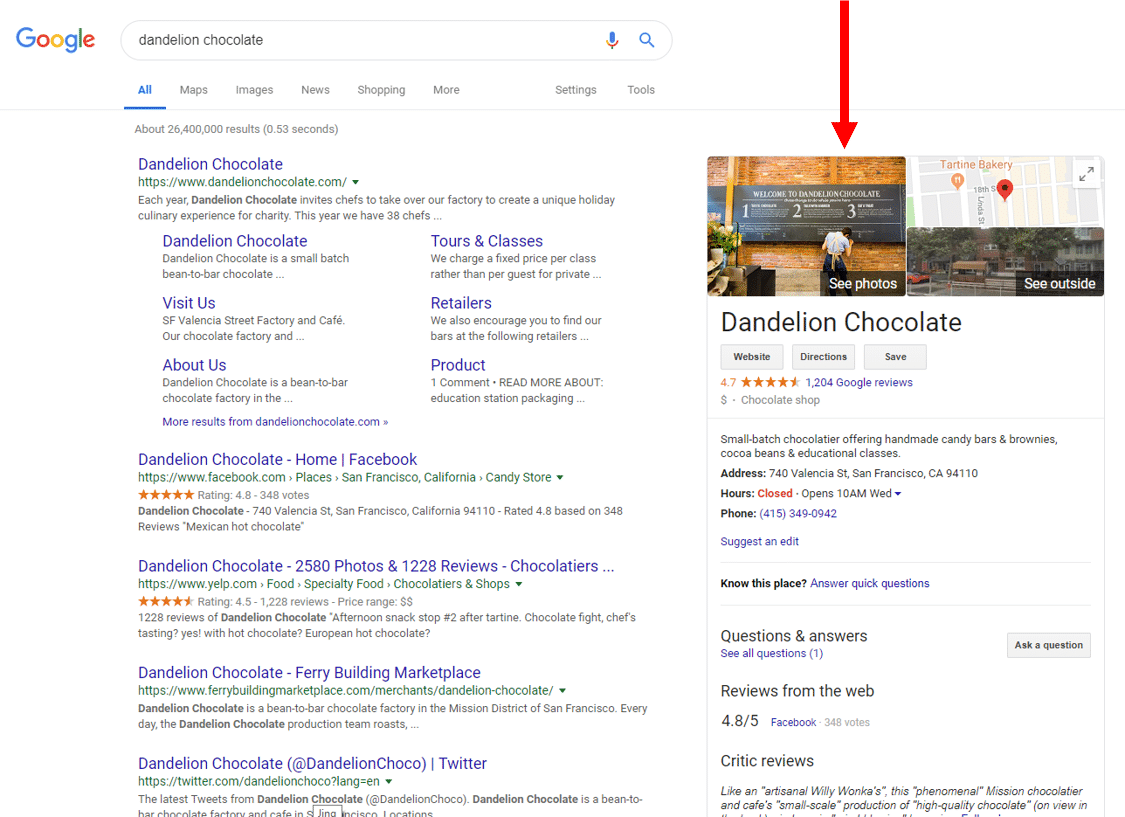 If you haven't claimed and verified your Google My Business Listing yet, that's the first step.
If you have – great! Scroll down to STEP 1 THE BASICS to make sure you have those covered.
Then on to STEP 2 to OPTIMIZE!
To get started, go to the Google My Business homepage.  Log-in with your Google/Gmail account that you want to be associated with your business. For steps on how to claim your business read this.
If your listing has been claimed but you don't remember who claimed it, click here and enter your business name. Google will show you a snippet of the email address that was used to claim the listing and this may help you remember. If you don't recognize the email address you can click "Request Access" and fill out the form to send to Google.
STEP ONE – THE BASICS:
There are many parts to a Google My Business listing and you simply MUST make sure all of the information is correct. Start with the main components:
Name
Address
Phone Number
Website
Description
Category
Attributes
Your business NAME, ADDRESS, PHONE NUMBER, WEBSITE should EXACTLY match what is currently listed on your website and anywhere else on the internet. Inconsistencies in the information will negatively impact your search ranking.  It's also better to have a local number as opposed to a national or call center option. You can read more about this here.
In the DESCRIPTION section enter a brief overview of your business: What you offer, what sets you apart, your history, or anything else that's helpful for customers to know. Focus on details about your business not promotions, prices, or sales. Do not include URLs or HTML code, or exceed 750 characters in the description field.  Click here for the full list of guidelines from Google.
Make sure you choose a very specific CATEGORY for your business. There are thousands to choose from. For more information on choosing the right category or to edit your category listing you can click here.
The ATTRIBUTES section allows you to list some of the features of what you offer. Maybe you have free wi-fi, outdoor seating, types of payment you accept, etc. are all options. For more info on this from Google click here.
STEP TWO – OPTIMIZE (OFTEN!):
1.  GOOGLE MY BUSINESS POSTS:
Google allows you to do business posts that show up in Google searches where your Knowledge Graph is displayed and on Google Maps. Google My Business Posts stay live for seven days, and then they "go dark," but past posts are still visible when the current post is clicked on. People can scroll through past posts you've made. This is your opportunity to publicize promotions, sales, specific offers.
Google Posts allows you to add text, photos, video, gifs, and even call-to-action buttons including:
Buy
Sign up
Learn more
Reserve
Get Offer
Here is what one looks like when appearing in Google Maps: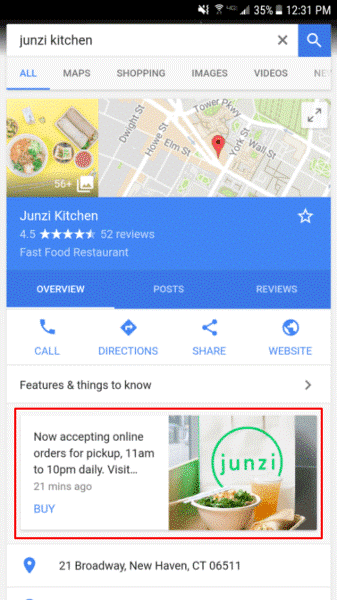 Here is what posts look like when appearing in the Google Search Engine Results Page Knowledge Graph: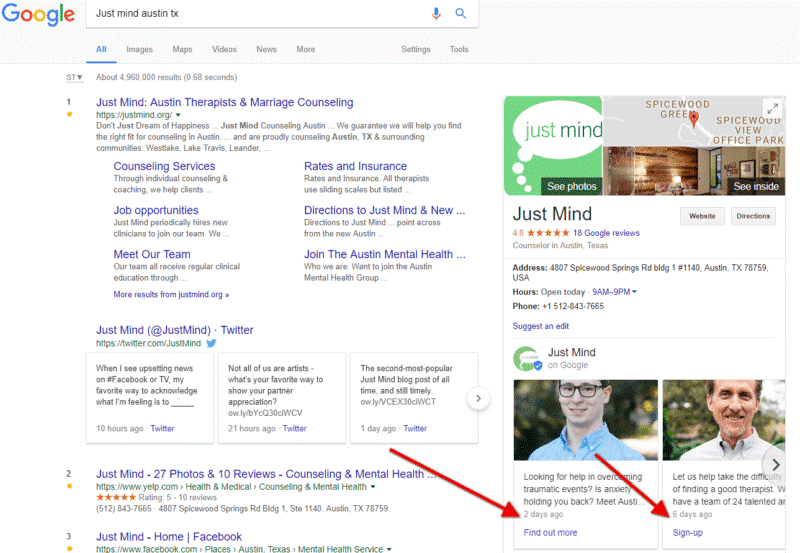 Ideas for posts could include:
Events such as webinars, seminars, open houses
Sales and limited time offers
Link to your latest website blog post
New products or services that you have
Special holiday hours or promotions
New Employees or featured employees
For more info on what Google suggests and allows for posts click here.  And for steps on how to create your Google My Business Post click here.
2.  GOOGLE MY BUSINESS TEXT MESSAGING:
Another great feature that you can turn on in your Google My Business listing is text messaging.  Then if someone Googles your business on their phone, they get the option to text you in addition to the option to call.  Many studies show that people would rather text than call.  Here's an example of what a potential customer would see: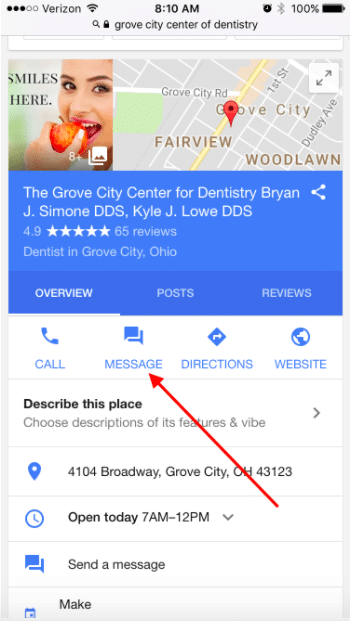 For info on how to turn on text messaging from your Google My Business listing click here.
3. GOOGLE MY BUSINESS QUESTIONS & ANSWERS:
Did you know that when your Knowledge Graph is displayed or your Google Maps listing, it includes Questions and Answers and that those questions can be answered by ANYONE?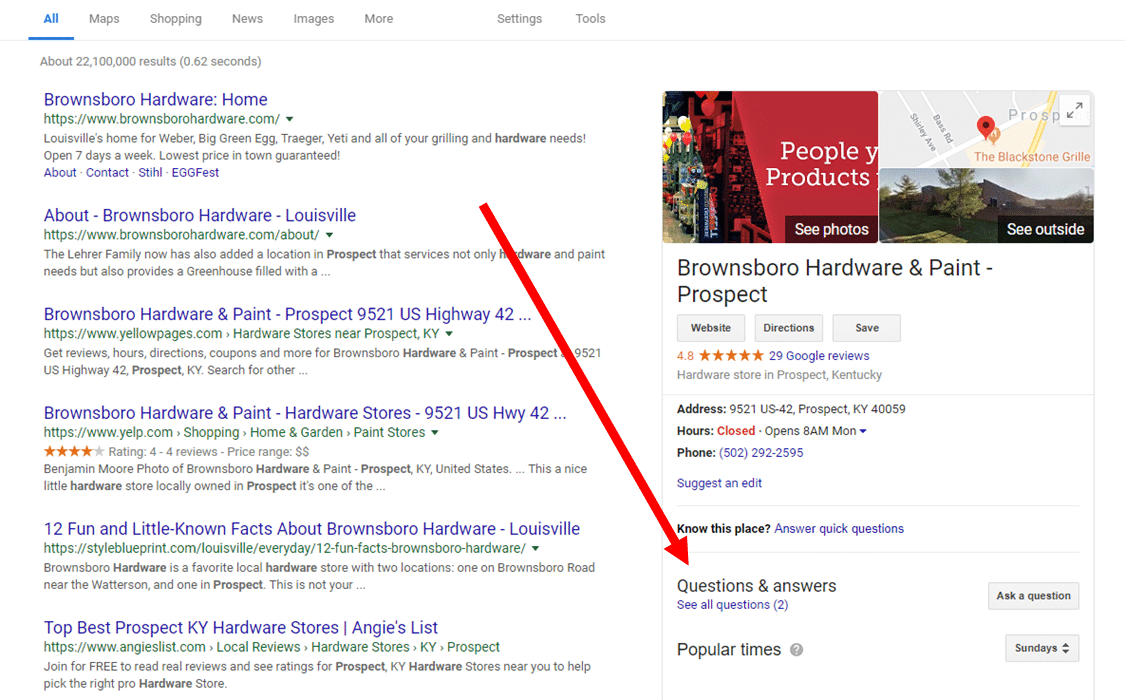 Google doesn't always notify you when questions are asked. As this article points out there are three ways you can see questions (and answers) that are posted:
Search for your business name on a desktop computer and see if there are new questions listed in your Knowledge Graph.
Install Google Maps on your phone, log in with the same Gmail address that is assigned to your Google My Business listing and check for questions/notifications.
Go on a mobile browser, search for your business and see if you have new questions that need to be answered.
As a business owner you should pre-populate your Q&A section with frequently asked questions and answers, yourself. To do that you can simply search for your business on your mobile phone and go to the Questions and Answers feature on your Google business listing or access it through Google maps. For more info on doing this, click here.
If you aren't continually checking this, your customers may be answering these questions incorrectly. Google's "Local Guides" are often quick to answer these questions, since they get awarded three points even if their answer is wrong.
If you find inappropriate questions or answers you can "flag" them for Google to remove.  Click here for more info on how to do that.
4. GOOGLE MY BUSINESS REVIEWS:
You know that getting Google reviews are critical, but how do you get reviews from your customers? It's simple. You ask them! Some review sites (Yelp) penalize you for asking for good reviews but Google encourages it. You can send a link to your customers in a few easy steps.
Open www.google.com/maps in a new web browser.
In the top left corner, search the name of your company
After selecting your business, click the menu option in the top-left corner
Click "Share or Embed Map"
Click "Copy Link"
Share with all your previous customers by emailing or texting them the link.
Just as important as getting the reviews is RESPONDING TO EVERY REVIEW. Take time to write a message to each reviewer using the Google My Business dashboard. Respond to the good ones and the bad ones. 44.6% of people said they would be more likely to visit a business if the owner responded to negative reviews.
Google even gives you tips on how to respond to negative reviews.  If you feel the review violates Google's review policies you can click here for more information on "flagging" the review.
5. GOOGLE MY BUSINESS PHOTOS AND VIDEOS:
Yes, you should upload photos of your business to your Google My Business listing so that they show in your Knowledge Graph and in Google Maps. But increasingly what Google is giving preference to are videos. Videos do not need to be professionally created. Some of the most watched are ones that are simply done on your smartphone. For info on sizes and how to upload to your listing click here.
6. GOOGLE MY BUSINESS INSIGHTS:
One of the coolest things you can do on Google My Business is view insights for your business listing. Google My Business Insights focuses on how customers find your listing on Search and Maps, and what they do after they find it.
Google My Business Insights can tell you:
How customers are finding your business (direct vs. discovery searches)
Direct searches show that your customers know about your company and are using your business name or address to find you.
Discovery searches involve searching for the business type or category—not necessarily the business' name. This is common for people who aren't familiar with your company.
Where on Google your customers are finding your listing (Search vs. Maps)
The actions your customers are taking on your listing (Visiting your site, clicking on directions, browsing the photo gallery, calling you)
Areas that your customers are living (based on direction queries)
Total phone calls and time when customers are calling
For info on how to access this option click here.
The info above is important to do on an on-going basis to help your SEO.  In addition, you can have Vici help with your SEO and Reputation Management.  For more information on what we do that goes beyond your Google My Business listing, click here.