Frequently Asked Digital Advertising Questions
Greg Swiszcz
At Vici Media, we are all about knowledge.  Our team is constantly training and learning and we do the same for our partners.  Whether you're a media company or an ad agency, you can be sure that we'll continue to help educate you on everything digital advertising.
On a day-to-day basis, one of the methods of updating our partners is by creating an extensive list of FAQ's so that when needed, this database of knowledge can be searched until the answer is found.  We thought it would be a good idea to share some of those FAQ's we've created over the last 90 days with you.  Since we have so many added daily, we thought we'd break them out into categories to make it easier to follow and process.
First, are you familiar with Amazon Targeting?  Of course you are!  But, did you know that Amazon is among the largest DSPs in the world, behind Google and Facebook?!  This DSP, or demand-side platform, enables us to programmatically buy display, video and OTT ads.  Did you also know that Vici Media is one a few select companies, nationwide, that has the ability to offer this not just to big advertisers but small, local businesses too?  If you want to learn more about this new platform for advertising, you can get more info here.
With our new product, Amazon Premium Targeting, comes questions as to what can and can't be done.  Here are a few of the often asked questions and answers that come up for this new opportunity.
AMAZON FAQ's
How can you target on Amazon for a personal injury attorney?
According to the American Bar Association, video is on the rise for attorneys. So, utilizing Amazon's video and OTT capabilities are a great way to start.  With Amazon, you also have the ability to target via Behaviors and with Product Targeting.
For behaviors, you could target a couple of these:

Joint and Muscle Pain Relief – In-market
Pain Relieving Rubs and Ointments – In-market
Pain Relievers – In-market
First Aid – In-market
If the PI Attorney has specific focuses like auto accidents, we could target vehicles, specific vehicles for lemon laws, etc.

For Product Targeting, you can get more specific like targeting people who have bought:

Neck Braces
Crutches
Mobility scooters for casts
Braces for various joints
Is there a minimum list size for Amazon Custom Audience matching?
A great feature of this new platform is that Amazon offers Custom Audience matching. This is where we take a business' data list (past customers, current customers, leads, etc) and upload them to Amazon.  We then verify how many of them we can match to their Amazon profile to be targeted on Amazon and off Amazon.com using the Amazon Publishers network of apps and websites.  To utilize this strategy, you would need at least 7,000 emails/addresses.
Can I run a casino ad on Amazon if it doesn't mention the gambling part of the casino?
Just like any form of media, there are restrictions when it comes to advertising online and Amazon is no different.  Unfortunately, Amazon doesn't allow Casino advertising, even if it doesn't mention gambling. We were running casino ads mentioning live concerts, event schedules, etc. and they were all rejected on the Amazon DSP. Amazon also doesn't accept ads for:
Alcohol
CBD/Cannabis
Gentlemen's clubs
Weapons
State Lotteries
What sensitive products can we not target with Amazon Product Targeting?
Amazon does NOT allow you to target specific medications, diet pills, alcohol purchases, etc. However, we did test the following and they are allowed:

Cancer related merchandise
Cancer books
Cancer supplements
Sleep Aids
Invisible Aligners
Weight Loss products
Thermometer
Probiotics
Vitamins & Supplements
Essential Oils
Virus Protector masks
Medical Supplies and equipment
Baby Care
Breathe Right Nasal Strips
Compressions Socks/Sleeves
Teeth Whitening
Cane/Wheelchair/Crutches
Proactive/Acne Treatment
Canes/Walkers (walkers)
Teeth Whitening Kits/Tray
First Aids Kits
Fitness/Exercise equipment
Foot & Ankle Support
Knee Brace
Crutches
Vitamins for Menopause
Anti-Smoking Aids
Goli vitamins
Post-surgery stabilizer for breast augmentation and reduction
Bath for hemorrhoids
Postpartum underwear for women
Cast cover for shower
Arthritis bands (gloves)
Arch supports
How is automotive data used to reach potential shoppers on Amazon?
First party research on Amazon. Amazon is now the largest online retailer of auto parts in the world.
Polk Data (3rd party data that is automotive layered onto people's accounts)
People who register their vehicle(s) in Amazon Garage.
What is the recommended frequency for doing Amazon Custom Audience Targeting to a client list?
We know digital advertising is all about the frequency. We recommend a 3x frequency per creative type adding frequency for display, video, and OTT.  For example if you had a list of 10,000 names to target, that would be a campaign of 30,000 impressions.  This is typically the highest frequency we can get due to limited inventory.
Now, in addition to Amazon, because it's so new, we also received a lot of questions about Facebook & Instagram.  These two social media giants are a popular place for people to advertise, and because of that, questions get asked all the time about the ever changing platforms.  Here are a few.
FACEBOOK & INSTAGRAM FAQ's
Does Facebook listen to conversations on our phone to target ads?
Even though there are countless memes, internet articles and stories going around that say Facebook does listen to your conversations, the opposite is actually true. Facebook DOES NOT access your microphone to inform ads or change what you see in your News Feed.
Can I have text in the image in my Facebook or Instagram ad or not?
Creative for any digital campaign is important. Facebook creative is just as important.  The answer to this question is Yes….But… While the image portion of your ad can have up to 20% of the area covered by text Facebook has made it very clear that doing so will affect the reach of your ads.  Ads that have NO text in the image portion of the ad get a higher ranking by Facebook and are more likely to appear to the exact target you want to reach.
Can I do before and after photos on Facebook for auto collision or other repair shops?
While Facebook does have restrictions about before and after photos, those are only related to personal health. For Auto Collision or other repair shops, yes, you may have before and after photos.
What is the difference between long and short ads on Facebook?
Long vs short ads isn't official Facebook terminology, it's really just leaving the main headline text longer or keeping it short and guaranteeing it will all show without the user having to click to read more. There is really no max character count, however, we and Facebook recommend shorter (125 characters) because it's better on mobile.
How do the "get directions" and "call now" buttons work on Facebook?
Facebook has several different call to action options to choose from, but you want to be cautious about using certain ones depending on the type of ad you are running. Two call to action buttons that have both pros and cons are "Call Now" and "Get Directions"
Both buttons open to other dialogue boxes with "Call Now" opening up to the phone dialer so people can call right from the ad, and "Get Directions" opens up to the mapping function so people can get directions from the ad.
Pros of using the Call Now and Get Directions call-to-action buttons:
Allows advertiser to link users directly to a phone call or opens the mapping function
Saves customers time from having to search for business' contact information
More likely to visit and make a purchase by allowing them to instantly contact the business
 Cons of using the Call Now and Get Directions call-to-action buttons:
Low Click Through Rate and low engagement with the ads
Only effective during business hours
The click to landing page only works if a user clicks on the creative image, which they may not realize since they only see a Call Now/Get Directions button
Cannot make calls through desktop, only mobile
The people that may have clicked "Call Now/Get Directions" on their phone may have not even meant to – they could have been scrolling down their News Feed and tap the button by accident
Overall, we would recommend using the Contact Us button instead of Call Now/Get Directions. With Contact Us, we could land the user directly to the Contact/Location page on the advertiser's website. This allows them to learn more about the business services and access to their contact information.
In sharing FAQ's, we'd be here all week if we shared them all.  However, here are a few general questions about digital advertising we get asked a lot.  How many ads does a person see in a day?
GENERAL FAQ's
How many ads does a person see in a day?
Based on historical data and studies, the average person is now estimated to encounter 63 display ads per day.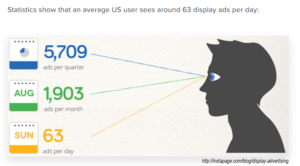 What is geo-farming and do we offer it?
The answer to that is yes, we do. We call it Geo-Retargeting, and it's part of our Mobile Conquesting™ tactics that are available. It's capturing mobile device IDs of users who have entered into a specific location (a geo-fence) and targeting them after they have left.  We can even take it a step further and do Geo-Retargeting Lookalike and target neighbors.
How long do you track conversions for each product and when is the conversion counted?
Each platform has its own way of tracking conversions (including View Throughs which are a type of conversion), which you see in reports.  The two main ways are:

Conversions are associated with the impression.  Meaning if a conversion happened April 13th but the impression was served on March 30th, the conversion on the report would be reported as on March 30th, not when the conversion happened.
Conversions are associated with the time they happened.  Meaning if a conversion happened April 13th, it doesn't matter when the impression was served (as long as within the lookback window), the conversion on the report is April 13th.

Different DSPs (ad exchanges) also have their own metrics for calculating "lookback windows" or how far they will continue tracking conversions post impression, which can't be changed.  Here is the product to conversion breakdown along with lookback windows:

Conversions are associated with the impression.

Facebook/Instagram (tracking conversions for up to 28 days post impression)
Google PPC/YouTube (tracking conversions for up to 30 days post impression)
Mobile Conquesting™ (tracking conversions for up to 30 days post impression)

Conversions are associated with the time they happened.

BARK Display (tracks conversions for up to 30 days post impressions)
BARK Native (tracks conversions for up to 30 days post impressions)
BARK Video (tracks conversions for up to 30 days post impressions)
Native Email Matching (tracks conversions for up to 30 days post impression)
Amazon Display/Video (tracks conversions for up to 14 days post impression)
Visit Data in Mobile Conquesting™ (tracks visits for up to 14 days post impression)
There are no conversion tracking for OTT or Online Audio.
Is there any product we can't do screenshots for?
We cannot screenshot connected TV devices, so we can't screenshot OTT, however we can do them for Video Pre-Roll. In addition to this, we cannot screenshot Online Audio companion banner ads. Google also doesn't have screenshot options for Pay-Per-Click and YouTube.
Facebook/Instagram we will send you a live link, where you can choose to see the ad for the next 24 hours and take a screenshot that way, however they don't offer a live screenshot tool on someone else's profile.
How can you track visit data to stores in a mall or on the second level of a multi-level building?
We wouldn't be able to distinguish someone visiting the first floor vs the second- though chances are, if they saw are ad, they are going to the client's location instead of a coincidental trip to the locations on the first floor.  If the store is in a mall, we would have to track the entire mall, however, again, it's only tracking people who have seen the client's ad so it's unlikely that a person who saw the client's ad went to a different store in the mall, but it's possible. IF the mall is a single story building, we do have the ability to custom draw a fence around a specific location within it.
Which Digital products show video completion rates on our monthly reports?
OTT, Video Pre-roll, VIdeo Pre-roll + OTT combo, YouTube, HHIP Video Pre-roll, Amazon Video, and Amazon OTT all show completion rates.
Mobile Conquesting™, Facebook, and Native Video do not show video completion rates.
Outside of the US, what products can target worldwide and in what languages?
Please note targeting in another country, regardless of platform, is going to lead to more limited inventory so always check with Vici first.
You can target outside of the United States in the following ways:

Display: anywhere
OTT: anywhere
YouTube: anywhere
Household IP: only US
Geo-Framing: only in US
SEO: only in the US
Mobile Conquesting™: US (including Puerto Rico) and Canada-Inventory in Canada is more limited. There are no weather triggers, no lookalike, no video is available at this time in Canada. We can geo-fence and geo-retarget.  However, hyper-local targeting like we do in the US (0.1 km) won't guarantee much scale in Canada. We recommend 1 km or more.  For category targeting below, we recommend a geo of citywide+ as compared to addresses.
Facebook & Instagram: anywhere
Native: anywhere
Online Audio: currently available in 36 countries: Brazil, Canada, Mexico, Argentina, Peru, Chile, Colombia, Bolivia, Costa Rica, Dominican Republic, Ecuador, El Salvador, Guatemala, Honduras, Nicaragua, Panama, Paraguay, Uruguay, Saudi Arabia, Egypt, Algeria, Lebanon, Morocco, Tunisia, Oman, Jordan, Bahrain, United Arab Emirates, Kuwait, Qatar, South Africa, Indonesia, Philippines, Vietnam, Malaysia, India.

As for language options:

For Display, Native, Video campaigns, you can target by: Albanian, Arabic, Bosnian, Bulgarian, Chinese, Croatian, Czech, Danish, Dutch, English, Estonian, Finnish, French, German, Greek, Hebrew, Hindi, Hungarian, Indonesian, Italian, Japanese, Korean, Latvian, Lithuanian, Macedonian, Norwegian, Persian, Polish, Portuguese, Romanian, Russian, Serbian, Slovak, Slovene, Spanish, Swedish, Tamil, Thai, Turkish, Ukrainian, Unknown, Urdu, Vietnamese, Welsh.  This targeting is done by targeting the language a user's browser is set to.
On Facebook, we can also target by ANY language.  This is done by targeting the language the user's Facebook profile is set to.
We are currently unable to target by language with Mobile Conquesting™. We have English language only at this time. We do offer Hispanic targeting as a behavioral audience.
We don't recommend adding any language filters to IP Targeting  due to the select nature of the inventory. Adding a language filter would severely reduce the targetable audience.
Amazon is only available in English and Spanish, in the United States and Canada only (not in Mexico).
As you can tell, we are all about providing our partners with the information that they need, and keep it handy and at their finger tips.  That's why all of our partners have exclusive access to all of our FAQ's in the client portion of our site.  We work hard to stay informed so that we can keep you up to date and make you look like digital rock stars in front of your clients.