The Best Online Ads Use the K.I.S.S. Technique
Megan Malone
The K.I.S.S. technique has been a favorite among marketers for decades, especially when it comes to billboards, short radio spots, or television ads that fill less then :10 seconds worth of inventory.  The acronym stands for: Keep It Simple Stupid.  This is also known as the more politically correct and sanitized Keep It Short and Simple (albeit less fun).  Turns out that being too complex or witty with online ads can confuse consumers, according to a recent study from the Robert H. Smith School of Business at the University of Maryland.
"A lot of advertising is being tested over fairly long exposures — several seconds, or even 10 to 20 seconds," says Michael Wedel, university professor and PepsiCo Chair in Consumer Science at the Smith School. "The problem is that ads that do well in that scenario may not do well in short exposures."
To test the theory, the university showed three different ads to viewers in "glancefuls" or ads appearing as quickly as 100 milliseconds.   These are a sample of some of the more than 50 test images that fit into three categories: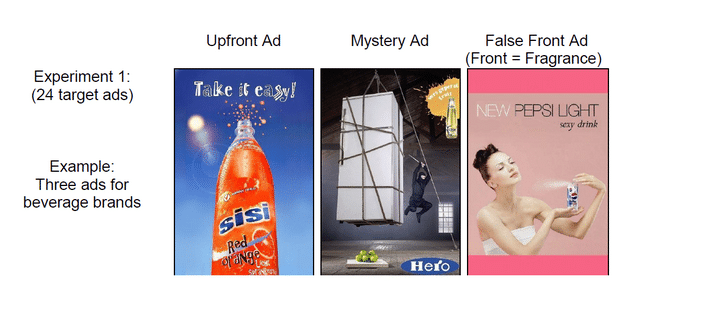 The ads were split up into three marketing categories: (1) the simple or upfront ad that showcases the actual product (2) the mystery ad that is highly creative, but the viewer quickly has to determine the ninja is cutting the rope to drop the fridge onto the apples to make the beverage, and (3) the false front ad, or the ad that is also highly creative but shows the beverage as a sexy perfume instead of marketing the beverage itself.
The results? The upfront ad on the left were viewed positively in those 100 milliseconds, and continue to be viewed positively over 5, 10 or even 30 seconds. The middle mystery ads are viewed less positively than upfront ads in the initial glimpse, but they gain in approval over time, reaching similar levels.  The false front ads were initially appealing but then quickly gave the viewer a negative reaction, continuing with frequency.
The takeaways? As a marketer creativity could pay off with frequency, as the middle ad demonstrated, but if you want instant impact stick with the K.I.S.S. technique.  And stay away from the False Front ads.  People just didn't like them.
"We aren't saying that ad agencies shouldn't be creative anymore," Wedel says. There are some contexts when you can be sure an ad will be viewed with great attentiveness, like the Super Bowl. But for online banner ads, for example, advertisers should realize that they'll have only a tenth of a second of a viewer's attention, if that. And so they should stick to the basics: What's the product? And what's the brand?"