What are LinkedIn Ads?
Allison Gibson
Have you ever wanted to reach a specific type of person at a specific business? Or wanted to try and recruit a specific job title or person in a certain field? Well, now you can with LinkendIn ads. With more than 72% of full-time employees on LinkedIn and 4 out of 5 people on LinkedIn "drive business decisions" it is a great place to be for B2B and Recruiting needs.
LinkedIn allows you to use the largest professional network to reach the people you want to target, in their News Feed and on the LinkedIn Audience Network, across all devices.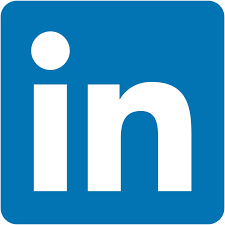 So let's talk about all the options LinkedIn has to offer.
First, where do the ads run?
At Vici the ads can run in two places. The traditional News Feed and LinkedIn Audience Network. The News Feed is consistent with most social media platforms. When you log into the LinkedIn platform on your device, you naturally scroll top to bottom to see the latest posts and news. Ads will appear along that feed to targeted individuals. The ads include a Call-To-Action button and Like, Comment, Share, and Send buttons. Advertisers also have the option to add placement in the LinkedIn Audience Network. Much like the Facebook Audience Network (FAN), it enables you to extend the reach of your ads by delivering them beyond the LinkedIn News Feed, when members go onto other websites and apps who have partnered with LinkedIn. Examples of some of those partner websites and apps are Fox News, Wall Street Journal, Bloomberg, Daily Mail, USA Today, Tech News and many more. It is recommended that the LinkedIn Audience Network is added to any campaign as it increases the ad reach by 25% and 2 x higher view thru rates.
Now, what kind of ads can I run?
LinkedIn has many ad types, again very similar to other social platforms. Allison- instead of a graphic with the blue underlines on it can you copy and paste the test? Also better for SEO.
There are four different types of LinkedIn ads.
Single Image Ad– LinkedIn Sponsored Content ads average 28x higher CTR than right-hand column text ads. *We do not run, Right-hand column text ads. They only show on desktops and do not perform well.
Video Ad– These ads run in the News Feed and auto start on mute as the person scrolls and the ad comes into view.  LinkedIn users are 20x more likely to re-share a video post.
Carousel Ad– This multi-image (display only) ads run in the News Feed.  Each image can link to a different page on your website.
Lead Ad– When clicked the ad opens to a lead generation form with the questions you select and pre-populates with the person's contact info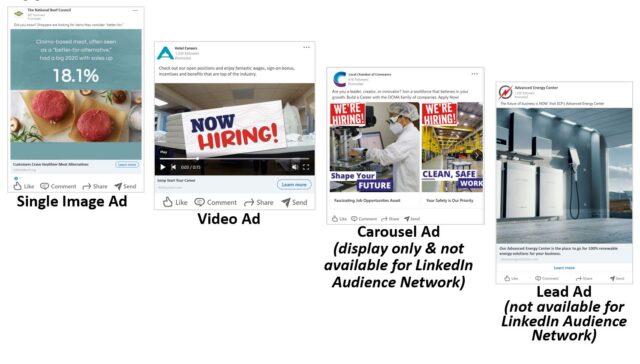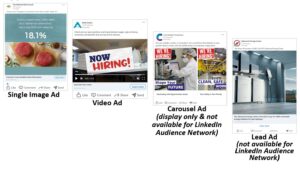 Let's talk targeting!
LinkedIn has several targeting options, it's like winning the lottery for ad targeting.
The first option is Category Targeting. This is showing your ads to specific LinkedIn members by choosing targeting categories from information they have provided about themselves and their companies. There is a comprehensive list of targeting to choose from like, Member Age, Member Gender, Degrees- Any, Fields of Study- Any, Member Schools- Any, Job Seekers, Open to Education, Open to Relocation, Recently Promoted, Recently Relocated, Recently Switched Jobs, Job Titles- Any, Job experience and more! In addition to this, there is company targeting options like, By Company Name, By Company Size, By Company Category, By Company Connections, By Company Follower of, By Company Growth Rate and By Company Industries and more!
It is also one of the only digital products where you can PAIR your targeting for example:
Company Name (s) + HR Professionals or Industry Type + Job title. It makes targeting that specific individual even easier.
The next type of targeting available is Custom Audience Matching & Lookalike. This is showing your ads to LinkedIn members who match to a database list you provide and targeting a Lookalike audience of similar members. There are two options:
Member Contact List: That Includes At Least One of The Following Fields (the more fields the higher the match rate): Email address, First & Last Name, Job Title, Company
Company List: That Includes At Least One of The Following Fields (the more fields the higher the match rate): Company Name, Company Website, Company Email Domain, LinkedIn Company Page URL, Stock Symbol, Industry, Address
LinkedIn recommends a starting list of 10,000 entries, (requires a minimum of 1,000) and to run campaign 300 matches are needed. If your list has at least 300 matches, you can add a Lookalike Audience!
Lastly, we can also include Retargeting for LinkedIn ads. This is following people after they leave your website and showing them your ad when they go onto LinkedIn and the LinkedIn Audience Network (if desired). Retargeting assists with frequency on a campaign to drive web conversions. 98% of web traffic does not convert on their initial web visit.
With 50% of companies using LinkedIn for marketing exposure, it begs the question, "Does it really work?" And the answer is, "Yes it does!" Research has found the LinkedIn is 277% more effective at generating leads over Facebook and Twitter. And lead conversion rates are 3 x higher than other major ad platforms like Google Ads.
Plus at Vici, we have had our success stories to share.
The first success story is for a transportation company that was trying to target a niche audience.  National transportation and logistics company was looking to reach decision-makers in logistics and supply chain managers to launch its newly designed fleet. Digital had not been something this company had utilized in the past because they felt their audience could not be reached this way.In order to reach a specific niche audience of business type + job title as well as an existing database of prospects the client had, LinkedIn Custom Audience matching and LinkedIn Member Targeting was recommended.  Ad creative included a combination of LinkedIn video to visually showcase the new fleet advantages as well as single image and carousel ads highlighting multiple features for the transportation of bulk products.
The results from this campaign were through the roof! The campaign averaged a .51% click-thru rate across three months. And in 3 months' time, it yielded over 1800 click conversions and over 2,000 view thru conversions. Conversions included going to specific fleet web pages, the company page to learn more about them and most importantly many conversions to the Contact Us page. Ultimately the campaign yielded a great amount of exposure to a captive audience to assist in the sales process and many sales contacts and leads.
The next success story was for utilizing LinkedIn for recruiting for a Building Supply and Construction company. A dominant and innovative leader in the building supply sector shifts its focus to online marketing with a primary focus on B2B targeting contractors and builders. A second strategy was also launched to recruit hourly workers at multiple locations and improve and grow the flow of applicants.   The goals were the following: Drive awareness with Contractors and builders, attract new employees, engage them after they leave the "careers page" on the site, increase/improve the quality of applicants.
A comprehensive online campaign was designed and launched in the Summer of 2021. The primary target was builders and contractors targeting specific zip codes and using Native Display-Mobile Conquesting – OTT/Pre-Roll Video and Social. Each month there were approximately 300,000 ads served and the CTR for all tactics was in the 0.30% range or 4x the national average. The campaign was performing so well, a decision was then made to use LinkedIn to bolster their recruitment efforts and drive awareness- applicant consideration and engagement.  The target profile were those unemployed or employed part-time, high school grads or job seekers who were looking for entry-level positions and a company that would provide training and development. Conversions being tracked were visits to the "Careers" page on the website as well as overall applications.
The LinkedIn recruitment campaign results just in the first month, saw great traction. It ran for one month and served 62,222 ads with  an engagement rate of 0.39% or 5.5x the national average.  In addition, the client saw 28 post click conversions and 64 "View Through" conversions. The client was very happy with the engagement and saw an increase in applicant flow. In just it's first month, the campaign contributed to hiring 4 new employees.
So if you have been searching for a new B2B or Recruitment digital tactic, look no further.