What Are Facebook Offer Ads?
Katie Pray
Updated 1-6-22: Facebook Offer Ads were deprecated in October of 2021
My mom is the person that gives the best gifts. Every year she nails it and gets the most creative, most comfortable, practical gifts and every time I ask where she got it, she replies with "it was a QVC special!" I have been gifted the most amazing bed sheets, the most spectacular scissors (weird, right? They are lifechanging) and my personal favorite, a portable car jumper. There was a joke growing up in my house that my dad would always say "never let your wife lay in bed on a Sunday morning watching QVC." One of the reasons that QVC gets so much business from my mom is because of the special offers that they run. One way to get consumers to purchase a product or service is to catch them with a captivating offer that they simply cannot refuse. By doing this, it creates a sense of urgency and it makes them feel like they might miss out on a great opportunity. QVC has made quite an empire by offering various products at discounted prices, for a limited time. Facebook has their own version of this idea, called Offer Ads.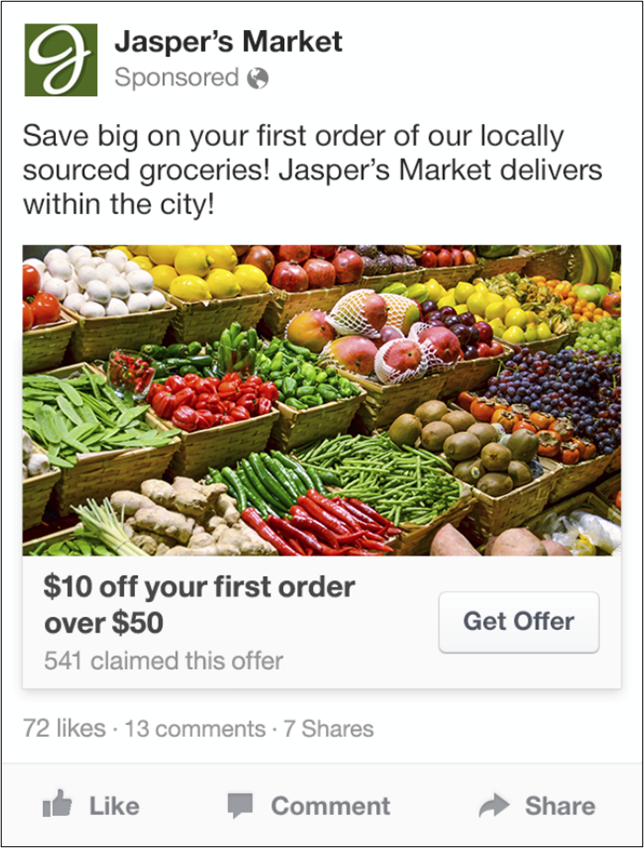 It is not uncommon for business owners to offer holiday sales, because again, it creates that sense of urgency that consumers don't want to miss out on- Memorial Day sales, Fourth of July sales, Labor Day sales, and Black Friday sales are just to name a few, but how can you create that sense of urgency with consumers outside of running a big sale or promotion? What if you don't want to have the offer available to just everyone and anyone and want to be able to cap the amount of offers you supply? A great tool that will allow you to do that, is Facebook Offer Ads.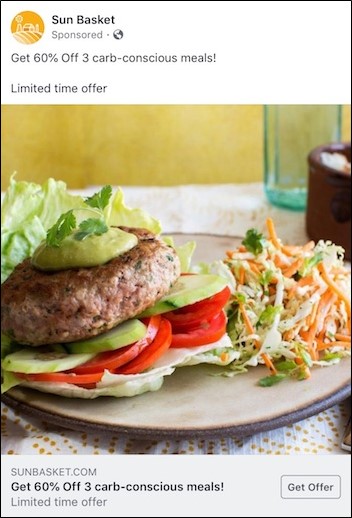 Facebook Offer Ads are discounts that you can share with your customers or potential customers on Facebook to encourage them to shop on your website, at your physical store, or both. When people see that offer within their News Feed on Facebook, they could use it immediately online or save the offer to use later or in-person at your location or the engage with it by liking it or commenting on it. If someone saves that offer, it will appear in their offers bookmark to use later. Similar to Event Response ads, the offer will pop up in the user's notifications so if they save that offer, they will be reminded about it on Facebook up to 3 times, depending on their personal notification preferences.

With an online offer ad, users that claim an online offer will receive a discount code (if you are using one) and will then be sent to your website to shop.
For In-store Offer Ads, the offer will be saved to the user's offers bookmark in Facebook and users will receive a follow-up email that can be used later on with their mobile device at checkout while at the physical location.  They will also be reminded on Facebook about the offer before it expires.  If their phone has location sharing turned on, they can also receive a reminder to use the available offer when they are nearby that location.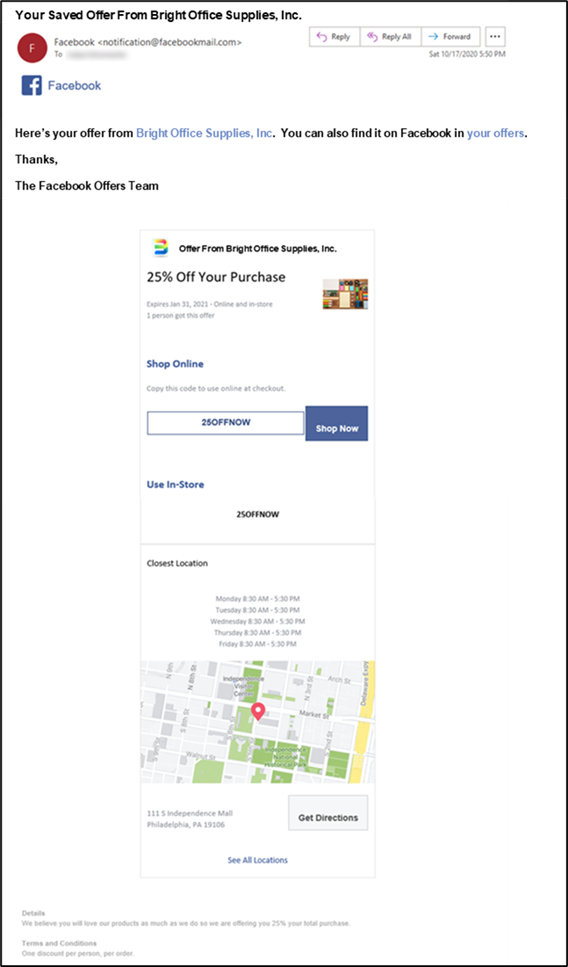 Facebook Offer Ads can be single image, carousel, or video ads. These ads can appear in the Facebook News Feed and Facebook Marketplace, but not in Facebook Stories, Facebook Instant Articles, Facebook Audience Network, or Facebook Messenger. The call to action button will always be "Get Offer" and then the user will save the offer to their phone or computer. These types of ads will also be targeted with the same targeting strategies as a regular Facebook campaign by using Behavioral Targeting, and/or custom audience matching and lookalike, and Retargeting.
The Offer Ad has to run in combination with regular News Feed ads and we will run the offer ad until the end of the campaign or until it's sold out, whichever comes first. Once the offers are gone, just the regular News Feed ad will run. In the event that an offer is sold out, to maintain that sense of urgency, you can have a new offer each month.
Advertisers can also decide on the total number of offers that they want to make available. The minimum number is 50, but there is no maximum on the amount of offers that are redeemable. As some best practices, we have found the campaigns that have the most success are the ones that make the discounts substantial. Offers with free items or with discounts of at least 20% off will typically reach more people than offers of lesser value. You also want to set a reasonable expiration date and give people at least a few days to see and save an offer and allow time for your offer to be shared among friends on Facebook. You can run your offer for any length of time, but shorter periods (30 days) with an expiration date that is close will drive more engagement. By also stating in the ad that it is a limited time offer, you are creating that sense of urgency that will also result in greater redemption.
Some best practices of what NOT to do would be to stay away from "post sale" offers such as a free warranty after a sale, but rather an offer towards the actual purchase itself. We also did not see great success with large ticket purchase items or very expensive buys like a car, new HVAC unit, etc..
Digital is a great marketing tool for business owners because it is more trackable than other forms of media, and it allows for advertisers to get very targeted with who they are looking to reach. One of the places where digital has struggled to define itself though, is with digital couponing. We have not seen great success with couponing through tactics like QR codes. With QR codes, people don't know how to use them, or they simply just don't know what they are.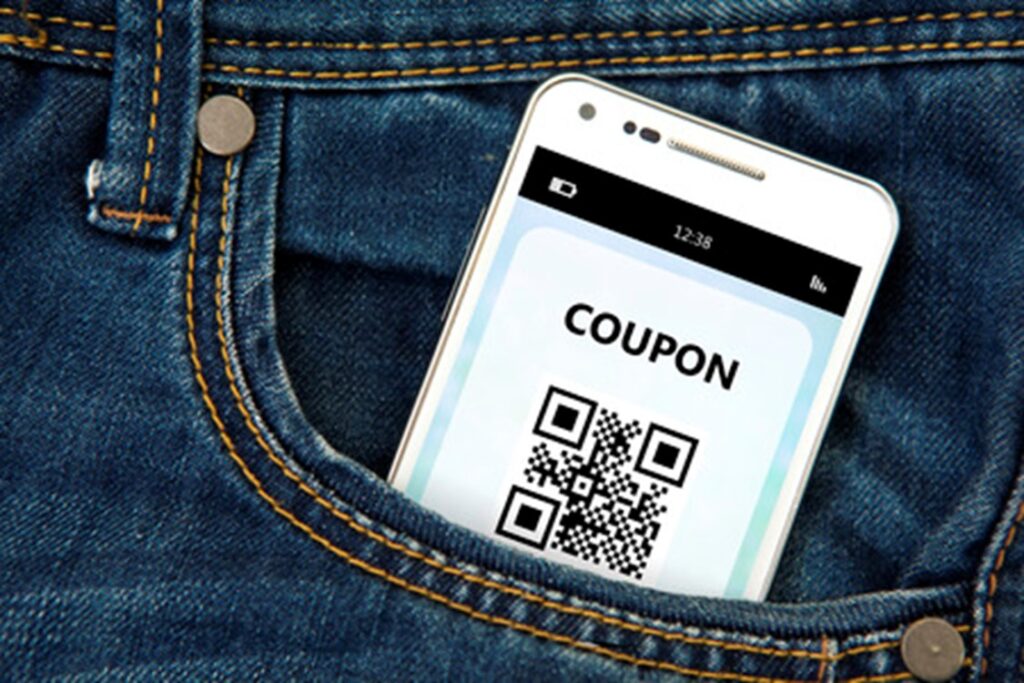 Another strategy that advertisers have tried is asking people to take a screenshot of an that they see that has a specific offer to then redeem later. The problem with that is that some people don't know how to take a screenshot, or they forget to show the offer at the time of checkout. With Facebook Offer Ads, these ads allow for advertisers to put an offer out on platform that is used by over 223 million people in the United States. By 2022, digital coupon redemptions are set to total $91 billion, and mobile devices are set to account for nearly 80% of coupon redemptions.
Not only does it offer the opportunity where people are guaranteed to see the ad, but it is also going to make it extremely easy to use because it reminds you that you have a coupon to use, and it will also alert you to use the coupon if you are physically by that location. How many times have you gone to Bed, Bath, and Beyond, and forgot to bring your 20% off coupon with you? With Facebook Offer Ads, it pretty much does the remembering for you.