The Forecast for 2024 Digital is Stellar!
Allison Gibson
Who likes a good fortune? If a marketing crystal ball existed or even an advertising fortune cookie,  it would tell you that 2024 is the year of digital! This may be a bold statement, but all indicators point to success!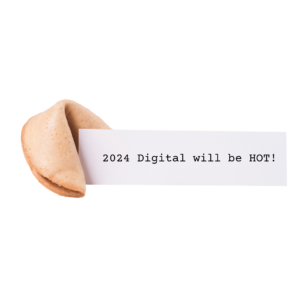 So hold on to your party hats because digital advertising is set to take the lead in 2024 with an impressive 6% increase, contributing to an overall 4.4% surge in advertising expenditure. Talk about a party!  That's right, digital is paving the way for the future of advertising. As digital ascends, traditional advertising channels like directories, ROS banners, newspapers, cable TV, and radio are experiencing a decline in ad spending. On the flip side, local TV, video/OTT (Over-The-Top/CTV) platforms, online audio, and display ads are catching the wave, witnessing a notable surge in ad spend. Borrell & Associates recently shared their 2024 local advertising report based on surveying small to mid-size businesses and media companies and agencies and they are forecasting "healthy growth".
Engaging with small and medium-sized businesses (SMBs) sheds light on their journey from 2018 to the present. It's not an easy road, but despite the challenges, businesses are investing more in advertising. It's a testament to their belief in the power of advertising, even in an increasingly competitive landscape.
A staggering $7 out of every $10 spent will go into the digital advertising realm. That's a remarkable shift, showcasing the ever-growing influence of the digital sphere in the advertising domain. 2024 is being hailed as the year for digital advertising to soar. The pandemic disrupted the business landscape, but now, as companies regain their footing and bounce back from the challenges of COVID-19, we're witnessing a rekindling of advertising efforts, reminiscent of the numbers we saw back in 2019.
In terms of forecasts, the road ahead still appears challenging, although a notable improvement from the trials of 2022. As we approach the holiday season, this trend is anticipated to have a positive impact on advertising, giving us a glimmer of hope in navigating the advertising landscape.
Where are opportunities for digital for this shift in dollars?
First off video. Video is lighting up every device known to man. From reels, to streaming and the Tik Tok craze, consumers love video.
Social Media
According to Yans Media and Tubular Insights, more than 4 billion video views take place on Facebook every day and 500 million viewers watch 100 million hours of video content on Facebook daily. Video is always a top perfomer on Social and draws users in.
Social Mirror
Social Mirror was a leader in 2023 and will continue in 2024. Social Mirror ads look like your social media display or video posts but appear on other websites and apps, linking back to the social media platform and your website, and run across all devices using our targeting strategies. We are "mirroring" the EXACT look of your social post as an ad that runs on thousands of OTHER websites and apps, targeted just to the people you want to reach across all devices.  Social Mirror ads can be done with any organic or paid posts from your business account on these 8 social media platforms: Facebook, Instagram, X (previously Twitter) LinkedIn, TikTok, Pinterest, Snapchat, or YouTube.  Ads can be display, video, OTT across connected TVs or carousel.  And Now with Visit Tracking, we can track people who see the ad and then come to your business with their mobile phone within two weeks after seeing it, and show that on your monthly reports. As if Social Mirror was not amazing enough!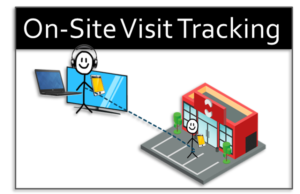 And back to video being HOT, Social Mirror OTT ads are also a great unique way to gain new followers and interest, especially with QR code interactions and they run on Connected TVs. Social Mirror OTT mirror social content, but run on connected TVs. The ads follow this format and it can mirror vertical or horizontal video content.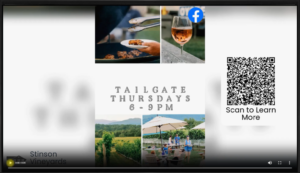 Video Pre-roll
Lastly, Video Pre-roll. A pre-roll ad is a video advertisement that automatically plays directly before a featured video on both mobile and desktop. Often an overlooked product and in 2023 we saw a surge on CTR rates and video completion rates. Plus, this is a versatile product with behavior targeting, keyword targeting, AI (Artificial Intelligence) targeting, Retargeting, Custom Audience Matching targeting from a database, and it also has Visit tracking.
Let's celebrate with confetti and kazoos and make the most of this dynamic and ever-evolving advertising journey.