Own the Sales Process from On-Air to Online to Earn Larger Client Budgets
Megan Malone
Our sales roles became more complicated once we entered the digital era. A marketer who can help his or her clients move their customers from a TV branding and awareness campaign to purchasing or converting online is highly valuable, and profitable in our multi-channel world. According to a recent Market Track survey, once a customer is touched by a mass medium campaign advertisement and engaged in the product, 74% of people go online for more information. So as a seller of television inventory, how can you control this engagement from the moment they see your ad to the moment they use a device to do more research online? Knowing the right tools to pair with on-air campaigns will set you up as a well-rounded marketing expert and earn you a larger share of your client's budget.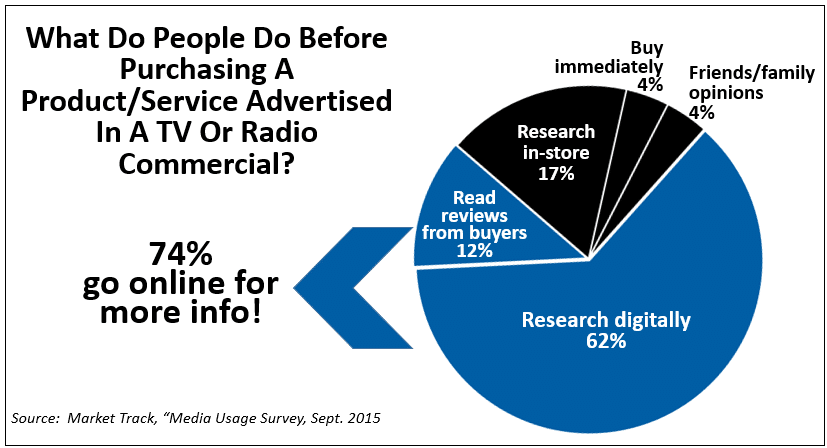 TV Account Managers need to have the ability to own the complete sales process with a client's potential customer by offering digital products in addition to your own station website audiences. If the main call-to-action of your commercial is driving customers to your client's website, you can increase conversions of your campaign by Retargeting potential customers with the client's ads as the people browse internet websites, in conjunction with on-air advertising.
Retargeting enables advertising after a potential customer leaves your client's website by following them around the web. You could retarget a customer with display ads, video pre-roll, or even Facebook targeting. Retargeting works by placing a pixel, or lines of HTML code, on every page of your client's website, which then deploys tracking cookies on the customer's browser. The principles of reach and frequency in TV advertising is the same as it is online: the more times someone sees your client's ad the more likely they are to buy or become a lead. Adding Retargeting will increase the number of people who are converting with your on-air campaign, recapturing those who leave after their first visit to a client's website.
Besides visiting a client's website, Market Track reports 12% of customers are going online and reading reviews after seeing a TV ad. Using this knowledge you can offer your clients Reputation Management programs to monitor and track all online reviews, or white-label a company to do this on your behalf. Because 80% of consumers have changed their mind on a purchase decision due to a bad online review (Consumer Reports), the best TV commercial in the world won't overcome a negative reputation, so it's important to be proactive and manage this portion of the sales cycle.
Other actions that customers can take after they view your TV spot can include going to a search engine's organic search and searching relevant keywords, checking out your client's competitors, or even going to social networks to get their friends opinions. This is another opportunity to pair a digital strategy with your TV strategy. Offer Keyword display or Pay-Per-Click ad targeting to hone in on keywords customers are typing into search engines only in your geographic area. Or, manage their social messaging by utilizing the powerful targeting capabilities of Facebook and Instagram.
It's no secret that ad spending in digital is growing.  Our clients have a huge appetite for complete marketing strategies and you have the opportunity to make their overall budget planning less fragmented by working with just you instead of multiple vendors. With the right tools in place you can leverage yourself on-air, on your high-traffic local website, or anywhere else potential customers may be researching products online. You'll not only achieve a great share of your client's overall budgets, but your clients will notice an increase in conversions from your television campaigns once you're paying attention to what a customer does after they see your spot.