Optimize Your Campaign with Google Analytics
Kiri Tamte-Horan
Are you ever curious what leads people to your website? Well there's an easy way to check the keywords people are searching to find you. By using Google Analytics!
Never checked this out before? Don't fret, here's how:
Once you sign into your Google Analytics, look at the left hand column and click on Acquisition. Underneath Acquisition you'll go to Search Engine Optimization, and there you'll see three options: Queries, Landing Pages, and Geographical Summary.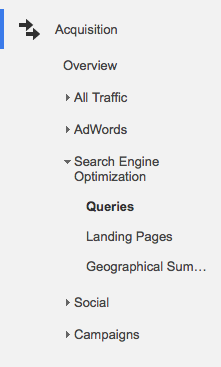 From there you're going to go to Queries. If you want to look at subsections of those search queries that are used to find your website, type in some of your target keywords in the search bar. Google will then show data for the keywords that contain that term. By using this you are able to see the traffic for certain keywords.
This is very informative for your website! By using Google Analytics, you are able to see how many people are searching for you by name, and at what stage of the buying process are your customers?  For example, are your customers searching for "used cars" or something more specific like "1999 Toyota Camry?" These insights can ensure that content on your website matches your customer's needs.
In addition, you can also see how many people saw your website in the search results and clicked to get to your page, or the Click Through Rate.  All of these strategies will help you optimize your campaign and will help you focus on elements that are working and elements that aren't.