Mobile Ad Spend 2017: Why You Should Care
Kiri Tamte-Horan
Back in 2008, an analyst by the name of Mary Meeker predicted that "mobile will overtake fixed internet access by 2014". Many well-respected individuals laughed at her prediction. Fortunately, they are no longer laughing. Halfway through 2014, the number of global mobile users eclipsed the number of global desktop users according to a study by ComScore. In 2015, that number continues to climb as desktop usage plateaus.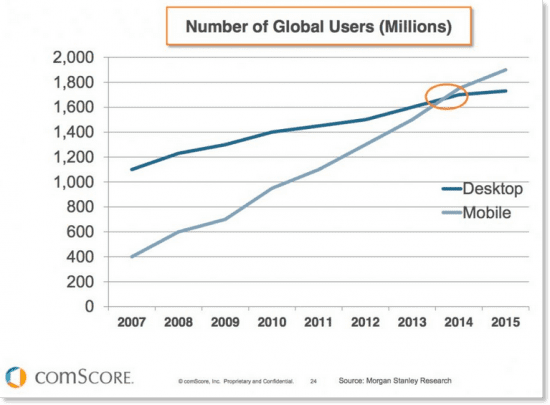 With mobile usage steadily increasing, marketers have been diverting more and more of their ad budgets into digital mobile channels. ZenithOptimedia, an analytics agency, noticed this trend and decided to dig deeper into what these trends could mean for the future of mobile ad spending. What they found was that mobile ad spending will most likely not slow down, and project that by the year 2017, mobile ad spending will be larger than print, radio, and outdoor advertising. Television and desktop internet ad spending will still be the largest players, but their share won't be as large thanks to the increase in mobile.
One reason for this prediction is the data behind mobile usage. In a study by eMarketer, the number of hours spent on a mobile device per day has increased to 2.8 in 2015 (YTD). This accounts for more than half of all hours spent when combined with desktop and other internet connected devices. This year marks the second year in a row that mobile viewership has outweighed desktop when looking at time. And when viewers spend more time on a given platform, it justifies the increase in ad spending for said platform.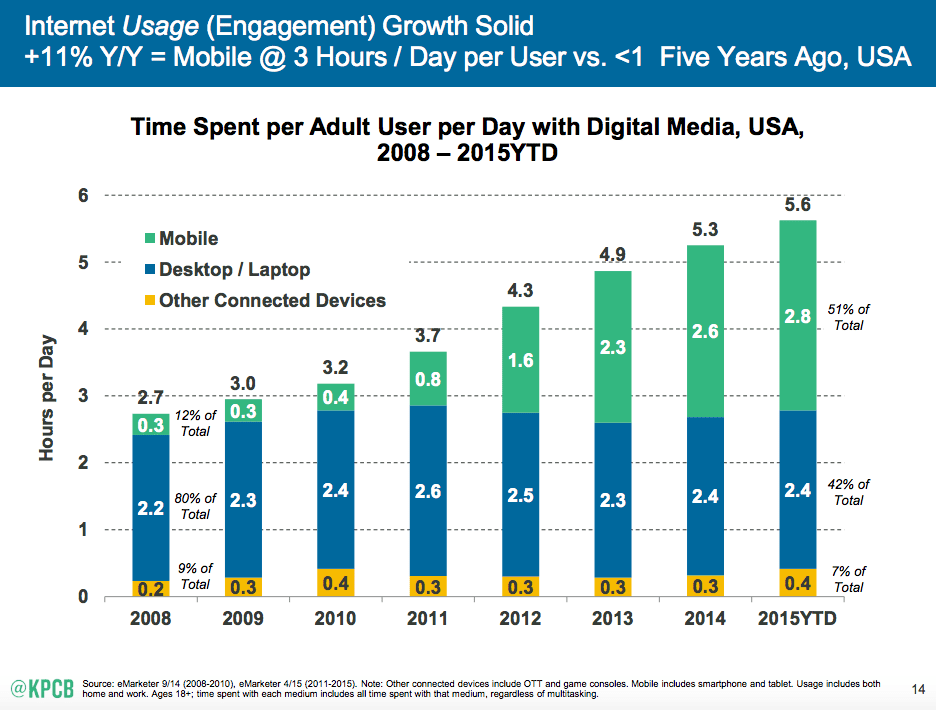 So far, betting on mobile has been a good idea. The number people are buying smartphones and tablets is steadily increasing, and with the increase in internet accessibility, expect those numbers to keep climbing. My recommendation for you: make sure that your advertising includes mobile elements. Until next time.