Should you invest in a mobile app? Hmmm…maybe not.
Kiri Tamte-Horan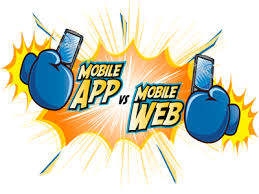 Making an app for your business seems to be what everyone's doing right now. 2014 was even referred to as the "year of mobile," however, the roles mobile played in 2014 will be changing in 2015. Mobile is expected to become such a normal part of one's daily life, it will eventually fade from consumers' consciousness. The differences between accessing the internet from a tablet, mobile, or desktop will become intertwined. Mobile will soon become the primary way we access the digital market.
So, that seems counterproductive. Why not invest in a mobile app if the future of digital marketing is through mobile access?
Sure, there are plenty of apps that are popular among consumers, but even though they may seem major, they are actually few and far between. A mobile app isn't the best investment because, for one thing, there isn't a large audience for apps and market share is scarce. It has been found that the average smartphone user will download 25 apps, but the use of these apps according to Nielsen, has remained relatively the same since 2011 even though there is a constant addition of new apps to the marketplace every day. There's a ton of competition with apps because there is only so much screen space available.
Another reason an app isn't the way to go is that apps are an expensive investment, and difficult to promote. The truth is, your website will receive significantly more traffic from search engines and social media than users engaging with an app. In fact, 67% of users say they are more likely to purchase from a mobile website.  In order to reach consumers, a mobile website is a better strategy.
A mobile website is all around beneficial to both a consumer and a business. While an app needs a lot of promotion to become recognized, a mobile website can be found easily through a search engine. Also, mobile websites are easy to share through social media, texts, or e-mails and because they are easy to share, they reach more consumers. Having a slick mobile website is definitely an asset for a company!