Instagram: Marketing's Rising Star.
Kiri Tamte-Horan
Instagram launched in October, 2010, as an easy way to upload and share photos with people who shared similar interests. Their app quickly became a staple for smart phone owners around the world, garnering over one million users in just two months. This early success did not go unnoticed either. Two years later, they joined Facebook as the sites premier photo sharing app. Since then, Instagram has exploded into one of the largest social media platforms available with a massive user base of 400 million. But that is not the only impressive number they have. Here are a few more:
40+ Billion Photos Shared
5 Billion Daily Likes
80 Million Average Photo Uploads Per Day
If there is one thing to take away from these numbers, it's that Instagram has a very large, and very active user base. These unique traits of Instagram users have digital marketers increasing their budget for ad space within the platform. According to a study done by eMarketer, 48.8% of US companies will utilize Instagram for marketing purposes in 2016. By 2017, that number will jump to over 70%.
"That's all nice and dandy AJ, but marketers already use Facebook and Twitter, and they've been around longer."
Great point. It's true that these social networks have more users and have been around for a while longer, however, when it comes to engagement with users up to age of 35, Instagram wins hands down. Take a look at some numbers from a study which measured interaction among social media platforms which used the same post by rock band Paramore:
Facebook Fan Page (3.2 million fans) = 9,405 Likes
Twitter (3.35 million followers) = 433 retweets and 289 favorites
Instagram (360,000 followers) = 52,237 Likes and 315 comments
According to this data, Instagram engagement was 5 times higher than Facebook and a whopping 72 times higher than Twitter. Keep in mind that their Instagram has only one-tenth the following of their Facebook page and Instagram tends to play better to younger audiences.
"5 times the engagement with only one tenth of the audience? Sign me up!"
Our thoughts exactly! Instagram has proven to be an amazing platform with many users, high engagement, and a simple user interface. It was only a matter of time before digital marketing found a way to utilize it. Here at Vici, we are constantly looking for new and unique ways to help market our clients, and Instagram has been our latest obsession. Over that past few months, we have been running test campaigns on Instagram with outstanding results. Here's what we found:
Simple Interface
Instagram's simple and elegant user interface has been refined to allow users to focus on content one image at a time. Unlike other platforms, they do not allow for non-native advertising, or ads that reside outside of the main content area.
Sponsored Posts
The way that ads work within Instagram is much different from regular display advertising. The platform requires that each ad look and feel like a traditional post with one image (or a few in rare cases) accompanied by a short caption. Included in these ads is the "Sponsored" mark which alerts users that the content is being paid for. We have found that this rarely detracts users from engaging with it.
Content Creation
Due to the atmosphere and style of Instagram, it is almost "wrong" to include text within an image. Users tend to engage more with content that is strictly and image with a caption below it. This allows for good content to shine through. Because this is a content driven platform, adding new creative, as well as swapping out existing creative is very easy. This means that you can send the right message, at the right time, to the right people.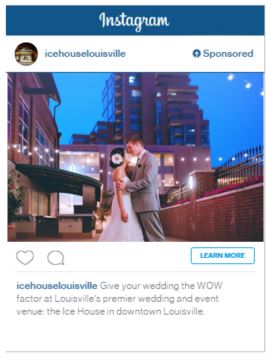 With Instagram, you have the ability to connect directly with your end-user. This interaction is key in creating lasting relationships with your customers and your brand. Ask us about how we can incorporate Instagram into your next campaign.