Digital Now Commands 60% of Total Marketing Budget
Dana
How much of my advertising budget should I allocate towards digital?
This is hot topic and a question I get asked frequently. Businesses know they need to spend money on digital advertising to reach their target consumer, the question is, how much?
According to a recent Nielsen study, the answer is 60%.
"Advertising effectively is difficult in an increasingly fragmented environment. It can be difficult for advertisers to identify the correct message delivered in the correct way to the right consumer. Therefore, how to clearly grasp the target audience becomes particularly important in this complex environment."
DIGITAL MEDIA BECOMES MAINSTREAM ADVERTISING PLATFORM, MONEY SPENT ON IT TAKES UP 60% OF TOTAL MARKETING BUDGET
Traditional (offline) advertising channels are still significant as they have high credibility among consumers, with advertisers reporting a willingness to spend 40% marketing budget on traditional media. However, compared to traditional media, digital media can deliver more immediate results with further reach. What's more, with the help of big data, digital media enables advertisers to target audiences, make timely adjustments and be more creative during the process
Nielsen is not the only one reporting this trend… in fact according to Forrester Research INC companies are shifting more and more money to digital because of its perceived R.O.I., and the ability to spend less for more return.
Companies are asking an important question. What is the right allocation for digital spending of total marketing and advertising budgets and how should it be spent? The answer depends on the type of business and the target market.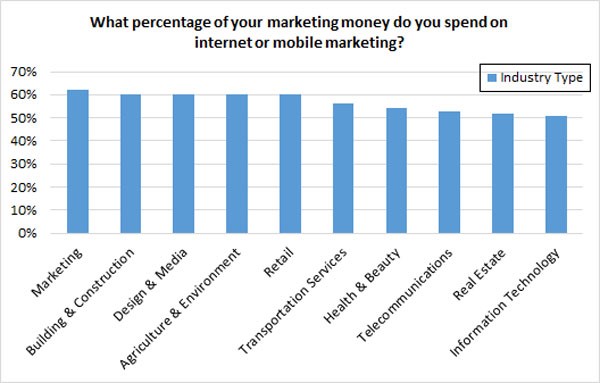 Surveyed business leaders shared the budgets they would be growing in 2016 with research group Marketing Charts. The biggest decreases centered around direct mail, events, print advertising, radio/TV ads.   As the attention spectrum shifts more and more to our screens we see the shift in where the money is going.