Digital And Automotive Dealers…By The Numbers
Leslye Schumacher
A new report by NADA (National Automobile Dealers Association) has some fascinating information about how automotive dealerships are using digital advertising and where they are spending their ad budgets overall.  Here are some highlights from the report for 2014:
This was the fifth year of growth for automotive sales, with the average growth rate up over 9 percent since 2010.  The average advertising expenditure was almost $500,000 per dealership with digital leading the way and the biggest piece of the automotive advertising pie with 26%.
The average advertising expenses on a per-vehicle basis were $608.  This is important information to know if you are selling digital to an automotive dealership. If, for example, an automotive dealer is spending $10,000 and expects to sell 25 cars from that advertising spend you would know that would equate to a $400 per-vehicle ad spend ($10,000 divided by 25), and would be well below the average of $608 per-vehicle ad spend.
In 2014, dealerships on average sold 1,003 new vehicles at an average of $32,618.  Average net profit on new vehicle: $69.  Average net profit on used vehicle: $254.  Average net profit service department:  approximately $300.  For the average dealership, sales in the new-car department were up 8.1 percent and exceeded sales in the used-car department, which was up 6 percent.  Total dealership revenue, which included new- and used-car sales, as well as parts and service sales, reached an all-time high of $806 billion in 2014, an increase of 8.6 percent from 2013.
For the third year in a row total dealership net profit before tax as a percent of sales was 2.2 percent.   If you want to see how dealers in your state are faring, check out the graphic below: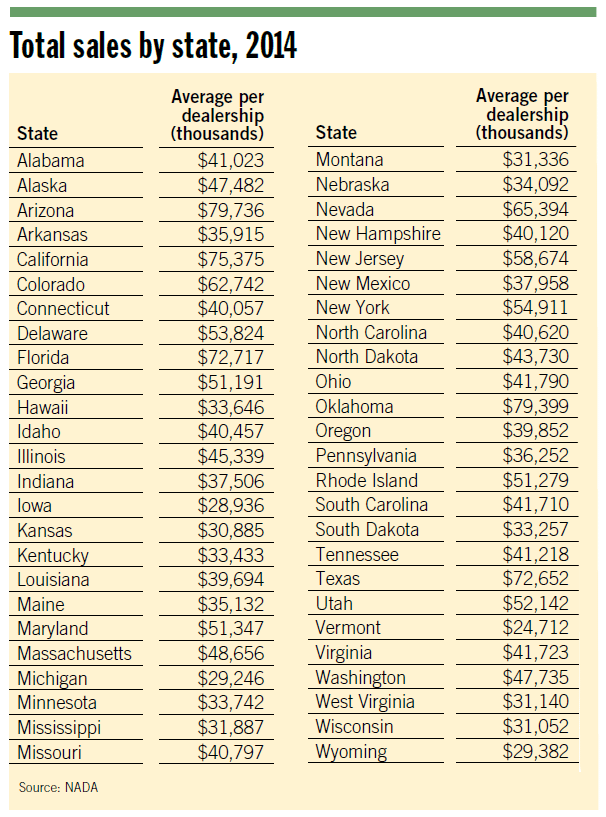 The report also showed that not surprisingly, May – August definitely lead the way when it comes to selling cars, so dealerships are ramping up right now for their busiest season!