Have A Customer or Lead List? How Can You Maximize It Beyond Sending Emails?
Dana
73.5% of small to medium sized retail businesses maintain a customer or lead list, according to BIA/Kelsey.  Great news, right? You have the names, addresses, or emails, the question now becomes HOW do I reach this gold mine of existing customers and prospects?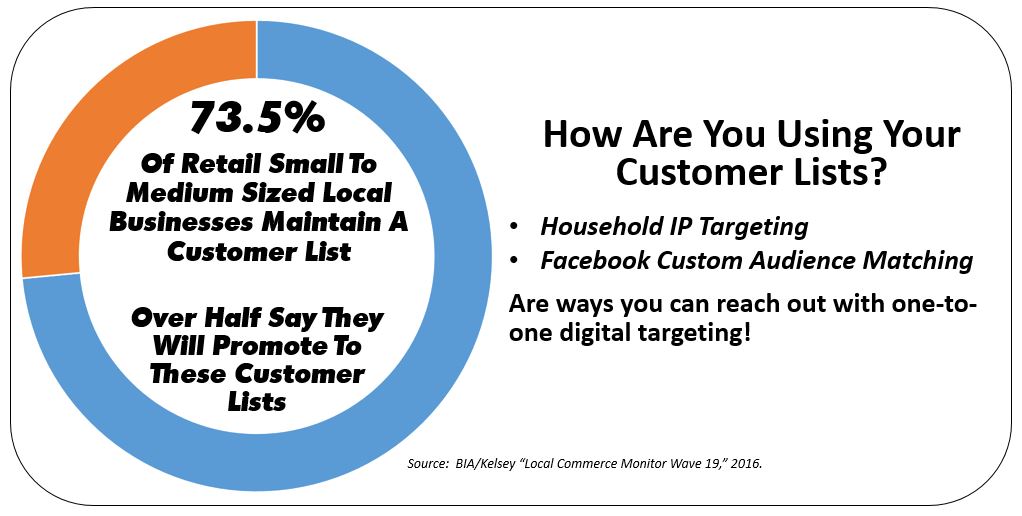 Reaching out to your current customer base, subscribers and/or social media followers may be the easiest way to increase sales. Trying to sell to someone who has never bought from you before or someone you have no relationship with, can be five to ten times the cost – in terms of marketing – than if you simply approached those that know you or have bought from you before.
One way to reach existing customers and leads is through email. Email marking allows you to reach people without spending a lot of time or money. You can keep them updated on your latest and greatest products and offers with just the click of a button. The downside to this tactic? On average, only 14% of your customers ever view your email.  So how to you reach the other 86% of your customer or prospects that aren't opening the emails you send?
Well, another "free" way to reach customers is to post information on your company Facebook page. Perhaps some of that 86% is following you on social media… the downside here?  On average only 2% of your fans will see what you post.  In fact, according to Ad Age, "increasingly Facebook is saying that you should assume a day will come when the organic reach (to your page fans) is zero."
I'm not saying the free options are terrible and you should ignore them.  However, you should definitely not limit yourself to these options.  So what works better?  Advertising to them directly using one-to-one digital targeting!
1. Household IP Targeting ads
2. Facebook Custom Audiences and Look Alike Audience ads
Using Household IP Targeting is like doing direct mail for the internet.  It is matching IP addresses to a database of names and physical addresses and displaying your display or video ad only to those people, as they browse the internet.  Once matched, all ads reach the exact target household leaving you with zero wasted impressions or budget.  The target will see your ad, and they don't have to opt in or open anything, your ad appear on website they would normally be browsing.  Household IP targeting allows you do deliver extraordinarily relevant online ads only to your target.
You can also use Facebook Custom Audiences to reach people you already know with ads on Facebook. With Custom Audiences you are able to target people by matching your email or phone number list to a Facebook account and showing your ads only to those people, right in their News Feed.  Again, nothing for them to open, they will see your message.  You can also use that same list and develop a "Lookalike Audience" which allows you to reach new people who are likely to be interested in your business because they're similar to your current customers.
A key part of growing business is making sure you don't lose the customers you already have, and following up with leads.  Make sure you are capturing contact information for your existing customers – when they sign up for a newsletter, when they register for a contest or fill out a "contact us" form.  And once you have them, make them your first option when you have additional products or services to sell by targeting them one-on-one.
Need more info on Household IP Targeting or Facebook Custom Audience Targeting? Contact Vici!