Instagram Continues to Grow
Laura Ostrowski
If you want to target customers under the age of 35 in your next digital campaign, Instagram is the platform for you. Instagram is continuously growing, and with that growth, is becoming a major player in the mobile social media game. According to an article by eMarketer, this year 89.4 million people in the United States will be scrolling through their Instagram feed at least once a month – that's over a third of all smartphone users – and by 2017, over half of all social media users will be on Instagram.
Instagram is currently going through a growth spurt (just like some of its millennial users). While social media usage as a whole will only be growing about 3.1% this year, Instagram will grow its user base around 15%. Looks like Instagram has been taking its vitamins. And the growing doesn't even stop there. Throughout the next four years, the image-based platform will gain an additional 26.9 million users – way more than any other social platform.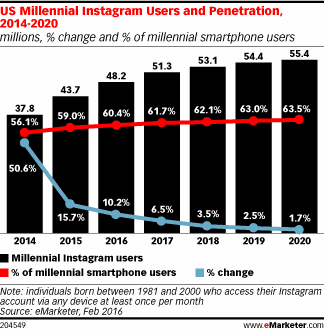 The recent growth of Instagram's user base is made up mostly of millennial users. The United States will have over 48 million millennial users this year, and by 2019, almost two thirds of all millennial smart phone users will be on Instagram. Zuckerberg and his posse had it right when Facebook acquired Instagram in 2012. Both Facebook and Instagram are adapting to the always-changing mobile world, and know that mobile usage has majorly changed the way people (namely millennials) communicate and share information.
Facebook made the right choice in 2012, contrary to public belief at the time. Instagram will contribute over 20% of Facebook's ad revenue in the US this year, and will increase to about 28% by next year. With this growth, Instagram is increasingly becoming the place to be. So any marketers looking to reach a young audience should make sure to take advantage of this growth and seize this burgeoning opportunity.