What social platform is gaining popularity?
Dana
Instagram. According to latest research, people are embracing Instagram and its popularity is growing.

So who is using it the most? Starting at the top we have an overall number of 37% of US adults (beating out Pinterest, LinkedIn, Snapchat and Twitter). The strongest numbers for Instagram are in the 18-24 range, however, it is important to note that we have more users in the 30-49-year-old range using Instagram. Facebook remains strong overall, although it's use among the younger demographics is diminishing.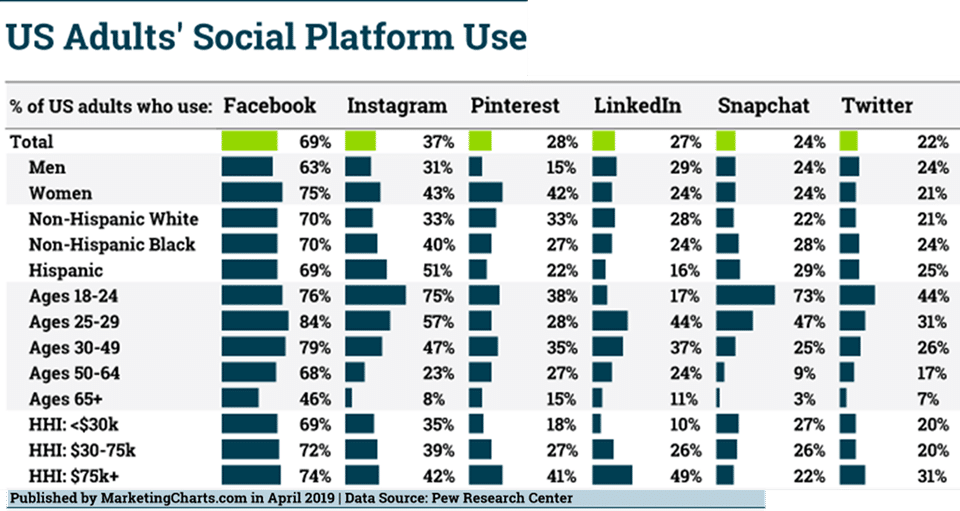 What about marketing to teens younger than 18? Well, If you see a teenager in the wild, odds are they have a device in their hand, and there is a good chance they are on Instagram.

From spring 2015 – Fall 2017 Snapchat had an extreme and steady climb to the top. However, the latest look shows Instagram closing in and winning teenaged fans. 8,000 US teens (average age 16.3 years) were surveyed, and 35% cited Instagram as their favorite social media platform. At the same time, Snapchat is the preferred social media platform for 41% of respondents. Looking at the chart below, it is clear that Instagram is making a strong effort to win over teenagers.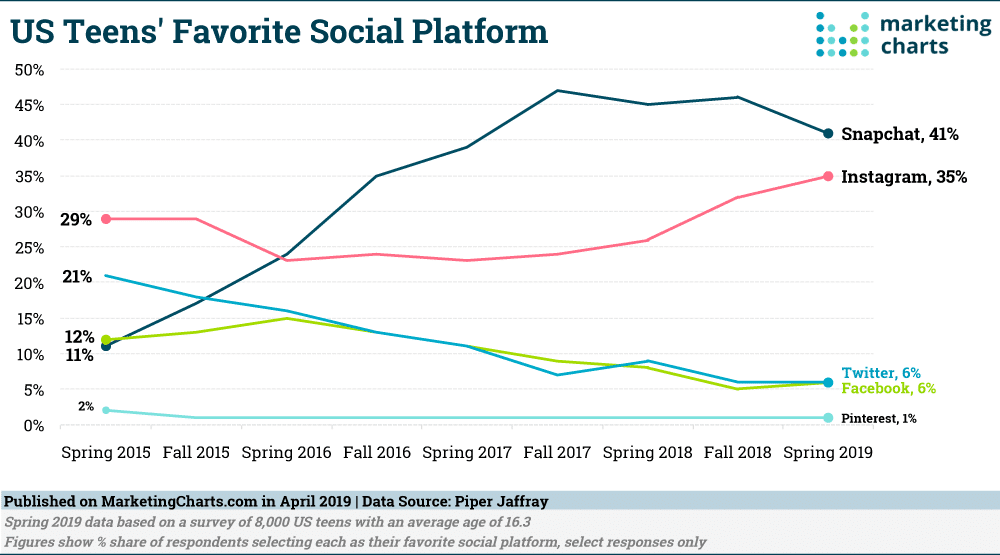 Piper Jaffray also pointed out that even though Snapchat is the favorite platform, Instagram is actually the most broadly used – meaning that for advertisers looking to grab the everchanging and momentary attention of this age group, they may capture a larger share with Instagram rather than snapchat.
As far the remaining platforms, they don't even come close.
The advance of Instagram is consistent with other research as well. The most recent Infinite Dial report revealed that while Facebook and Snapchat have seen a decrease in popularity among younger Americans (ages 12-34 years old), Instagram has been escalating. Some research even suggests that teens use of Facebook may have already peaked.
So what is the attraction of Instagram for advertisers? You are able to curate your story and increase awareness to a highly engaged audience.
There is a tremendous amount of options for advertisers on Instagram. The use of Stories is on the rise with 96% of marketers surveyed planning to continue using Stories ads in the next 6 months.
Photo Ads on Instagram offer an extremely clean and simple way to engage, while Video Ads bring the power of sound and movement.
Carousel and collection ads allow advertisers to share multiple images at once allowing potential consumers to swipe, browse and discover.
Brand engagement and influencer marketing are both critical for teens want to engage with companies, they prefer to do so on Instagram over snapchat. They are also swayed by and trust what influencers are saying. In fact, teens find influencers to be "honest about their beliefs and opinions." As well as "knowledgeable about the topics they discuss." They are taking recommendations from influencers they look up to feeling a connection.
As marketers, this is an important trend to note and watch as teens are rapidly leaving TV and other forms of traditional media behind. As a parent of one teen and one pre-teen, I can absolutely see that the brands they are talking about are no longer coming from commercials they see on TV, they are coming from Instagram and who they follow.