New Enhancement to Mobile Conquesting™: Announcing Audience DNA
Megan Malone
MOBILE CONQUESTING'S™ AUDIENCE DNA
The mark of a truly great digital ad campaign is the ability to learn from the results you a see and apply what you learned to future campaigns, allowing the campaign to sharpen over time.  Now you can learn about your audience as you're marketing to them through Mobile Conquesting's™ Audience DNA.
WHAT IS AUDIENCE DNA?
During a Mobile Conquesting™ campaign, our algorithms seek to better define the people who either click on your ads (Click Through Rate/CTR) or visit your location (Visit Rate/VR).  From there we break down the top 10 attributes that make up the people engaging with your ad campaign. If you're not measuring visits to your location, we pull click DNA, or the top 10 attributes of people who click on your ad.   You receive a breakout like the one below: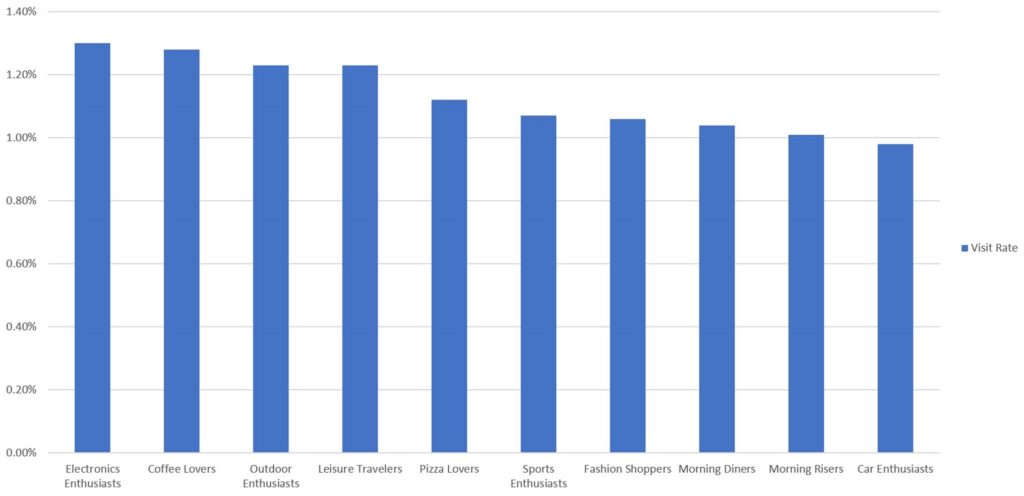 HOW LONG DOES IT TAKE TO LEARN MY AUDIENCE DNA?
Patterns in Audience DNA can be found as early as the first 10 days of a campaign, but we recommend using data of a campaign that has been live for 2 months.
ONCE I LEARN MY MOBILE CONQUESTING™ AUDIENCE DNA, WHAT DO I DO WITH THAT INFORMATION?
Utilize this information to help your campaign increase in both performance and conversions.  Once you learn more about the behaviors of people clicking on your ads and visiting your location, we can create another line item within your campaign to target people with those exact attributes.  We also recommend threading the Audience DNA through your ad campaign by incorporating images or videos that directly speak to your audiences' interest to make your ad campaign stand out.